News/Media

*If a menu item has a submenu clicking once will expand the menu clicking twice will open the page.

Study & Practice

*If a menu item has a submenu clicking once will expand the menu clicking twice will open the page.

Projects

*If a menu item has a submenu clicking once will expand the menu clicking twice will open the page.

FPMT

When ordinary people die they are out of control. Because they have not trained themselves during their life, they are overwhelmed by the experience of death and bewildered as their bodily elements go out of balance and cease to function harmoniously.

Lama Thubten Yeshe

*If a menu item has a submenu clicking once will expand the menu clicking twice will open the page.

Shop

The Foundation Store is FPMT's online shop and features a vast selection of Buddhist study and practice materials written or recommended by our lineage gurus. These items include homestudy programs, prayers and practices in PDF or eBook format, materials for children, and other resources to support practitioners.

Items displayed in the shop are made available for Dharma practice and educational purposes, and never for the purpose of profiting from their sale. Please read FPMT Foundation Store Policy Regarding Dharma Items for more information.
The Life of Khensur Jampa Tegchok
Khensur Jampa Tegchok, 84, died in India, October 28, 2014, of natural causes
By Ven. Steve Carlier
The life of Sera Je Khensur Rinpoche Gen Jampa Tegchog (Gen-la), has come to an end. What appeared out of the dharmakaya has merged back into the dharmakaya.
For his many students, there is a darkness inside and a sense of having lost their father.
He had many, many students from the East and West and affected many lives deeply.
Gen-la was born in 1930. I met him in 1979 at Manjushri Institute in the UK, on the day he arrived. I was living there then. I clearly remember seeing him get out of the car wearing a pair of sunglasses like mirrors, which I found quite odd.
He came from Sarnath, near Varanasi, in North India. He was one of the main teachers at the Central Institute of Higher Tibetan Studies. His students retained a lifelong appreciation for his kindness. Many of them went on to find good positions and recognized that it was he who had equipped them with the education that made that possible. I don't think they necessarily appreciated him at the time. Several shared quarters with him. They had the back room and if ever they wanted to leave that room, they had to pass before him and be subjected to a dark, forbidding look that made them really think twice about whether they really needed to go out or not. That was how he got them to study.
He was a good friend of Lama Yeshe. It was Lama who had persuaded Gen-la to come to Manjushri to teach the Geshe Program. He had left a very good position at the Tibetan institute at Sarnath, well-paid and with a good pension. And, of course, he was living in a very holy place. He gave all that up to come to the West. In those days at Manjushri, he probably only got a very meager monthly stipend and certainly no pension. It was quite a sacrifice.
He told me several times, "Mao Zedong said Dharma is poison, so I thought to myself, 'I think I'll go to the West to plant some seeds of poison there'."
Trijang Dorje Chang, one of Gen-la's main gurus, told him before he left for the West in '79 that now that Westerners were taking tantric vows, they needed to know how to purify and restore them with self-initiation, so Gen-la should teach them that. When he eventually came to Nalanda Monastery, he taught us in great detail how to do the Vajrayogini and Yamantaka self-initiations, and we used to do this practice regularly.
I don't know how Lama and Gen-la came to be such good friends, but they were. It was Lama who persuaded Gen-la to Manjushri Institute, and it was Lama who later persuaded him to come to Nalanda.
I remember seeing Lama and Gen-la in Gen-la's room, shoving each other about, probably each trying to make the other sit in the better seat. This kind of thing was a bit amazing for me, because one had expectations of decorum and piety from the lamas. They could be serious, too, of course, but they also played around. (Some lamas have a very interesting sense of humor. I was told that one time when the late Ganden Geshe Konchog Tsering was visiting Geshe Wangchen at the old Manjushri London center at Finsbury Park, the other students staying in the house once were woken in the middle of the night by a lot of shouting and shrieking. Geshe Tsering had got up to visit the bathroom and Gen Wangchen had followed him there and locked the bathroom from the outside!)
We used to attend classes in his room. I don't suppose there were more than a half-dozen in the class. Helmut Hohm was senior monk in our class, so he would offer the mandala for the teaching. He sat there chanting with his eyes closed. Gen-la held up a photo of a gorilla right in front of Helmut's face. Helmut opened his eyes and saw it. He wasn't able to finish the prayer for giggling.
When we had a festival at Manjushri Institute, there was a competition called "tossing the wellie," a "wellie" being short for a rubber Wellington boot. Lama and Gen-la were falling about laughing as they vied with each other over who could throw it the furthest.
I can remember a different time when Gen-la was at Nalanda and Lama visited, they went to a summer fair in town, in Lavaur, and there was a game where you roll coins down a slope in the hope that if your aim is good a whole pile of coins will tip off the edge which you would win. There was a lot of screeching and laughing as they played that together. You could hear them a mile off. Of course, we were a bit disapproving of such frivolity. Well, I was, anyway.
Like a lot of Tibetans, Gen-la liked to joke. One evening, we were sitting together in his room at Manjushri. We had just been watching the news on an old black and white television which he had for a short while before he told the management to take it back to save on expenses. (The center was very poor.) He told me, "The Yorkshire Ripper stayed with me last night." "Oh," I said. "Where did he stay?" "Under that table there," he replied. I didn't know what to think! It couldn't be true, but because I was young and had strong faith that he didn't lie, it must have been true. It took me some time to realize Gen-la was helping me develop my own wisdom.
He stayed at Manjushri Institute until 1982. That summer he went back to India to renew his travel document. The following summer he came to Nalanda. Again, persuaded by Lama. He stayed until 1993.
While at Ocean of Compassion Center in San Jose, California, Lama Zopa Rinpoche mentioned in public and in Gen-la's presence that when Gen-la was at Nalanda, Gen-la had had to practice patience a lot. An old friend, the late Andrea Antonietti, told me he went to Lama and went on a bit about how terrible a monk and a practitioner he was. Lama told him off, and said to him, "My Sangha are angels." Well, Gen-la had his work cut out with this particular group of angels. Still, we did our best, and I guess he appreciated that, because he did stay 10 years.
In 1993 he was appointed abbot of Sera Je Monastery in South India by His Holiness the Dalai Lama. I was standing there while he received the phone call in the office at Nalanda. For a brief moment, there was a look of joy in his eyes. But within seconds, that disappeared, and he said to me, "This is going to be difficult. This is going to be very difficult."
He was very popular with the monks during the seven or so years he served as abbot. He got some very important work done there such as building a sorely needed new Serje temple through an exchange of land between Sera Je and Sera Me that was only made possible due to his good relationship with the monks at Sera Je. He was also very good at dealing with people, creating harmony and promoting reconciliation. They considered him a precious jewel.
Although as abbot he did not have much of a role as teacher, from time to time he would be called upon to talk to the monks going to debate about the lam-rim. Some of these monks said that when he taught, you felt like you were just about to get the realization of whatever topic he was talking about. It was as if he was bringing you into his experience, and for that brief moment you really got a taste of what it was like. His teachings and advice were like nectar and I always found both very effective.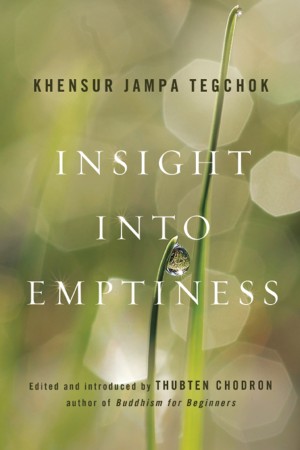 In 2004, after having lived at Sera as abbot emeritus for about three years, he accepted Lama Zopa Rinpoche's invitation to teach at Land of Medicine Buddha in California. I'd gone there separately from the UK to serve as his translator. A few days after I arrived, we received a message saying his arrival was to be delayed and I should teach in his place. He finally arrived … two years later, in 2006! During that time, he taught about emptiness each Sunday morning. These lectures were intended right from the beginning to serve as the basis for a book. He had been saying for several years that he had spent a long time in the West, that that the West had been very kind to him, housing and feeding him, taking care of him, and that he would soon be gone and wanted to leave something behind as a gift in thanks for all that. Thanks to Wisdom Publications and disciple Ven. Thubten Chodron, his wish came true in the form of Insight into Emptiness.
He stayed at Land of Medicine Buddha until 2008 when he left to teach at Kushi Ling Retreat Centre in North Italy. It was only natural for him to go there because some time before Claudia Wellnitz had told him that if ever he wanted to go and live there, they had a place for him, even if he didn't teach, and if ever he was ill, they would take care of him. This was important, because he was 78 years old then.
Later on, he was persuaded to join Istituto Lama Tzong Khapa (ILTK). There he taught Madhyamaka philsophy in the Masters Program. It seems to have been a real tour de force. The students were very happy, and amazed. I can imagine. He taught emptiness so often and so clearly. He told me that he really liked teaching Madhyamaka at ILTK, and really appreciated the opportunity he had of reading texts he had never read before and finding out things he hadn't known before. I was a little bemused by that, because I thought he must have read everything and that he knew everything.
Over ten years ago, probably in 2001, Gen-la kept saying that he wouldn't live much longer. I told this to one of his most dedicated students, who then sat down with him and explained many reasons why he thought Gen-la should stay longer. For a long time after that he stopped talking about how he was about to die. I have always thought that the reason he stayed on in the world for so long was because of that.
He was a really great scholar and a great meditator. His Holiness said to some of his students just after he passed away that they needn't worry and that Gen-la was a true yogi. I heard often that when he was young he was quite a ruffian, and then his brother died and after that he started studying and practicing seriously. He never told me that the story that way. What he told me once, while we were together at Sera, was that he had not been all that good until he got to the Madhyamaka class. Then he memorized Gyalwa Gendun Drub's commentary to the Madhyamakavatara and from then on he was always able to answer well in debate.
For sure he was a great, great master. A great scholar and a great practitioner of both sutra and tantra. Geshes and lamas used to go to him for clarification of the difficult points of sutra and tantra. When he gave initiations, it was always a totally amazing experience, with clear and detailed explanations, and again you really felt as you had been drawn into his experience.
Even on the level of ordinary appearance he seemed to have control over his subtle body – the airs, channels, and drops. And therefore, he seemed to have had control over his life and how long he would remain. One of his students told me that one time Gen-la met with Gen Wangchen just before the latter was to undergo surgery. Gen-la told him, "That's good, you'll be able to watch the various signs as the consciousness absorbs," the ones which are similar to the inner signs that appear when we die. They also appear when you fall asleep, but most people don't notice. An accomplished practitioner will be aware and will be able to use the situation for profound meditation.
At LMB, Gen-la showed the aspect of falling ill. One morning during that period he told me that the night before he had seen the death absorptions. I always thought that meant he was dying and had reversed the process, choosing not to die.
I heard people speak of his clairvoyant powers, but I never saw any of that personally. I know that Kiko, the late director at the Tushita Centro de Retiros in Spain and persistent smoker, once visited Nalanda and went to visit Gen-la while he was there. Gen-la gave him a dried apricot. From that moment onwards, he never smoked again. Kiko told me that, and told me that for sure he attributed that to Gen-la and the apricot. There was another old friend who Gen-la was extremely fond of, Denis Huet. He was director at Institut Vajra Yogini in France for many years and was a dedicated smoker. He loved smoking beeties, little Indian cigarettes. He went to Sera and visited Gen-la one year and got a cold. From then on, he never smoked and he attributed that to Gen-la.
I didn't see any of that, but I listened to him teaching a lot, and that was pretty magical. He was not an ordinary person, that's for sure.
Ven. Steve Carlier is a senior English monk, who has studied at Sera Monastery and served as a Tibetan interpreter for Khensur Jampa Tegchok. He is an FPMT In-Depth Buddhism registered teacher and currently resides and teaches at Land of Medicine Buddha in California, US.