News/Media

*If a menu item has a submenu clicking once will expand the menu clicking twice will open the page.

Study & Practice

*If a menu item has a submenu clicking once will expand the menu clicking twice will open the page.

Projects

*If a menu item has a submenu clicking once will expand the menu clicking twice will open the page.

FPMT

To put an end to our samsaric suffering, we must do two things: One is to purify the negative actions we've done every day of our lives and in our infinite previous lives as well. We also have to change our minds and actions and abstain from creating further negativities.

Lama Zopa Rinpoche

*If a menu item has a submenu clicking once will expand the menu clicking twice will open the page.

Shop

The Foundation Store is FPMT's online shop and features a vast selection of Buddhist study and practice materials written or recommended by our lineage gurus. These items include homestudy programs, prayers and practices in PDF or eBook format, materials for children, and other resources to support practitioners.

Items displayed in the shop are made available for Dharma practice and educational purposes, and never for the purpose of profiting from their sale. Please read FPMT Foundation Store Policy Regarding Dharma Items for more information.
The flowering of a reincarnated Lama
The flowering of a reincarnated Lama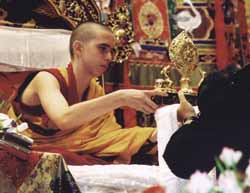 When Lama Osel Rinpoche, the 16-year-old reincarnation of Lama Thubten Yeshe, gave his first initiation of White Tara in Taiwan in November 2000, it was a powerful experience for him and for his audience. Peter Kedge, director of the Maitreya Project*, describes this milestone in the young Lama's life.
"On the first day Lama appeared a little shy, but with each passing day Lama's confidence grew. When it came to initiation day, November 11, this process was amazing to watch because, although Lama said he was nervous, in fact he was magnificent.
Lama went early to the theater where the initiation was to be given to do his preparations. The theater had been beautifully ornamented and the stage was beautifully set up with huge tangkas on the back wall. The capacity was around 1,000 and I think there were around 700-800 people on the Saturday morning.
The initiation was on the full moon day. It wasn't an empty show — it was a powerful initiation and everybody said so. Lama led everybody through the meditations, explained the stages of the initiation, and instructed people on what to visualize. It was a real initiation and everyone felt it.
During the week, this feeling of having Lama Yeshe back in our midst continued. I'm not saying that Lama Osel is Lama Yeshe because this is a different personality. Yet the way Lama interacted with people, some of his mannerisms, and especially the way he spoke during his teaching — very straightforward, simple, and just touching the essence of what he was conveying — it was so much Lama Yeshe. It's as if we'd gone full circle and here again, in the most amazing way, our teacher is back with us."
A young Lama prepares for his first main event
Lama Osel tells JULIA HENGST about the fears and delights of going to Taiwan and giving a White Tara initiation.
When they told me I would be giving an initiation in Taiwan, I started studying for it about three months beforehand. My teacher taught me how to do the initiation and memorize everything, so I stopped doing debate classes with him. I put all my time into learning the initiation. My studies have deteriorated! It's not that I stopped going to debate, but the private debate classes I had with my teacher stopped. Because he didn't teach me any debate in that period, I didn't have anything to debate about, and then when I read the texts I didn't understand anything. I had been a little higher in the class than other classmates, but since I studied the initiation, they progressed until we were at the same level.
When I went to Taiwan the initiation was very easy to give because I had prepared so well. I was scared at the beginning; when I sat on the throne everyone offered the Mandala, I was reciting together with everyone, and suddenly everything became so silent. Then I opened my eyes and looked around and everyone was looking at me. I thought, Oh no, now I have to give a teaching! In any case I think it came out okay.