News/Media

*If a menu item has a submenu clicking once will expand the menu clicking twice will open the page.

Study & Practice

*If a menu item has a submenu clicking once will expand the menu clicking twice will open the page.

Projects

*If a menu item has a submenu clicking once will expand the menu clicking twice will open the page.

FPMT

The essence of the guru is wisdom: the perfectly clear and radiant state of mind in which bliss and the realization of emptiness are inseparably unified.

Lama Thubten Yeshe

*If a menu item has a submenu clicking once will expand the menu clicking twice will open the page.

Shop

The Foundation Store is FPMT's online shop and features a vast selection of Buddhist study and practice materials written or recommended by our lineage gurus. These items include homestudy programs, prayers and practices in PDF or eBook format, materials for children, and other resources to support practitioners.

Items displayed in the shop are made available for Dharma practice and educational purposes, and never for the purpose of profiting from their sale. Please read FPMT Foundation Store Policy Regarding Dharma Items for more information.
LIVING LIFE NOW FOR OTHERS
By Lama Zopa Rinpoche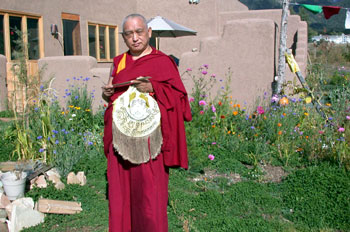 How each individual's future life is going to turn out, whether it is going to be a life of suffering, or an enlightened life, or a liberated life with much peace and happiness, depends on how we live this life.
So, if we learn as much as possible in this life and practice as much as we can, then all our future lives will be so much easier. As soon as you hear the teachings, your mind gets enlightened, and you attain realization. This is nothing strange or new. Immediately you feel at home.
In that sense, this life carries with it a great responsibility. We need to live this life with a good heart, every day, every hour, developing wisdom as much as possible.
It is important to always watch the mind. Imagine yourself being the father or mother, and your mind as the child that you have to take care of, guarding it exactly as parents take responsibility for a child. Twenty-four hours a day, every minute, they watch to make sure the child doesn't get into trouble by doing something wrong, eating the wrong things, running toward dangerous places or falling down. Parents always create comfort and peace and happiness. So, exactly like that, one has to protect and guard the mind from disturbing, negative, emotional thoughts, which make you unhappy, make you suffer. So, protect yourself from the unsatisfied mind, from ignorance, anger, jealousy, from a strong self-centered mind that has no concern for others' suffering, or others' needs.
You have no choice if you want peace and happiness in this life, if you want everybody to love you and be happy with you, and if you want to have a good relationship with others. This is an example of how Dharma practice is so essential. Meditation practice is essential; even if you are a non-believer and don't believe in religion, Dharma practice creates harmony and patience.
Desire brings so much suffering, because the mind is more and more dissatisfied. It builds up. For example, a businessperson makes $100 profit, then looks for $1,000, then $10,000, $100,000, and after that, a million dollar profit, and so on till trillions and zillions… I don't know what comes after zillions! This person suffers more and more. Even if he has everything he could get in this world, still the mind is not happy. He is more dissatisfied than the beggar in the street with nothing. Even that beggar might have more peace and happiness in his life.
As long as one follows desire, it has no end. One needs to have realization and renunciation to actualize the gradual path and to erase the negative imprints from which desire arises. Only in this way can one make it impossible for desire to arise: in particular by achieving wisdom directly perceiving emptiness, the ultimate nature.
Let go of desire – and you achieve peace and happiness in return…