News/Media

*If a menu item has a submenu clicking once will expand the menu clicking twice will open the page.

Study & Practice

*If a menu item has a submenu clicking once will expand the menu clicking twice will open the page.

Projects

*If a menu item has a submenu clicking once will expand the menu clicking twice will open the page.

FPMT

If you help others with sincere motivation and sincere concern, that will bring you more fortune, more friends, more smiles, and more success. If you forget about others' rights and neglect others' welfare, ultimately you will be very lonely.

His Holiness the Dalai Lama

*If a menu item has a submenu clicking once will expand the menu clicking twice will open the page.

Shop

The Foundation Store is FPMT's online shop and features a vast selection of Buddhist study and practice materials written or recommended by our lineage gurus. These items include homestudy programs, prayers and practices in PDF or eBook format, materials for children, and other resources to support practitioners.

Items displayed in the shop are made available for Dharma practice and educational purposes, and never for the purpose of profiting from their sale. Please read FPMT Foundation Store Policy Regarding Dharma Items for more information.
When Clothes Make the Nun
by Ani Tenzin Lhamo
A nun's orange robes evoke surprise and sympathy from babies, barbers and airport staff

As I hurried through the international terminal of the Vancouver airport last week, a middle-aged woman in a spotless airport uniform ran up to me, and blocked my way, saying "Can I ask you a question?"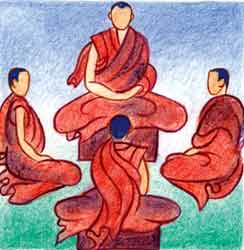 "Sure."
"Why did you do that?" she asked, somehow smiling and frowning simultaneously.
"Do what?" I was confused by her official appearance and the unseen context of her question. Had I unknowingly trespassed an airport rule or did I look suspect somehow?
"You know," she said, gesturing dramatically towards my maroon robes and shaven head, "Do that!"
What a question to meet, mid-stride towards a flight!
The lady smiled at me, but her eyes remained sharp. I wanted to be understood clearly, took a breath, and said: "I'm already 57 years old, and want to make the rest of my life as meaningful as I can."
She nodded understandingly. "Each morning, I begin the day with a rosary of Om Mani Padme Hum."
" Where are you from," I asked.
"The Fiji Islands."
At this point, I bowed to the force of the karmic winds swirling about, and asked if she would like to meet a true teacher, Khen Rinpoche Lobsang Tsephel, standing quizzically off to the side.
She nodded, saying, "Oh my God! Oh my God!" as I took her over to Rinpoche.
Then, in the middle of the airport, in her spic-and-span uniform,
she took refuge, and was given a dharma name — Lobsang Chenrezig!
After receiving a blessing string and a preliminary practice to do, she gloriously
beamed at everyone in the vicinity, saying over and over, "This is the best day of my life! This is the best day of my life!"
Since I have been ordained, I have gotten all kinds of responses from people. Strangers often stop me to ask what kind of cancer is making my hair fall out. And then there are the kids on Halloween, complimenting me on my great costume!
Some moments have been astonishing. There was the lady in the hospital, on her deathbed, whose tears of joy rolled down her face the minute she saw the robes. And the baby who, rather than being frightened, immediately leaned forward with her head, in perfect alignment for a "head-bonk." Let's not forget the middle-aged guy, totally tearful in the middle of Trader Joe's (food market), as he recalled that the happiest days of his life had been spent on the streets as a Hare Krishna in orange robes.
And then there was the barber at the West Covina Village Barber Shop, hooting with his buddies at my request for a razor recommendation. Then he turned suddenly to say: "Hey, what's Bodhi mind? I've been trying to find out for years now!" And upon hearing my startled answer, he said, "Isn't that the coolest thing-a way to train people to really treat each other with kindness!" And he gave me a free shave.
How can I explain these amazing experiences, born from being a newly forged link in this extraordinary chain? It can only be the power of the robes!
That power works within me as well. When I'm wearing my robes, and if I'm at the supermarket check-out stand, waiting in the slowest line when I'm in the biggest of all hurries, I cannot scowl or even seem impatient without embarrassing myself. And driving my car — I have yet to master driving in a calm, unhurried manner! Multiply these by the difficulties of life's daily interactions in a Dharma center, and you will understand some of the challenges of being newly robed.
Currently I'm in a situation where I have no other nuns to mentor me, so the robes themselves must become my teacher. When I'm acting as a pawn of my delusions, and I happen to catch sight of my robed-self, it's amazingly distressful, and I have to stop myself. My clothes themselves align me with the sacred mind and bear witness to its power.
No matter what kind of day my deluded mind offers my inside world, on the outside, I wear the robes of the Buddha's followers. The robes attest to an ancient will: help others, harm no one. If just the sight of these maroon robes can ripen those scattered latent seeds into bearing the most precious of fruit, what else is there to say about being ordained, other than how fortunate I am?

This article can be read in its entirety in Mandala