News/Media

*If a menu item has a submenu clicking once will expand the menu clicking twice will open the page.

Study & Practice

*If a menu item has a submenu clicking once will expand the menu clicking twice will open the page.

Projects

*If a menu item has a submenu clicking once will expand the menu clicking twice will open the page.

FPMT

When you meet miserable conditions, it is extremely important to use skillful means. In other words, there is a meditation to mix with whatever suffering you experience. When you apply the teachings in this way, all sufferings are mixed with virtue. All experiences of suffering become virtue.

Lama Zopa Rinpoche

*If a menu item has a submenu clicking once will expand the menu clicking twice will open the page.

Shop

The Foundation Store is FPMT's online shop and features a vast selection of Buddhist study and practice materials written or recommended by our lineage gurus. These items include homestudy programs, prayers and practices in PDF or eBook format, materials for children, and other resources to support practitioners.

Items displayed in the shop are made available for Dharma practice and educational purposes, and never for the purpose of profiting from their sale. Please read FPMT Foundation Store Policy Regarding Dharma Items for more information.
TIBET
December 2002-February 2003
While the Chinese believe that Tibet has been part of China since the Yuan Dynasty (1271-1368), Tibet has a recorded history of statehood that goes back to 127 B.C. After centuries of history, studded with wars and reforms, the multitude of voices claiming opposing views reached cacophony in 1949, when Communist China invaded Tibet, forcing the young Dalai Lama, Tibet's political and spiritual leader, to flee to India in 1959. The Tibetan Government in Exile is based in Dharamsala.
Most Tibetans do not believe, as the Chinese maintain, that the invasion has "liberated" them from feudal serfdom. Rather, the "liberation" has resulted in the death of over 1.2 million Tibetans and the destruction of over 6,000 Tibetan monasteries and cultural centers. It is estimated that 130,000 Tibetan refugees live in exile around the world, including about 3,000 in the United States and Canada.
Today historical Tibet has been divided by the Chinese government into regions and prefectures. Well over half of Tibet's original territory has been absorbed into China proper. The Tibetan Autonomous Region (TAR) encompasses only the central area and some of the eastern regions.
Chinese settlers out-number Tibetans in most urban areas and many rural areas, making Tibetans a minority in their own country. Meanwhile, thousands of Tibetans continue to flee from occupied Tibet, making the treacherous journey over mountain passes and into the uncertain world of exile.
Mandala asked prominent Tibetans in exile (including His Holiness the Dalai Lama), a Western advocate for freedom for the occupied Land of Snows, and a Chinese writer and intellectual, how they see the future of Tibet.
Lodi Gyaltsen Gyari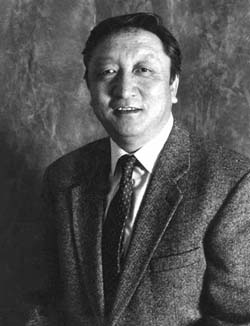 My hope is that Tibet will once again become a land where the six million Tibetans can live in total freedom, according to the principles of Buddhadharma. The preservation of the Dharma is a core issue for us. The whole Tibetan civilization is built around Dharma, and the Tibetans, a Buddhist people, have even sometimes gone to the extreme of taking up arms to preserve the Dharma – I am not saying this is the right approach, rather to stress the fact that Dharma is precious to the Tibetan people. [In recent history] it wasn't when the Chinese took away the land from the Tibetan rich, but precisely when the monasteries were being reduced to rubble, and when learned scholars and venerated religious leaders were being imprisoned, and in many cases executed, that the Tibetans throughout the plateau rose up and resisted.
Most important for us Tibetans is that we are able to lead our lives according to our beliefs. I certainly don't see a Tibet where every Tibetan is in some cave meditating or reciting mantras – in fact I would like Tibet to become a modernized country where its people can take full advantage of scientific and technological innovations – yet not at the cost of losing our Buddhist identity. If we lost that, and even gained so-called total political independence, this would be meaningless. His Holiness the Dalai Lama's vision for Tibet, to become a zone of ahimsa [the Hindu ethic of non-violence], is, I believe, both far-sighted and courageous. I understand it's a vision that has not been adopted by a fairly large segment of the Tibetan people, but my hope is for its realization.
It is also my dream that Tibet becomes a bridge between two of Asia's great civilizations: India and China. In the past Tibet acted as a buffer between these two, but as the world is changing, becoming smaller, what is needed now is not a buffer, but a bridge – a position that would suit Tibet because of its deep-rooted historical cultural relation with the people of India, and its unique and special long relationship with China, even though sometimes it is unpleasant.
It is unrealistic for Tibet to exist in isolation from China – His Holiness has envisioned the future of Tibet to be one that is really a part of the People's Republic of China, without seeking total independence. We hope that Chinese leaders, thinking of the long-term interests of their nation, will reach out to the efforts of His Holiness. I see some hope because day-by-day China is becoming much more self-confident, and less threatened or suspicious of everyone around her. [On this point] it is important that the global community accepts China into the fold of the family of nations, which must be done in a way that is sincere. I find two contradictory approaches by some of the Western nations in particular. Sometimes because of their commercial, etc., short-term interests, driven by greed, many nations are willing to give China license to do almost anything, which does China more harm than good in the long-run. On the other hand these nations continue to look at China as a threat, which is also wrong. One has to have the 'middle-way' approach.
Each year we see more young and dynamic Chinese leaders emerging, who have a far wider vision of the world. This is not good not only for China, but for us Tibetans – we can only deal with a leadership that is self-confident and sees its long-term interests. I always tell my Chinese friends whenever I have the opportunity, either formally or informally, "His Holiness the Dalai Lama is not your problem, he is your solution, and he's also our solution." I strongly believe that both the Chinese and us Tibetans must take advantage of His Holiness's presence to reach out to each other.
Thirdly, I would like to see Tibet as a sanctuary for all living beings. Due to Tibet's unique life-giving physical position – all the major rivers that nourish millions of lives throughout Asia, originate from Tibet – it is not only important for the Tibetan people, but in fact much more so for the Chinese, the Indians, Bangladeshis, for everyone living in the Mekong Delta, to join in helping Tibet become the Zone of Peace that His Holiness envisages, so on the plateau, we human beings can live in harmony with nature and other sentient beings, the beautiful nature of Tibet is maintained, and Tibet can truly become a 'giver of life.' …
Read the complete articles as a PDF.