News/Media

*If a menu item has a submenu clicking once will expand the menu clicking twice will open the page.

Study & Practice

*If a menu item has a submenu clicking once will expand the menu clicking twice will open the page.

Projects

*If a menu item has a submenu clicking once will expand the menu clicking twice will open the page.

FPMT

Dharma is a total way of life. It's not just for breakfast, Sundays, or the temple. If you're subdued and controlled in the temple but aggressive and uncontrolled outside of it, your understanding of Dharma is neither continuous nor indestructible.

Lama Yeshe

*If a menu item has a submenu clicking once will expand the menu clicking twice will open the page.

Shop

The Foundation Store is FPMT's online shop and features a vast selection of Buddhist study and practice materials written or recommended by our lineage gurus. These items include homestudy programs, prayers and practices in PDF or eBook format, materials for children, and other resources to support practitioners.

Items displayed in the shop are made available for Dharma practice and educational purposes, and never for the purpose of profiting from their sale. Please read FPMT Foundation Store Policy Regarding Dharma Items for more information.
Editor's Choice – Media Reviews
FEATURED MEDIA
April-June 2013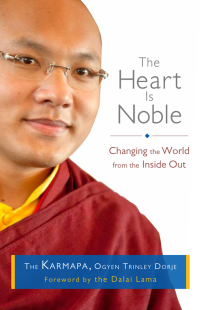 The Heart is Noble: Changing the World from the Inside Out
By His Holiness the Karmapa, Ogyen Trinley Dorje
Reviewed by Michael Jolliffe
In May 2011, sixteen students from University of Redlands in California met regularly His Holiness the Karmapa, Ogyen Trinley Dorje at his residence in India to dialogue with him about what Buddhism could offer to their understanding of the world around them. The Heart is Noble, although based from these conversations, is not a book about Buddhism – and His Holiness went to lengths to ensure that the book was about a shared human experience and a shared human potential, what he calls a "noble heart."
That His Holiness is 25 and was talking directly to a group of Americans only slightly younger makes the work intriguing, and likely helped to diversify the topics – such as gender identities, consumerism and greed, social action, environmental protection and food justice – that could be addressed candidly and with contemporary insight. In the chapter on food justice, for example, His Holiness demonstrates remarkable deftness as he negotiates modern-day thinking about food production, the natural environment, animal welfare and hunger, while continually reiterating that notions of interdependence and compassion found in Buddhism support ideas such as vegetarianism.
Editors and translators Damchö Diana Finnegan, Karen Derris and Ngodrup Tsering Burkhar have crafted a beautiful collection of His Holiness' ideas and opinions, and it seems clear that we can expect more insightful collections from the young Karmapa in the near future, which have so far been relatively few.
Published by Shambhala Publications
Hardback US$21.95
www.shambhala.com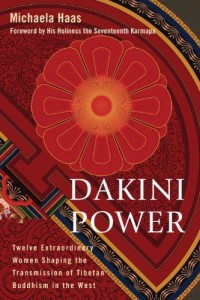 Dakini Power: Twelve Extraordinary Women Shaping the Transmission of Tibetan Buddhist in the West
By Michaela Haas
Reviewed by Michael Jolliffe
Although it is seems unlikely that author Michaela Haas intended it, it is interesting to at least note her work's title and the parallel with perhaps Christendom's most popular story. And like Christ's disciples, Buddha's students in Dakini Power share at least two things: a common inspiring teacher and friend; and a shared gender which informs their spiritual experience. Yet, each individual has her unique narrative, and Hass' strength in Dakini Power is to weave together with interviews, journalistic fact finding, and personal anecdote, a picture of 12 notable women who are molding how Tibetan Buddhism is being transmitted in the West.
Haas offers the reader a glimpse of the evolution of a diverse collection of female teachers: Asians and Westerners, lay people and nuns, traditional and rebellious, women who have and have not been mothers, practitioners in various traditions (even one Zen practitioner!). Perhaps most interesting is Haas' willingness to explore some of their opinions and ideas about their tradition's relationship to gender, sex and sexism. For those more closely connected to FPMT, the ninth chapter – Ven. Thubten Chodron (Cherry Greene): A Rebel in Robes – offers an interesting look at one long-time student of Lama Yeshe and Lama Zopa Rinpoche, now abbess of Sravasti Abbey in Washington State. 
Published by Shambhala Publications
Paperback US$16.95
www.shambhala.com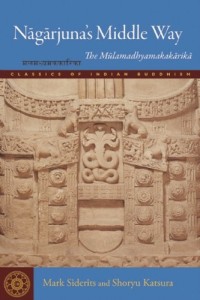 Nāgārjuna's Middle Way: The Mūlamadhyamakakārikā
By Mark Siderits and Shōryū Katsura
Reviewed by Michael Jolliffe
In July 2011, His Holiness the Dalai Lama recommended to students at the Kalachakra for World Peace event, that if they wanted to understand emptiness, is was critical and most important to read chapters 18, 24 and 26 of Nāgārjuna's Mūlamadhyamakakārikā. At the time the advice was give, there were only chapter numbers, but Siderits' and Katsura's Nāgārjuna's Middle Way offers titles that should pique any Buddhist seeker's interest: "An Analysis of the Self," "An Analysis of the Four Nobles Truths," and "An Analysis of the Twelvefold Chain," respectively. The book's introduction explains what this analysis is about:
Earlier Buddhist thought was built around the more specific claim that the person is empty: that there is no separately existing, enduring self, and that the person is a conceptual construction. Realization of the emptiness of the person was thought to be crucial to liberation from saṃsāra. The earliest Mahāyāna texts go considerably beyond this claim, asserting that not just the person (and other aggregate entities like the chariot) but everything is devoid of intrinsic nature. While they assert that all things are empty, however, they do not defend the assertion. Nāgārjuna's task in [Mūlamadhyamakakārikā]  is to supply its philosophical defense.
Makings use of the four existent Indian commentaries on Nāgārjuna's terse work to translate the original Sanskrit into English, Siderits' and Katsura's have done English-speaking Buddhist and non-Buddhist philosophers an enormous favor. Also, they've provided their own running commentary based on the Indian commentaries, avoiding "elucidations [that] go beyond anything stated by at least one of these [commentarial] authors." Clearly written and thorough, Nāgārjuna's Middle Way is recommened as a indespensible tool for anyone who wants to take His Holiness' advice seriously.
Published by Wisdom Publications
Paperback US$19.96
www.wisdompubs.org