News/Media

*If a menu item has a submenu clicking once will expand the menu clicking twice will open the page.

Study & Practice

*If a menu item has a submenu clicking once will expand the menu clicking twice will open the page.

Projects

*If a menu item has a submenu clicking once will expand the menu clicking twice will open the page.

FPMT

When we study Buddhism, we are studying ourselves, the nature of our own minds

Lama Yeshe

*If a menu item has a submenu clicking once will expand the menu clicking twice will open the page.

Shop

The Foundation Store is FPMT's online shop and features a vast selection of Buddhist study and practice materials written or recommended by our lineage gurus. These items include homestudy programs, prayers and practices in PDF or eBook format, materials for children, and other resources to support practitioners.

Items displayed in the shop are made available for Dharma practice and educational purposes, and never for the purpose of profiting from their sale. Please read FPMT Foundation Store Policy Regarding Dharma Items for more information.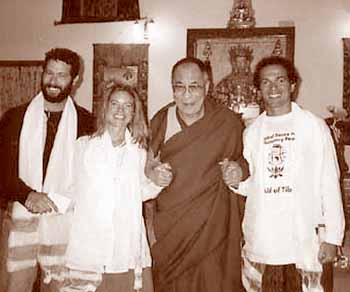 Who says spirituality can't be any fun? For their fourth annual world-wide party, EarthDance, a grassroots organization that benefits Tibet, children and the environment, will link eighty parties in more than forty countries via cybercast and the simultaneous playing of a special ambient number composed especially for the event called the "Prayer for Peace," thereby creating a global dance floor. Tibetans both in Tibet and in exile have been able to listen to the tune thanks to broadcasts by Radio Free Asia. Creator and director Chris Dekker is enthusiastic about the global vision: "By playing the same track everywhere around the world, you create a ritual visualization, give focus in the middle of that energy and multiply that around the whole world."
Originally intended to be a one-time party in London to aid Tibet, every EarthDance party is self-funded by local promoters with all profits going to local non-profit organizations. EarthDance has raised over $200,000 in the last three years for its core causes: Tibet and world peace. EarthDance Spirit gives funds to Tibet House Trust, His Holiness the Dalai Lama's official agency in London; Earthdance Children supports the Tadra project, a German-based organization that sponsor houses, schools and medical facilities for orphans in Eastern Tibet; Earthdance Tribes donates funds to Survival International, a worldwide organization that supports indigenous peoples; EarthDance Environment is directly linked with Rainforest Action Network. And the parties are hip, too: their compilation albums feature tracks from top electronic music stars including Bjork, Loop Guru, Fatboy Slim, Uberzone, Banco de Gaia, the Orb, Moby, and Groove Armada.
Chris met with His Holiness the Dalai Lama in 1997 and explained the potential power of EarthDance. His Holiness said, "Yes, a global event. I think this attitude is a really hopeful sign. After all, we all share the same small blue planet, all 5.7 billion of us. So, when something happens on one side of the planet it naturally affects the other side. In ancient times societies were more independent and separate from each other, but today our world is interdependent. So I think the time has now come to recognize the spirit of brotherhood and sisterhood within humanity and implement it as part of our lives. This is where the youth have the potential to make a contribution."
Chris told Mandala about the encounter: "The Dalai Lama was one of the most powerful meetings of my life. His strength and his level of compassion are inspiring. It was definitely one of the highlights of my journey with Earthdance to meet him and also the Tibetans in exile. It really consolidated the reasons why I work for the freedom of Tibet."
Ashera Hart, EarthDance's international coordinator, sent word to Mandala: "The fourth annual EarthDance party is happening on Saturday, October 14 at 12 midnight GMT (London time), and we'd like to ask all spiritual practitioners and Buddhist sangha to join us in prayer for global peace at that moment. It's the time when every DJ in every country place the prayer track, and all parties synchronize in this global meditation for peace."
Click here to visit the EarthDance Web site.