News/Media

*If a menu item has a submenu clicking once will expand the menu clicking twice will open the page.

Study & Practice

*If a menu item has a submenu clicking once will expand the menu clicking twice will open the page.

Projects

*If a menu item has a submenu clicking once will expand the menu clicking twice will open the page.

FPMT

The office is a place for Dharma practice. When one goes to the office, dealing with people, one has to recognize it's a place to practice lam-rim, the three principles of the path, tantra, and the six paramitas. The six paramitas fit very well for daily life. They offer protection for you. Everything is there.

Lama Zopa Rinpoche

*If a menu item has a submenu clicking once will expand the menu clicking twice will open the page.

Shop

The Foundation Store is FPMT's online shop and features a vast selection of Buddhist study and practice materials written or recommended by our lineage gurus. These items include homestudy programs, prayers and practices in PDF or eBook format, materials for children, and other resources to support practitioners.

Items displayed in the shop are made available for Dharma practice and educational purposes, and never for the purpose of profiting from their sale. Please read FPMT Foundation Store Policy Regarding Dharma Items for more information.
Complexities of Tibetan Culture Past and Present: Five Book Reviews
BOOK REVIEW
October-December 2013
By J.I. Abbot
As a professor of philosophy and literature at the college level, I regularly urge my students not to embrace information just because it comes from someone wearing a necktie or a book sporting an academic publishing imprint. As a student and teacher working in Buddhist traditions, my chief concern is helping myself and others distinguish between "Buddhism" – that vast display of historical phenomena to which all manner of mental accretions from individuals and social groups alike have adhered – and Buddhadharma: awakened reality. They're two different things, important in their own ways.
In that vein, I'll play a mental clip from my own days as a college student. When one of my professors, trying to persuade me of the pivotal swagger of Tibet on the historical stage, oddly said, "It's almost the size of the United States," I knew he must be a little off. But I didn't know he was 87 percent off! That's right. I think as contemporary explorers of Tibetan Buddhism – a complex system of contemplative and faith traditions that still gets misrepresented by both academics and the mainstream media – we have some baseline of a responsibility to educate ourselves on a few facts and historical details. Because humanity's understanding of its own history even in the past few decades has shifted visibly from earlier renditions, it's important to make sure we are not spouting data from 10 or 20 years ago. And then perhaps – to some degree as a separate process – that Buddhadharma piece may also emerge.
Here are my reviews of A History of Zhang Zhung and Tibet, Vol. 1; The Epic of Gesar of Ling, Vols. 1-3; The Tibetan History Reader; Sources of Tibetan Tradition; and A Hundred Thousand White Stones. Each volume memorializes one or more facets of Tibet's contribution to humanity that I found noteworthy in my summer readings.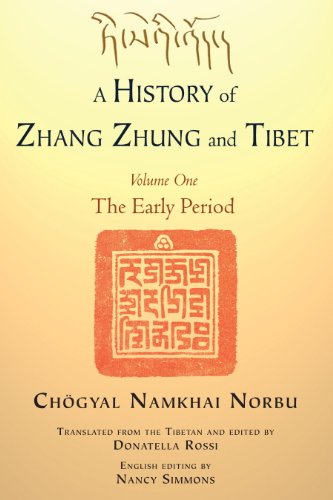 A History of Zhang Zhung and Tibet: Volume One: The Early Period
By Chögyal Namkhai Norbu
Buddhist teacher Namkhai Norbu, who for some decades was also a respected academic at the University of Naples, is widely known for advancing the case that one of the sources for the esoteric meditation teachings of the Great Perfection (Dzogchen) was Zhang Zhung – the pre-Buddhist kingdom in Tibet and neighboring areas – in addition to their better-known origin in India. Because the Bön tradition became the "odd man out" in Tibetan history – badmouthed throughout the centuries as a counterfeit of Buddhism – its own claims to bona fide Zhang Zhung origins of teachings fully parallel to advanced Buddhist ones were not well enough positioned for modern scholars to judge as credible. Thus Bön's legitimacy and most things about Zhang Zhung itself were consigned to the status of quaint, vague legends. But in 2013, we are finding that there is in fact substance to at least a number of Bön's own representations and narratives. We now know that Zhang Zhung centered around the sacred Mount Kailash, and that its land area comprised most of the western and northern portion of the Tibetan plateau. The Zhang Zhung kingdom's history may go back beyond the first millennium BCE; it was finally supplanted in the 6th century CE by rulers of the Yarlung clan and their allies (who ultimately laid the grounds for the Tibetan Empire, which began in 605 with King Songtsen Gampo). Scholarship concerning Zhang Zhung is still often murky by nature. One example of this concerns its earliest origins. Norbu himself does not concur with an oft-repeated argument that Zhang Zhung and Bön hail from ancient Persia and provides a measure of textual evidence to support counter-arguments. Yet readers of Mandala should be aware of that perspective.
Norbu has made many discoveries only now being widely acknowledged – in part, by not being dismissive of mythography as a tool for careful and sometimes fruitful inductive inference. What may take getting used to for some readers is this Buddhist master's method of sometimes populating his meticulous historiography with a few of those myths; one unmistakable instance is the existence posited of nonhuman beings in ancient Zhang Zhung! To be frank, as an academic who also performs Buddhist practices in which I must confront noncorporeal beings, I actually find such "jamming" of academic protocol refreshing coming from a scholar of the caliber of Norbu. (Disclosure: he is one of my spiritual teachers, so I am inevitably biased here.)
For many of us in the academic community who have been trying to keep a pulse on the phenomenon of Zhang Zhung, it's a relief that scholarly opinion is finally starting to shift from the previously standard view that the period of Songtsen Gampo's reign – when Buddhism was beginning to be introduced – defines the roots of much of Tibetan culture. It is now fairly clear that, to the contrary, much of what makes Tibet "Tibetan" – for example, an emphasis on bardo rites; a cohesive, spiritual taxonomy for transmissions of alphabets, scripts, and systems of writing; historically long-enduring divination practices; distinctive frameworks of medicine (including moxibustion); signature practices of fine arts; and even contemplative methods for dreaming – derives from the Zhang Zhung civilization. The implications of this are complex and manifold, since Zhang Zhung may well have also had a degree of influence on Buddhist and other religious and philosophical developments in India. When I was doing background research on Bön Dzogchen texts for an article for Tricyle nearly two decades ago, I rang up a prominent Tibetologist for guidance. He bluntly lamented the state of Zhang Zhung studies at the time: "Nearly no one knows shit about this stuff." A History of Zhang Zhung and Tibet, the rest of whose text will be published in subsequent volumes covering developments and ramifications of much of the material presented here, is a great corrective to that gap, and truly an historic publication in its own right in this area of scholarship.
Published by North Atlantic Books
Paperback US$14.60
Kindle eBook US$9.99
www.northatlanticbooks.com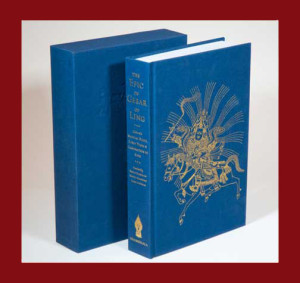 The Epic of Gesar of Ling: Volumes One to Three: Gesar's Magical Birth, Early Years, And Coronation as King
Translated by Robin Kornman, Ph.D., Sangye Khandro, and Lama Chönam.
First, the bad news: if you read this book, you can't tell your friends that you've finished the Epic of Gesar. The full epic spans 120 volumes and contains around 20 million words. It's literally the longest work in the history of world literature. And yes, it outright dwarfs the Mahābhārata, which weighs in at 1.8 million words – a work itself sometimes invoked by assertive Indologists to trump Western classicist fanboys of Homer's Iliad and Odyssey!
The good news is nearly the same as the bad news; but with a nice twist. And that is that this historic definitive translation is a lifer. You're going to want to get your friendly neighborhood acquisitions librarian to purchase at least one copy, maybe two, of each new volume as it's released because you're going to have the tome on your nightstand or accessible shelf, and yes, there may be overdue fines! Gesar is the Tibetan analogue to England's King Arthur in more ways than one. He's a great source of national pride and entertainment, but also, in a way parallel to (and yet extending well beyond) the manner in which the Arthurian cycle still stirs poetic spirits of Albion, many Gesar episodes are moving to Tibetans even today when they prophesy the hero's triumphant return as a redeemer of their land.
Given the unfathomably diverse range of Gesar poems and iterations, there is really no definitive edition in Tibetan of the Epic. The translators chose a woodblock edition carved at the important Derge printing house and compiled by Gyurmed Thubten Jamyang Dragpa, a close student of Mipham Rinpoche, the "Nyingma da Vinci" famous for his intimacy with esoteric Gesar teachings. The translators' English text follows the Tibetan format of verse interspersed with prose passages. The three volumes of the current book are: "The Events Leading to Gesar's Incarnation in the Land of Ling"; "Gesar's Birth and Childhood in the Land of Ling"; and "Gesar Wins the Horse Race and Becomes the King of Ling."
By all counts, the epic is a layering of literary and mystical components on some sort of historical core. Tibetans are generally confident that Gesar actually lived and reigned in Eastern Tibet, many say in the 11th century. However, there may well be historical roots in the victory of the Turkish warrior "Fromo Kesaro" over Arab aggressors in the 8th century, and the Bactrian name Kesaro very well make derive from the Roman and Byzantine title Caesar. Simplistic debates regarding whether the epic represents a single historical figure or a composite of multiple ones constitute what I think is a rather dissatisfying either-or fallacy that does not pay heed to the magnetizing capacity of mythic patterns in attracting similar narratives that resonate with a shared archetypal structure. The full religious context of Gesar's function as an emanation of Padmasambhava or the scope of his military campaigns against the enemies of the four directions are both beyond the scope of this review. But it is important to see in Gesar a rich tension between the security of monastic Buddhism and the "outlier" traditions of solitary yogis and shamans with diverse Bönpo and Buddhist elements. (The anthropologist Geoffrey Samuel has expressly and productively treated this theme.) Such tension has made the "Gesarmania" of Tibetan laity a perpetual object of scolding by monks and nuns, but that has not prevented some major lamas in Tibetan history – including perhaps first and foremost, the aforementioned giant Mipham – from extolling the esoteric dynamics of Gesar's many adventures and conquests.
The premiere volume resolutely captures Gesar's niche in the interstices between secular and sacred realms, preparing the ground for his very human emanation in an elaborate backstory involving Avalokiteśvara, Padmasambhava, and other members of a full celestial dramatis personae who ensure the warrior's incarnation as an antidote to the world's woes in a bad time. Tibetan textual traditions overflow with baroque vindications of tulku emanations via certification in triplicate of divine credentials: the gestalt of many versions of the same note interacting in extensive arcs spanning different kāya "octaves" allows Amitābha, Avalokiteśvara, and Padmasambhava all to play a role in the eventual ushering in of Joru, the mischievous boy Gesar. Reminiscent of Krishna and Hermes, this manifestation of the archetypal trickster also closely resembles David of the Bible with ready slingshot to down the various nasties worthy of his wrath. Foreshadowing every necessary upcoming trait central to the character, the exposition triumphantly showcases a vivid wile and lovable wit reminiscent of Odysseus; deadly martial ferocity; and an order of charisma that attracts the precise band of brothers-in-arms that will figure into the rest of the epic.
Gesar's path to the throne via entry in a horse race, the introduction of loyal and treacherous relatives, the hero's ultimate victory in the race and ascent to the throne, and his betrothal to Queen Drugmo (a figure with an unmistakable resonance – we can infer from the spoilers provided – with the Odyssey's Penelope as well as the Rāmāyaṇa's Sita vis-à-vis the archetype of spousal loyalty within exile) are developments presented amid an interweaving of many evocative poems, dohās of realization, and the introduction of numerous key protector forces (drala and werma). All of this comes together to comprise a striking opening act to a story that will almost certainly enrich one's perception of Tibetan Buddhism and enliven it with a missing piece of living tradition. We learn in Lama Chönam's introduction that Gesar can be viewed as a meditational deity (yidam) and dharma protector in extant practice lineages today – as well as the fascinating perspective that Gesar does not conventionally kill his enemies, but invariably engages in practices to send their misguided consciousness to "higher states" [a practice found elsewhere in Indo-Tibetan transmissions as well as the enduring Hindu tantric rite of Nara Bali – JIA].
Translator Robin Kornman, a co-founder of the historically significant Nālandā Translation Committee, auspiciously stuck with that committee's precedent of including a sturdy and inspired glossary (good prior examples were the release of The Rain of Wisdom and Life of Marpa) as a central pillar of his effort. Because of this new tradition, I am today in the habit of skipping first to the glossaries of Shambhala titles likely to have been influenced by this trend before I read the text proper! And I would encourage readers to pick up this bad habit of mine, if only with The Epic of Gesar of Ling or works like it. This is because reviewing the entries there of Kornman and colleagues will give one an excellent view of the philosophical view or lens behind the translation and editing process which is, I think, an essential resource for readers to have in unpacking a text. (You'll note a related perspective in my review of the Tuttle and Schaeffer books immediately below.) Gesar's glossary is so superb I'd like to excerpt it briefly to illustrate how it can shape one's reading. Here are a couple of entries that should introduce you to the decidedly Tibetan "flavor signature" of the material: 
authentic presence (Tib. dbang thang). An invisible field of power that extends around the shoulders of a warrior or a great being, like the Byzantine notion of a saint's charisma. An important part of the cosmology of Tibetan village and nomadic culture, the wông tong, as it is pronounced, though it is often written as wang tang, is actually an aura that surrounds the body and can be gathered, collected and built up into a powerful force that makes a person's actions penetrating and effective. This expression is translated as "authentic presence" because it is regarded in a subtle way as a kind of field of wealth and fortunate power investing one with natural charisma. See also life force.
coemergent connate wisdom (Tib. lhan cig skyes pa'i ye shes; Skt. sahaja jñāna). From the point of view of the unsurpassed tantras, moments of ignorance do not arise totally divorced from wisdom. Even in a confused person's stream of consciousness, wisdom and ignorance always arise simultaneously. Thus wisdom can be found even in moments of confusion. This is the wisdom that coemerges with ignorance.
It is my hope that my tame introduction may be enough to whet the interest of readers who have stood at the periphery of the Epic to take a "leap of taste." I promise that your view of Buddhadharma will shift – at least ever so slightly – if you do. In turn, all those Tibetan flavors which you have never been sure had anything to do with your Buddhist studies may leap into relief as vital forces in a vivaciously accessible mandala.
Published by Shambhala Publications
Hardcover US$120.00
www.shambhala.com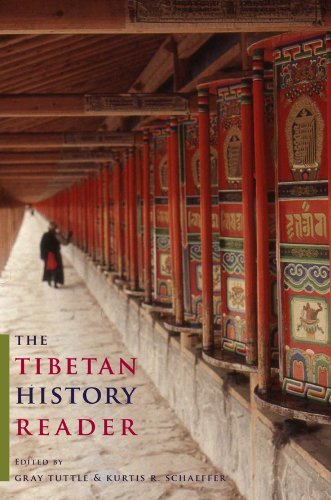 The Tibetan History Reader
Edited by Gray Tuttle and Kurtis R. Schaeffer
Sources of Tibetan Tradition
Edited by Kurtis R. Schaeffer, Matthew T. Kapstein, and Gray Tuttle
Gray Tuttle is an accomplished historian of Tibetan and Chinese civilizations with a named professorship at Columbia. Kurtis R. Schaeffer is an historian of religions at the University of Virginia whose main methodologies, according to his schools's website, rely on digital technologies through:
"[t]he use of databases and geographic information systems (GIS) in an effort to collect, organize, and interpret large bodies of complex literary material with a degree of temporal and spatial specificity that is difficult to achieve through traditional humanistic methods; [and the] employment of quantitative methods of data collection and analysis of both literature itself and data collected from literary sources to improve the cogency of historical claims."
Together, these scholars have "hit a double" this year with two impressive anthologies published by Columbia University Press (CUP). The first is a collection of "essential, hard-to-find" essays from the past fifty years of Tibetan studies "[c]overing the social, cultural, and political development of Tibet from the seventh century to the modern period," according to the publisher. The second, according to CUP, is "[t]he most comprehensive collection of Tibetan works in a Western language [illuminating] the complex historical, intellectual, and social development of Tibetan civilization from its earliest beginnings to the modern period."
Now, the publisher frames these books for the academic marketplace in the reverse order , indicating that the history anthology "complements" what I would the anthology of "Tibetan textuality" (I use that word purposefully, since Sources is by no means a simple reader of religious literature but a bold interdisciplinary juxtaposition of literary, religious, legal, medical, and other classes of texts). I consciously list them in the sequence I have because I think Schaeffer's "posthumanistic" methodology of quite literally mapping texts quantitatively is key to debates regarding what the role of the humanities is in an era when big data drives research for academics standing outside of the hard sciences. By all appearances, for these scholars, obvious boundaries of genre or field seem to be subordinated to the pure "pleasure of the text" (to borrow critic Roland Barthes' term) of literary-historical mapping as a kind of new theory of reading. I confess to liking the way in which a mapping out of enormous masses of texts according to where and when these texts emerged can be a strategy deprivileging works that were once given dominance based on political position—with one big disclaimer: so long as – as I think GIS proponent historian J.B. Owens of Idaho State University is correct in cautioning – researchers are guiding the software and not the other way around. Schaeffer and Tuttle are savvy knowledge brokers, so that would not appear to be an explicit hazard for them per se. However, quantitative alternatives to "traditional humanistic methods" may make academics favoring such innovations less bold when it comes to using mythic sources such as those marshaled by Norbu in A History of Zhang Zhung.
I have long respected the painstaking care of Norwegian researcher on Bön, Per Kvaerne, but in deferring to his circumspect investigations, Tuttle and Schaeffer decidedly have no wish to rock the boat with respect to publishing anything that situates Zhang Zhung and Bön texts and tradition in a more central position in Tibetan history. As a token gesture, they vicariously allow Kvaerne to offer the feeble, politically correct olive branch that the Bön are not mere plagiarists of Buddhist lineages. The specter of my interlocutor of many years ago deploring the state of mainstream scholarship on Bön troubled my dreams as I tried to press forward with these editors' vision.
This caveat aside, the editors of The Tibetan History Reader have in general been competent in compiling a history of Tibet from essays on the building blocks of particular periods written by leading scholars. The roster of authors is impressive: Matthew Kapstein (a contributor in this volume rather than an editor: writing on the 7th century Avalokiteśvara text Mani Kabum), Janet Gyatso (on early modern Tibetan medicine), the brilliant, if fascistic, Giuseppe Tucci (an excerpt from his seminal work Tibetan Painted Scrolls on Tibetan religious conflict accompanying the ascendance of the Gelukpa lineage in the 1500s, and the list goes on to make the Reader a Who's Who of some of the most adept Tibetanists of our era.
So again, if I were teaching an interdisciplinary course on Tibetan texts, I would use the history anthology for the first half of the term and follow that with Sources. This, in my view, would situate for students the inevitable presence of the historian in making historiographic choices – echoing Heisenberg's warning about the role of the scientist in his or her experiment – since the writing of history cannot but influence many teachers who adopt these texts and make their students consume them. 
As to the book I preemptively adopted for the second half of the semester in my dream Tibet course, Sources of Tibetan Tradition is clearly a tour de force; it's a vast anthology of primary source materials from every era of Tibetan history – e.g., early Islamic travel accounts; Sino-Tibetan treaties; works on Tibetan medicine; excerpts from the Gesar epic; Vajrayāna and Dzogchen texts; Tibetan laws; Tsongkhapa's Three Essentials of the Path; an original record of the meeting between Sönam Gyatso and Mongol king Altan Khan (in which the latter bestowed the title of "Dalai Lama" on the former); a passage from the Fifth Dalai Lama's History of Tibet; numerous works of namthar (hagiography or saints' lives), dohās (visionary songs), and other poetry . . . and dozens of other pivotal literary, spiritual, cultural, and historical texts. I have never seen anything remotely resembling this collection – I say this enthusiastically and not severely – and its inclusion of legal documents presents particular interest for anyone intrigued by the so-called contemporary "Law and Literature" critical movement, which employs literary strategies to discuss legal texts and vice-versa. Having followed Matthew Kapstein's scholarship for the past twenty years, I can confidently say that his peerless "fuel blend" of logic and innovation was certainly a key factor in the successful selection of the book's rich ingredients. Schaeffer and Tuttle were wise to seek him out as a collaborator, and their own trajectories as academics are all the better for it. 
UPDATE: I have shared the idea of a "special topics course" centered around these two titles and A History of Zhang Zhung (the third as a conceptual counterpoint) with colleagues at my college, and it appears fairly likely that this will happen within a year or two. So, books really do shape institutions, and the Mandala community is now a part of that process. 
Published by Columbia University Press
The Tibetan History Reader: Paperback US$40.00; Hardcover US$120.00
Sources of Tibetan Tradition: Paperback US$40.00
http://cup.columbia.edu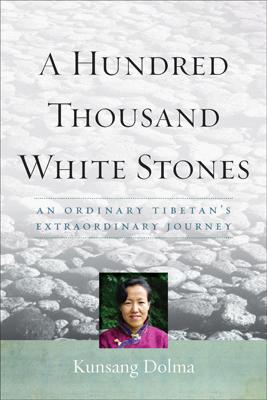 A Hundred Thousand White Stones
By Kunsang Dolma
It is so powerful to have at last a Tibetan memoir that is spiritually uplifting without having to veer into the realm of hagiography and saints' turf – instead squarely occupying the subgenre in spiritual autobiography that has finally arrived internationally: the conscious frank look at the sacredness available in human imperfection. But before this book's merits hit home for you, it will probably have to break your heart.
Born in 1980 in a poor village without electricity or any modern amenities in the Amdo region of eastern Tibet, author Kunsang Dolma quickly draws us into a world of concrete joys and problems. Daily for years there is simple food, and always the same fare: tea, bread, thukpa (noodle soup) – but she gets us to crave this soup, because one of its ingredients is warm company. By modern standards, the level of deprivation we witness is jarring, and the writer aptly puts her current American compatriots today in their place for complaining about trivial problems, for instance, at work. For her family, every detail of just being alive is work, a plight for which she demands not pity but rather sober recognition.
An aspect of this memoir that cannot be dismissed even by the most stubborn apologist for Chinese domestic policies is the firsthand account of the illogic of state communism at the ground level. One example is a mandate of compulsory collective farming with an arbitrary point system that unfairly leaves the author's family in miserable debt. This is the unavoidable daily world of a second-class citizen in occupied Tibet. She does not pull any punches, describing difficulties arising from her father's alcoholism and crisply contrasting generous and warm voices in her village with petty and parochial ones. An awful personal event at 15 sets her resolutely in her intent to become a nun, something she had been thinking about earlier. But this is a kid who gets no breaks; she further loses close family members and suffers other sad episodes (events she describes in spare but aesthetically alert descriptive sentences punctuated by accessible motifs of the Tibetan religious worldview, including dream omens). As a nun, she finds temporary solace in meditation. Getting furious and fed up with Chinese government officials berating the Dalai Lama, she decides to flee Tibet for India to see this forbidden figure whom most Tibetans ardently love and honor.
Kunsang Dolma's spiritual odyssey is not resolved by nunhood or proximity to the Dalai Lama. I think it is a necessary spoiler to say here that rape culture is part of the central fabric of her and our social universe, and one that diverts the course of a life. That broad culture is not a Tibetan one, or Indian or American one, but a universal pathology that dictates that women exist for men's amusement and that rape is somehow a legitimate medium of human communication. But this alien culture is never one to which she acquiesces; I know of no account of the Tibetan diaspora that looks at this phenomenon in such a courageous and unblinking way – or whose author seeks and finds spiritual purpose despite and in the midst of barbarism dressed up as civilization. Rape culture catapults her both into and out of the monastic life.
Settling with the Tibetan refugee community in Dharamsala, the author ultimately finds love in Evan, a thoughtful young American visiting the settlement, a man to whom she is now married and with whom she has had two children in the US, where the family now lives. Their courtship is tender and touching – it is still refreshing for this reviewer to encounter a genuine account of human beings making themselves vulnerable to one another and finding joy and reward in the risk.
The most vital consistent thread that qualifies this book as a spiritual memoir is that its speaker is so relentlessly introspective – and when she strays from her values and does something dishonest, she lays bare her entire emotional landscape to confront it. In the Tibetan community, she falls prey to a manipulative young woman, who coerces her to steal money from a third woman that the conniver convinces our narrator has been badmouthing her (that is, Kunsang Dolma).
Without revealing the outcome of the story, I will just say that the culture shock Kunsang Dolma experiences in her new country, the US, is no mere token narrative device or means of framing the close of the book. In particular, the author's reflections on Americans' dependence on machines and technology are straightforward but comprise a vein of sincere wisdom and are rooted in formative experiences not premised on technology to teach her what is deep and what is superficial in a life.
This is a deceptively spare memoir whose principal currency is honesty, with all its demands and rewards. I am grateful to have met Kunsang Dolma in these pages, thankful for the overwhelming love within her broken heart. That love surpasses whatever limits two covers or our intellect may seek to impose upon it.
Published by Wisdom Publications
Paperback US$17.95
www.wisdompubs.org