News/Media

*If a menu item has a submenu clicking once will expand the menu clicking twice will open the page.

Study & Practice

*If a menu item has a submenu clicking once will expand the menu clicking twice will open the page.

Projects

*If a menu item has a submenu clicking once will expand the menu clicking twice will open the page.

FPMT

It is necessary to help others, not only in our prayers, but in our daily lives. If we find we cannot help others, the least we can do is to not harm them.

His Holiness the Dalai Lama

*If a menu item has a submenu clicking once will expand the menu clicking twice will open the page.

Shop

The Foundation Store is FPMT's online shop and features a vast selection of Buddhist study and practice materials written or recommended by our lineage gurus. These items include homestudy programs, prayers and practices in PDF or eBook format, materials for children, and other resources to support practitioners.

Items displayed in the shop are made available for Dharma practice and educational purposes, and never for the purpose of profiting from their sale. Please read FPMT Foundation Store Policy Regarding Dharma Items for more information.
The Case of the Talkative Traveler
SHORT STORY: SAM SERA
December 2002-February 2003
By Jim Dey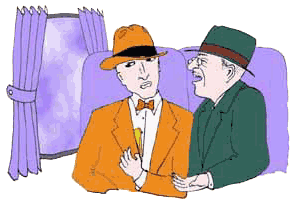 Sam Sera, Karma Investigator, puts his Lam Rim Chenmo into his holster and takes off on an airplane. Even there, he finds he has to solve another karmic puzzle.
That particular day I was not in the office. I was flying back from a Dharma teaching. You have to keep learning when you are in this business. I wish there was some way to get the teaching in real time, like a teleconference or something. I dislike flying by myself.
Most people dislike flying alone because you're not really alone. You are stuffed into an aluminum tube with scores of people, many of them drinking, and you can't choose who you sit next to. Just one more minor suffering in this realm. On this flight, I wanted to catch up on some Dharma reading and maybe even pretend to nap while I meditated. But it was not to be.
The man scrunched in next to me was busy almost the whole time — typing emails into his computer, talking on the phone, holding open a magazine and watching the in-flight movie. He was a salesman of some kind, I think. It was not a peaceful setting.
He finished one call, put down the phone, and said out loud in a way that was meant to invite a conversation, "Wow, I need a vacation! Say, bud, are you on vacation? Or business? I'm doing a little of both, really. You see, I'm working on this deal …"
He went on endlessly. I hoped he would notice that my eyes were glazing over and I was trying to read my book. Again he invited me to speak. "But enough about me, my name is Bob." He stuck out his hand in a friendly manner. "Who are you and what do you do?" Since I could no longer ignore him, I decided maybe I could help him.
"Sam. Sam Sera. I'm a Karma Investigator." Short and to the point.
"Really?" he enthused. "Karma, huh? You know, I have a niece who's into that karma stuff. She also has crystals and things all over her house, it's a nice house though, I helped her to get financing by talking to this banker friend of mine …" Bob proceeded to give me a short course on alternative real estate financing. I was trying to get a glimpse at my book again. I don't think Bob ever inhaled.
" … But anyway, I never understood this karma stuff she talks about. What do karma people do?" It was my turn to talk again.
"I help people to understand why things happen, and what they can do about it."
"Well, maybe you can help me get a day off, heh, heh. The last time I was on vacation …" He seemed to be addicted to the sound of his own voice. He needed a 12-steps group, something like On-and-on Anon.
I cut him off. "Funny you mention time off. I hear that for people who talk meaninglessly 'there are no places to take your leisure, no parks, no glades, no pools of cool water …'" I lovingly stroked the loaded Lam-Rim under my coat in its shoulder holster as I quoted the great Je Tsongkhapa in its pages on Karma and Results. I realized too late that he took offense. Now he cut me off.
"Hey, what do you mean, 'meaninglessly?' Are you some kind of wise guy? Some kind of guru going to ask for donations and convert my children?" He eyed me suspiciously.
"No, I'm just a Karma Investigator. I help people." I finished the quote in my head, ' … and many things to make you afraid.'" I didn't want to aggravate this guy any more ….
Read the complete article as a PDF.