News/Media

*If a menu item has a submenu clicking once will expand the menu clicking twice will open the page.

Study & Practice

*If a menu item has a submenu clicking once will expand the menu clicking twice will open the page.

Projects

*If a menu item has a submenu clicking once will expand the menu clicking twice will open the page.

FPMT

By eliminating the self-pitying imagination of ego, you go beyond fear. All fear and other self-pitying emotions come from holding a self-pitying image of yourself.

Lama Thubten Yeshe

*If a menu item has a submenu clicking once will expand the menu clicking twice will open the page.

Shop

The Foundation Store is FPMT's online shop and features a vast selection of Buddhist study and practice materials written or recommended by our lineage gurus. These items include homestudy programs, prayers and practices in PDF or eBook format, materials for children, and other resources to support practitioners.

Items displayed in the shop are made available for Dharma practice and educational purposes, and never for the purpose of profiting from their sale. Please read FPMT Foundation Store Policy Regarding Dharma Items for more information.
FPMT News Around the World
July / September 2009
INTERNATIONAL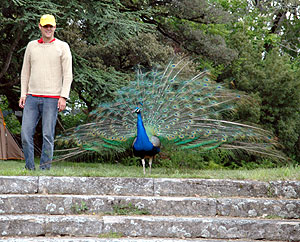 From May 5 to June 6, over 400 people, aged from 18 to 80, came from all over the world and participated in the 100 Million Mani Retreat held at Institut Vajra Yogini (IVY) in France. Om mani padme hum (referred to as the "mani" mantra), is the mantra of Chenrezig, the Buddha of Compassion. The retreat was aimed at collecting 100 million recitations of this powerful mantra.
Many long-time FPMT students, center directors, spiritual program coordinators and over 70 Sangha were in attendance.
Younger children could be found sleeping in the teaching tent during the last session of the day or playing on the small playground that was set up for them.
IVY's grounds were covered by 100 tiny tents and nearly 300 people lived their month-long stay in IVY's chateau.
One attendee, a gorgeous peacock, wandered around, displaying his beautiful tail and adding in sounds that Lama Zopa Rinpoche incorporated into the sessions, reminding participants to meditate on emptiness or bodhichitta whenever the peacock's call could be heard.
The retreat was intense, pure Lama Zopa Rinpche style, with the day starting at 6:00 a.m. and typically ending at 1:30 a.m. or 2:00 a.m. The daily schedule was rigorous and many people took the eight Mahayana precepts each day. Lama Chöpa was the first session of the day, followed by three sessions of the Chenrezig sadhana. Each session, led by Ven. Dondrub, began with prostrations and recitation of the names of the 35 Buddhas and was dedicated to the success of His Holiness the Dalai Lama's wishes to succeed.
Lama Zopa Rinpoche's teachings were "exquisite, impeccable and so inspiring," according to one attendee. Rinpoche gave essential advice on how to do retreat, how to think during the retreat and how to use the time in the most beneficial way. Additionally, Rinpoche ministered advice for relationships, how to bring up children, how to make offerings and offered an incredible commentary on Calling the Guru From Afar.
The retreat finished with Lama Zopa Rinpoche conferring the Thousand-Arm Chenrezig initiation.
About 20 million mantras were collected on site, and contributions from home retreaters were encouraged to reach the 100 million goal. Lama Zopa Rinpoche will personally offer the 100 million mani mantras to His Holiness the Dalai Lama.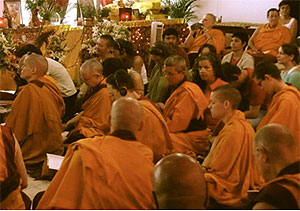 By Ven. Losang Monlam
"I pray for a more friendly, more caring and more understanding human family on this planet. To all who dislike suffering, who cherish lasting happiness, this is my heartfelt appeal." – His Holiness the Dalai Lama
The family of monks and nuns within the FPMT serve in many capacities: as teachers, retreat leaders, center directors, spiritual program coordinators, editors and counselors, with many engaged in study and retreat. Every year on Wheel Turning Day (this year, July 25), FPMT celebrates the presence of the Sangha community on International Sangha Day.
This is a very special time to reflect on the value of having the monastic community among us, the service they give and the inspiration they provide. Centers throughout the world will host various events that develop the relationship between the lay and monastic communities.
Traditionally, this relationship was integrated into daily life through various ritualized methods. The lay community provided the basic requisites of the monastic community (food, clothing, accommodation, medicine, etc.) and the monastic community provided a basis for generating merit, a source of inspiration and a formalized system for preserving and continuing the lineage of Buddha's teaching. However, times have changed, and now the ritualized daily point of contact between the monks and nuns and the lay people is not so well defined.
International Sangha Day provides an opportunity for the lay and monastic communities to recognize their interdependence, the fact that they rely on each other for their practice of Buddhism. This year, in celebration of FPMT International Sangha Day, the monks and nuns of the International Mahayana Institute (IMI) are offering prayers for world peace. The monastic community is offering to recite the Sutra of Golden Light, as requested by Lama Zopa Rinpoche, to bring about the causes for peace on our planet.
Reciting the Sutra of Golden Light effects real change that benefits real beings. As Lama Zopa Rinpoche says:
"Acts of terrorism will be averted. Acts of violence will stop. China will return to Buddhism and will relax its hold on Tibet. Natural catastrophes will be avoided. Crops will be successful. The environment will be clean. People will be safe. If there is war, it will end and there will be peace."
Recitations of the Sutra of Golden Light will take place around the world. And IMI is inviting everyone to participate in different ways:
Everyone is encouraged to recite the Sutra of Golden Light with the Sangha during the period of Sakadawa, June 7 to International Sangha Day, July 25. Everyone is encouraged to participate by pledging any number of recitations.
In addition to dedications for peace, individuals are welcome to request dedications for family, friends and loved ones. The special dedications will be made on International Sangha Day at the culmination of the sutra recitation.
Others are also welcome to make donations in support of the members of the IMI community who contribute to world peace by inspiring others with their ethical behavior, tolerance, compassion and wisdom.
The Sutra of Golden Light is available to download in various languages on the FPMT website. One will also find valuable information on the benefits of reciting the Sutra of Golden Light.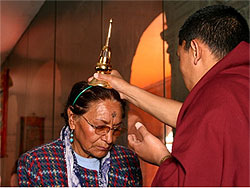 In addition to the millions of people who have heard about the Maitreya Project Heart Shrine Relic Tour through media coverage, now one million people from around the world have been in the physical presence of the relics and felt Maitreya's message of loving-kindness. They have prayed, meditated and contemplated world peace, fulfilling the intention of the masters who left behind these amazing relics to inspire us to act with loving-kindness and create the causes of world enlightenment.
So far this year, the tour has been incredibly successful. In February, the relics were displayed in Tokyo and at the national museum in Mexico City; a total of 40,000 visitors received blessings. Andy Melnic, Relic Manager, commented specifically that "many, many Catholic visitors were crying at the Mexico City event and prostrating and crossing themselves at the same time. This event concentrated on the juxtaposition of the peace message of the relics with the really heavy violence happening at present in Mexico."
In March, the relics went on public display in Vietnam for the very first time. And in May, the relics made their first visit to Sri Lanka.
Recently, Shechen Rabjam Rinpoche offered a relic of his late grandfather, His Holiness Dilgo Khyentse Rinpoche, to Lama Zopa Rinpoche saying it was offered "with the deep aspiration that this project continues to benefit sentient beings."
Plans are also underway for the tour to make an inaugural visit to the African continent. Details of these events will soon be added to Maitreya Project's website.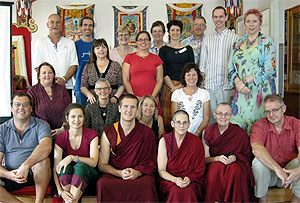 AUSTRALIA
Helen Patrin, coordinator of the Australian National Office, writes this about the FPMT Australia National Meeting which took place March 2009:
"One of the main areas we focused on was sharing and cooperation, and it was so amazing to see how everyone embraced it, as there has always been a little resistance in the past. The 'family feeling' was also nurtured and encouraged, and we all felt part of a larger FPMT family. People were more willing to share their resources, and there was a general feeling of wanting to secure all the work that has been done by individuals and pool it together as shared resources for the group so that in future people don't have to reinvent the wheel. There was a large range of topics including policies, education materials (notes from course leaders that supplement Education Services' work), technology information, taxation information, and the list goes on.
"Our focus was on getting things documented clearly for future center directors and spiritual program coordinators to make their jobs easier. As we are all lacking resources in one way or another, we can pool our resources and all work together as Lama Yeshe and Lama Zopa Rinpoche have always envisaged.
"I see this as a major stepping stone for all of us working much closer … [p]eople are seeing now that it is in their best interest (as well as the organization's) if we can all collaborate and share as much as we are able. It doesn't take away from one center, but enriches the others, and then those centers can in turn receive something of benefit from the others. I see it as an act of generosity that will bring the results back into each and every contributing center."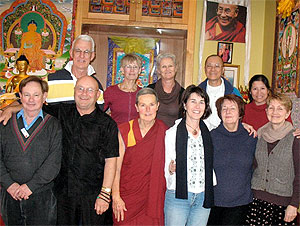 Although already existing for five years, a group of dedicated individuals at Hayagriva Buddhist Centre in Perth, Western Australia are ready to officially announce the formation of Wheel of Life Hospice Service, a organization that aims to offer the gift of affection and love, emotional and spiritual support, and companionship to those individuals and their families who are facing life-threatening illness, to the dying, to those who have died and to those who are left grieving.
With the support of Ven. Thubten Dondrub as their resident teacher, Wheel of Life Hospice Service meets twice monthly to discuss and meditate on topics related to death and dying, and to pray for those individuals on FPMT's Prayers for the Dead and for any other people or pets of which they have become personally aware. In addition to these services, this burgeoning group already offers a six-week program for those interested in learning how to support the dying and ill.
INDIA
In March, Ven. Joan Nicell, FPMT's new English Translation Coordinator, along with Wisdom Publications' David Kittelstrom attended the landmark conference convened by the Khyentse Foundation at Deer Park Center in Bir. Here is their report:
The main purpose of the conference was to marshal a unity of purpose around a common goal: the immense project of translating the entire Tibetan Buddhist canon – the Kagyur (the words of the Buddha) and the Tengyur (the classical, mostly Indian treatises) – along with core Tibetan commentaries into the major languages of the world. In his keynote, Dzongsar Khyentse Rinpoche spoke eloquently about how the very survival of Tibetan Buddhism could depend on its translation.
Most of the lamas and translators present agreed upon a hundred-year vision to translate and make universally accessible the Buddhist literary heritage. As a step in that direction, the participants decided that the 25-year goal would be to translate the Kagyur into English. Then, looking at what needs to be done in five years, the group decided that establishing the infrastructure and training programs necessary to accomplish the long-term vision were most essential, with some representative texts to be completed as well. To ensure the project gets off the ground following the conference, Dzongsar Khyentse Rinpoche was asked to be the interim director of the newly named Buddhist Literary Heritage Project, and the Khyentse Foundation was requested to provide administrative support for the initial phases.
In an audience the day after the conference, His Holiness the Dalai Lama expressed his own opinion that translating the Tengyur should take precedence over the Kagyur. These texts form the basis of the study curriculum, he said, and sutras, such as the Heart Sutra, can be misinterpreted without the clarifications of the later treatises. He also noted that whereas the Tibetan commentaries were written exclusively for Buddhists, the writers of the Tengyur wrote for a multi-religious society more like our own. The techniques of reasoning that they developed are especially needed nowadays to establish authentic Dharma in the West.
Whatever the outcome of the conference, it was an amazing and inspiring experience to join so many people from different Tibetan Buddhist traditions in an atmosphere of such harmony, respect and enthusiasm. The sharing of knowledge and resources will be of great benefit to the new FPMT translation initiative – and to the world at large!
MALAYSIA
Jangsem Ling Retreat Centre (JSL) in Traing, Malaysia, accumulated seven million recitations of the six-syllable compassion mantra, dedicating for Lama Zopa Rinpoche to have a long, healthy and stable life.
Taking part were students of JSL and other FPMT centers in Malaysia, as well members of the rural Triang community. JSL Director, Ven. Sonam, explained why participation rules were kept to a minimum: "I wanted to encourage first timers to try and dip their toes into it, particularly in a small town like Triang where most locals had never even heard of the word 'retreat.' So long as that person participates in it, it will be the seed of liberation and enlightenment. And to do that, people can recite anywhere within a period of a month to achieve 100,000 manis."
As further encouragement, anyone who accumulates 100,000 manis has their name inscribed on a plate next to a Tara statue. As JSL intends to hold the retreat regularly, every year there will be a new statue with a new set of names. Only the dedication supplicating Rinpoche to live long will stay the same.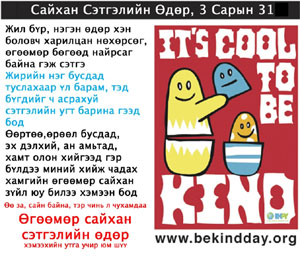 MONGOLIA
By Chimeddavaa, acting director of Shedrup Ling Center, Mongolia
It's too early to tell how many organizations in how many countries celebrated the first Be Kind Day,but Ulaanbaatar, capital city of Mongolia where almost half of the country's three million people live, is happy to be one of the celebration's pioneers. Mrs. Baigalmaa, coordinator for Children's Development Program of the non-profit Lamp of the Path and Jim Damico, a volunteer for the Shedrup Ling Center of FPMT Mongolia came up with ideas to promote and celebrate Be Kind Day.
Baigalmaa told others that it would be quite interesting to see responses towards the concept of a "day to be kind" from children of various ages, to see how they describe and express kindness. "Mostly, children are fond of making paper crafts and drawings, while teenagers are keen to express their thoughts and opinions through other types of media," Baigalmaa told her colleagues, "[So] let's see how kids express 'kindness' through drawing, paper crafts and essays."
The team worked on new posters with the Be Kind ideas translated into Mongolian and placed them in several local schools, including an orphanage. As the deadline approached, the staff was almost overwhelmed with submissions from many children from many different places, including the countryside. The team received more than 130 entries. Children aged 7-10 years had an opportunity to send in drawings, while 11-15 year olds did paper crafts. The teenagers, 15-18, wrote essays exploring their thoughts on kindness. Over half of the entries came from orphanage children.
As can be imagined, selecting the best works from so many was quite intense for the staff. Ten- year-old Enkhtushig's entered a drawing which expressed that caring and giving support were ways to be kind. He also described that kindness for him meant being with his family. The winner of paper crafts described the traditional living style of Mongolians and how families support each other. The winner of the essay competition S. Enkhbulgan wrote that "kindness is a language which the deaf can hear and the dumb can speak." She also commented on kindness's lack of physical attributes, writing that "kindness exists very deep in our hearts and it is shapeless, colorless and doesn't have any smell. That's why kindness can only be expressed by one's actions and speech." She has been living in an orphanage for many years but the strength and warmth of her words show she knows kindness both as a receiver and giver.
A selection of the drawings, paper crafts and essays will be on public display in the Stupa Café at Shedrup Ling. If you are ever in Ulaanbaatar, please visit the café and see how the children's work expresses their profound wisdom.
UNITED STATES
Wisdom Publications' publisher and FPMT board member, Tim McNeill, was profiled in Publishers Weekly , the leading trade magazine for the publishing and bookselling industry. The article describes briefly some of McNeill's amazing past experiences and qualifications as well as his work and vision for Wisdom Publications' future, including a new book by His Holiness the Dalai Lama, The Middle Way: Faith Grounded in Reason.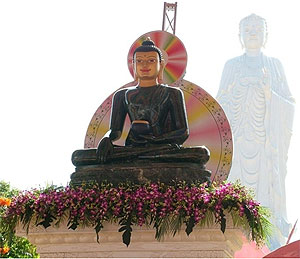 VIETNAM
The vision for the Jade Buddha has come true and is a sensation in Vietnam. In April, the statue had been to three temples and an estimated 650,000 people viewed the Jade Buddha. Scheduled for two weeks at Vietnam's biggest temple, Ian Green, director of the Jade Buddha for Universal Peace project has "no doubt that well over 1.2 million people will visit the Jade Buddha in Vietnam during the two months that we are here."
The Jade Buddha has received widespread national publicity on TV, press and Internet. It has been on national TV three times, full-page stories in major papers and the front cover of the national Buddhist magazine. "We always mention His Holiness and [Lama Zopa Rinpoche] in all our publicity," Green comments, "[and so] many people now are interested in Lama Zopa Rinpoche and know about [his] vision for the Jade Buddha."
In April, the Most Venerable Abbott in Ho Chi Minh City made a very moving speech about the value of the Jade Buddha as a symbol of world peace and what a blessing it was for Vietnam to bring the statue there first.
The Vietnam tour has been such a success that the project has already received a lot of enquiries to come from as far afield as the United States, Canada, Laos and Germany. Booked out to the end of 2010, Green proudly remarks that he "can see this tour going on for years."