News/Media

*If a menu item has a submenu clicking once will expand the menu clicking twice will open the page.

Study & Practice

*If a menu item has a submenu clicking once will expand the menu clicking twice will open the page.

Projects

*If a menu item has a submenu clicking once will expand the menu clicking twice will open the page.

FPMT

One must practice with the bodhisattva attitude every day. People can't see your mind, what people see is a manifestation of your attitude in your actions of body and speech. Pay attention to your attitude all the time, guard it as if you are the police, or like a maid cares for a child, like a bodyguard, or like you are the guru and your mind is your disciple.

Lama Zopa Rinpoche

*If a menu item has a submenu clicking once will expand the menu clicking twice will open the page.

Shop

The Foundation Store is FPMT's online shop and features a vast selection of Buddhist study and practice materials written or recommended by our lineage gurus. These items include homestudy programs, prayers and practices in PDF or eBook format, materials for children, and other resources to support practitioners.

Items displayed in the shop are made available for Dharma practice and educational purposes, and never for the purpose of profiting from their sale. Please read FPMT Foundation Store Policy Regarding Dharma Items for more information.
Geshe Lamsang's Heart Advice
TEACHINGS AND ADVICE
July-September 2014
By Steve Milton, director of Centro Nagarjuna Valencia
On Tuesday evenings at Centro Nagarjuna Valencia in Spain, Geshe Lamsang, the center's resident geshe, gives an hour-and-a-half talk or teaching. Geshe-la usually plans to give the oral transmission and commentary to a Buddhist text that we decide on together before the start of each new term. However, more often than not, the Tibetan root text will be left neatly wrapped in its yellow cloth cover on the lama's table, or sometimes gets opened with just half an hour to go with a verse or two of the text explained. A few years ago, I started to call the Tuesday talk "Heart Advice." And it really is just that, depending on who comes to the talk or what Geshe-la has on his mind, he will give spontaneous heartfelt advice that is inspiring for new comers and older students alike.
In these talks over the years Geshe-la has shared his own personal experiences, examples and analogies of key points of the Buddha's teachings. One of my favorite analogies of Geshe-la is one that illustrates how we shouldn't waste any time in making good use of this precious human rebirth: "If someone lent you for just a short time a machine that could print real money, you would be using it day and night to make the most money possible before giving it back, wouldn't you?"
Geshe-la has been living in Valencia for more than 13 years and so knows well the Western mind. Often someone will come up and say to me after the teachings, "I'm sure Geshe-la was talking to me when he said such and such."
Tuesday classes are free to attend. We also have a live video stream of the teachings in the "Ciber-Gompa" on the center's website. People connect from all over Spain and the Spanish-speaking world, from countries such as Mexico, Chile and Argentina to watch Heart Advice and even get a chance to ask questions to Geshe-la at the end of the teachings in the online chat. All the videos are stored online to watch at any time and the MP3 recordings are available for free download.
It was only natural then that the book Heart Advice from a Tibetan Lama for Daily Living was published as a free Dharma book. Digital versions in PDF and ePub are available to download directly from the website or you can simply read it online. The printed version is available in Centro Nagarjuna Valencia or from Ediciones Dharma, who published the book.
The book took over two years to complete and was launched on Tibetan New Year, March 2, 2014. Those who have read it have responded positively and most importantly have said that they found it useful. Geshe-la is very happy that his book is proving beneficial and has been giving away copies to students when he teaches in other centers around Spain.
Centro Nagarjuna Valencia has sponsored the printing of the first edition and as students pick up a book from the center, many are leaving donations to sponsor future books and thereby practicing the generosity of giving Dharma and accumulating merit.
Freeing Ourselves from Cyclic Existence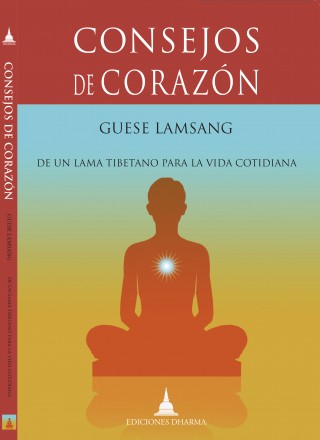 Here follows an extract from Heart Advice translated into English by Steve Milton:
What must we do to free ourselves completely from cyclic existence? Buddha gave instructions as to what we should abandon and what we should practice, that is to say, he indicated which causes and their corresponding effects we should eliminate and what we should try to achieve. The two causes and their effects to eliminate are the truth of suffering and the truth of the origin (of suffering), and the two causes and their results we need to obtain are the truth of cessation and the truth of the path that leads to cessation. Buddha himself emphasized that it is up to us to carry out this work on ourselves. Through our effort we will free ourselves from samsara. In this way, we are our own enemy and own best friend. It may seem contradictory, but both are aspects of our mind.
If we allow ourselves to be dragged along by negative emotions, this will cause us problems. As we continue to create causes to experience suffering, we become our own enemy. Yet we can be our own best friend by eliminating the origin of suffering and by following the path to achieve this. In this way, we will progress on the path and eliminate the causes of all our problems. There are six places where we can go after this life and the means by which we can avoid being reborn in the three negative places has already been explained. As humans we have already avoided being reborn in the lower realms but we still experience unwanted situations because this is the nature of cyclic existence (samsara). If we do not want to be reborn again into samsara, we should follow Buddha's instructions. For this purpose Buddha gave teachings which can be grouped into the three "turnings" or "wheels of Dharma."
In the first turning of the wheel of Dharma, Buddha explained the four noble truths: the truth of suffering, the truth of the origin of suffering, the truth of cessation and the truth of the path. He told us about the two aspects to cultivate and the two aspects to eliminate. He explained that suffering and the origin of suffering are to be avoided. He showed us that what we should try to achieve is the truth of cessation and the truth of the path. He also taught that the four noble truths are devoid of inherent existence. He explained it in few words, but it has a great meaning.
To summarize, we do not wish to suffer and we do want to be happy, but what we call happiness is not ultimate happiness, which is free from all suffering. And even when we have good external conditions, we are not totally happy. Being happy temporarily we are not completely happy, and if we are, it is only for a brief space of time. Conditions change constantly and rapidly. This is our situation; everything is unstable in our life. Apparent happiness is very unstable and this is what is known as the truth of suffering. We can be rich, but in a moment, we can lose everything. As it is something that can change, it is suffering. For this reason we say that all cyclic existence is suffering. Everything that is experienced in existence has the nature of suffering. Our very body has the nature of suffering, but we do not see it as such. Everything that we consider to be marvelous, we do not see having the nature of suffering. Even great scientific breakthroughs, for which we can feel great admiration, are also in the nature of suffering.
Our virtuous actions are the only things that will help us at the time of death. Similarly, we should avoid negative actions because we will carry the negative karma accumulated from those actions with us to our next life. When we want to enjoy a holiday we plan carefully for it, we should take the same view about our death. The planning involves accumulating positive actions and avoiding negative ones. If we accumulate many positive actions we will attain good rebirths. Accumulating positive actions, for example, we could attain the same conditions as some rich people have; they are so wealthy they do not even have to plan their holidays! Due to virtuous actions we have accumulated, we will experience positive situations in our future lives. The majority of people who hold any religious belief accept that something exists after this life.
To read or download the book in Spanish: www.nagarjunavalencia.com/LibroConsejos/indice
From Steve Milton: "I would like to thank everyone involved in making the book possible. Geshe Lamsang and his translator Karen Molina, Jose Antonillo and Ven. Paloma, who gave the book its format and for making it so clear and easy to read; Edgar Molina for his lovely illustrations; and Marga for doing the design and layout of the book. Thanks also to Xavi and Mari Carmen of Ediciones Dharma for publishing the printed version. May Heart Advice be of the greatest possible benefit for all sentient beings."