March-May 2002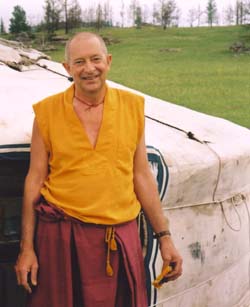 Murdered monks, an epidemic of a fatal illness, a communist revolution, extraordinarily high taxes – all this and more wiped out a community. Will it arise again? Ven. Thubten Gyatso tells the story of a man with the determination and vision to restore Baldan Baraivan, and his own sojourn in a glade of flowers.
At the turn of last century, the Gelug monastery of Baldan Baraivan, 300 km east of Ulaan Baatar, housed nearly three thousand monks with another two to three thousand lay practitioners living nearby. First, an epidemic of what sounds like smallpox decimated the inhabitants, then the communist revolution occurred. With no capitalist system to attack in this country of nomads, the communists turned their blind hatred towards the monasteries. First they taxed the lamas at a ridiculous level and then, on the pretext of not paying their taxes, over three years in the 1930s they took all the older monks and leaders of the monasteries away and murdered them. Witnesses tell of a line of yellow lama hats along the top of a ditch dug to receive their bodies – the hats fell off as communist bullets entered the back of their heads. The physically strong monks were sent to work camps in Siberia, and were not heard from again. And the young novice monks were sent home to look after the animals. The communists then removed all usable building materials from the monastery site, which was like a small village, destroyed the holy objects, and burned everything else.
Today, the roofless shell of the main gompa remains, and little else. Granite foundations show where the monks and lay people lived in their wooden and felt gers and shacks, the ground is littered with broken domestic and religious artifacts, and conifers and silver birch have crept down from the surrounding granite ridges to reclaim their valley. The people have gone and, in early summer, only the sound of cuckoos can be heard in this valley of magnificent rock formations. Clearly, however, the Dharma needs more than auspicious rocks to remain alive. …
Contact Info
1632 SE 11th Avenue
Portland, OR 97214-4702 USA
Tel (503) 808-1588 | Fax (503) 232-0557
About FPMT
FPMT is an organization devoted to the transmission of the Mahayana Buddhist tradition and values worldwide through teaching, meditation and community service.
more...
About Buddhism
If you're new to Buddhism, please read our
Buddhism FAQ
. A place to learn about Buddhism in general, FPMT, and our Discovering Buddhism at Home series.