News/Media

*If a menu item has a submenu clicking once will expand the menu clicking twice will open the page.

Study & Practice

*If a menu item has a submenu clicking once will expand the menu clicking twice will open the page.

Projects

*If a menu item has a submenu clicking once will expand the menu clicking twice will open the page.

FPMT

[It will be best] to include meditation practice and retreat requirements with the study of the subjects, so as to ensure students are given help integrating the three aspects of hearing, contemplation, and meditation.

Lama Zopa Rinpoche

*If a menu item has a submenu clicking once will expand the menu clicking twice will open the page.

Shop

The Foundation Store is FPMT's online shop and features a vast selection of Buddhist study and practice materials written or recommended by our lineage gurus. These items include homestudy programs, prayers and practices in PDF or eBook format, materials for children, and other resources to support practitioners.

Items displayed in the shop are made available for Dharma practice and educational purposes, and never for the purpose of profiting from their sale. Please read FPMT Foundation Store Policy Regarding Dharma Items for more information.
December 2006 / January 2007 Issue
The Giving Tree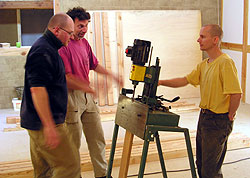 This issue of The Giving Tree features the efforts of those who are building Nalanda Monastery in Lavaur, France, a budding monastic community in the Gelugpa tradition adapted to Westerners' needs. It is said that there is no greater virtue than the virtue of establishing monasteries, because all the happiness and peace of sentient beings comes from the teachings of the Buddha – and it is from monasteries that the teachings will spread.
As the Buddha himself remarked to King Sagyal, "Any human being building Buddha's temple, even while still in samsara, in future lives will always have incredible wealth, like radiating palaces, like the king of devas." The great Indian yogi Nagden Pawo said, "To establish a temple for the mighty arya beings (sangha) of Shakyamuni Buddha, soothe somebody with the words, 'please help to build,' 'please donate,' 'please give a hand with the work'." So according to Lama Zopa Rinpoche, this means that any group of people who help to build a monastery, even during sleep, while standing up, eating, whatever they do, the merit of building the temple continuously increases immeasurably.
Mandala reports:
Lama Zopa Rinpoche has kept a benevolent eye on the progress of a very special building project at Nalanda Monastery in Lavaur, France, the planning of which began in 1996. Particularly in the last seven years, teams of volunteer workers under the guidance of Ven. Jean Francois have laid foundations and raised the roof, made mud bricks pressed from Nalanda soil, installed environmentally-friendly water systems, and generally have served as the most willing of construction workers. Lama Zopa quotes an Indian pandit: "Even the insects that get killed underfoot, under rocks, or whatever during the building of a temple, will never get reborn in lower realms. They will be reborn in higher realms because they died for the work of a temple of the Buddha."
Ven. Jean Francois, an architect and designer, did not anticipate constructing a monastery when he became a monk fourteen years ago. "But I never doubted it would be completed," he said. "Fulfilling the wishes of Lama Yeshe and Lama Zopa Rinpoche influences my practice a lot.
"There are currently twelve monks living and working at Nalanda, plus currently five long- and short-term lay volunteers from different parts of the world. Some who come to Nalanda become Buddhist monks, and others become better human beings. What is satisfying is that I could see many becoming more purified in their actions. Their participation has created a lot of merit for themselves."
After years of fundraising, planning, and volunteer management, this massive 1100 square meter (3600 square feet) project is expected to be completed in 2007.
Ven. Tendar, the Director of Nalanda Monastery, comments on the hard-won success of the project: "We did weekly pujas with all the monks to remove obstacles. As the whole building was built with both skilled and less skilled volunteers, it is a miracle that there were not any accidents! Even more special was the team work; almost always there has been a lot of harmony. Ven. Jean Francois was for many volunteers a great source of inspiration due to his devotion, determination, discipline, and his other skills. We hope that this will contribute to the flourishing of the monastery in the coming years."
The great Tibetan Lama from Amdo, Kalmen Gyatso, said, "The means to benefit the general teachings of the Buddha and sentient beings depends on the existence of the pure field, sangha. Therefore, if one benefits monastic discipline with skillful means, the traditional practice of Vinaya will last a long time."
Nalanda is situated next to sister-center Institut Vajra Yogini and welcomes lay men and monastics to take retreat at the monastery, participate in the study program, and volunteer. To learn more about the project, go to www.nalanda-monastery.eu.