News/Media

*If a menu item has a submenu clicking once will expand the menu clicking twice will open the page.

Study & Practice

*If a menu item has a submenu clicking once will expand the menu clicking twice will open the page.

Projects

*If a menu item has a submenu clicking once will expand the menu clicking twice will open the page.

FPMT

Death could come any minute so transform your life into Dharma.

Lama Zopa Rinpoche

*If a menu item has a submenu clicking once will expand the menu clicking twice will open the page.

Shop

The Foundation Store is FPMT's online shop and features a vast selection of Buddhist study and practice materials written or recommended by our lineage gurus. These items include homestudy programs, prayers and practices in PDF or eBook format, materials for children, and other resources to support practitioners.

Items displayed in the shop are made available for Dharma practice and educational purposes, and never for the purpose of profiting from their sale. Please read FPMT Foundation Store Policy Regarding Dharma Items for more information.
December 2007 / January 2008
The Mind
By Tenzin Chonyi (Dr. Diana Taylor)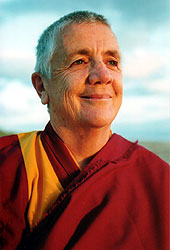 As an FPMT teacher, nun, and psychologist, I have often had people say to me, "Why bother with Western psychology when everything is there in Buddhism?" This is a valid question, since Buddhism contains the complete path. It is not that Buddhism is lacking, but that it helps to reframe it in a way that is useful to Western culture.
I also have a deep respect for the Christian mystical tradition. The results of mystical contemplation lead to those spiritual realizations such as love, compassion, and wisdom, so it is obviously worthwhile. Yet Christians' descriptions of their spiritual path are very different from the descriptions of the stages of meditation within our own Buddhist lineage. So I asked myself why the two paths are described so differently. If Lama Yeshe is right, then the stages we go through as our meditative concentrations increase are the same, whether we are Buddhist or Christian or agnostic.
What I found was that the Christian mystic is not concerned with stages of concentration so much as the meaning of the experiences arising within, and after, meditative concentration, contemplation, and prayer. The mystic is concerned with what Eugene Gendlin (1978) called the "felt-meaning" of the experience: the love, the joy, the ecstasy, the feeling of Jesus being a close friend, the bliss of union with the Divine mind.
Felt-meaning is a word which brings together the deep connection between our feelings about an event and the meaning we put onto that event. It explains why a cheap plastic bangle, or a battered toy, may have a lot of significance for one person, but mean nothing to the rest of us. So while the meditative states may be independent of one's religious tradition, the felt-meaning of these states can be very different. In Buddhism we refer to the union of bliss and emptiness so that the felt-meaning of our meditative contemplation is very different to the personalized meaning of the Christian contemplative.
We could say that the lam-rim is our method for developing a wiser felt-meaning to our experiences. If I am angry, what is the meaning I have given to that anger? That it is the fault of another person, or an opportunity to practice patience, or to understand emptiness? Felt-meaning arises from our attachments and aversions and ignorance. If I am grasping at getting a new car, then I will impose a felt-meaning on the experience of getting the car (How fantastic! It's perfect! All mine!), or not getting that car (How can I manage without a new car? This car's a dump, unreliable. What will people think about me driving around in this rust-bucket?). When we practice transforming problems, then the meaning of 'problem' becomes quite different. Our emotions when we experience the problem also become transformed. The felt-meaning has changed.
If we practice meditative concentration, then what is the felt-meaning that arises? If I am using meditation to run away from my problems, then the felt-meaning might be: "At last I am in a space where I do not have to worry about my problems; this feels good; I want this feeling to last forever." If meditation means that I can be better than someone else, then the felt-meaning will depend on whether we think that meditation is good or bad. If it is good, the felt-meaning is: "Ah, I've got it right. I feel good about myself. I'm better than those other meditators around me. They're losers" … and lots of puffed up pride. If the meditation is not good, then the felt-meaning will be: "I'm no good. I'm hopeless. I can't do it…"
This article is an excerpt of the full article printed in Mandala