News/Media

*If a menu item has a submenu clicking once will expand the menu clicking twice will open the page.

Study & Practice

*If a menu item has a submenu clicking once will expand the menu clicking twice will open the page.

Projects

*If a menu item has a submenu clicking once will expand the menu clicking twice will open the page.

FPMT

Your whole life is controlled by karma, you live within the energy field of karma. Your energy interacts with another energy, then another, and another. That's how your entire life unfolds. Physically, mentally, it's all karma.

Lama Thubten Yeshe

*If a menu item has a submenu clicking once will expand the menu clicking twice will open the page.

Shop

The Foundation Store is FPMT's online shop and features a vast selection of Buddhist study and practice materials written or recommended by our lineage gurus. These items include homestudy programs, prayers and practices in PDF or eBook format, materials for children, and other resources to support practitioners.

Items displayed in the shop are made available for Dharma practice and educational purposes, and never for the purpose of profiting from their sale. Please read FPMT Foundation Store Policy Regarding Dharma Items for more information.
Tsunami disaster: Potowa Center helps the victims
By Guido Schwarze.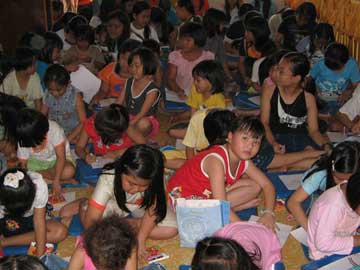 Repercussions from the biggest natural disaster in the history of Indonesia continue. Aceh, located 150 km south of the epicenter of the earthquake, was the hardest hit by the December 26 earthquake and tsunami; these took the lives of over 170,000 people and left more than 500,000 people, a tenth of its population, homeless. Many of the victims are poor fishermen and their families in small seashore fishing villages.
The scale of devastation caused by the tidal wave goes far beyond our imagination. Banda Aceh, the capital city and economic center of Aceh Province, was reduced to rubble within a matter of minutes by the 60-foot tidal wave. The local government collapsed, the infrastructure was completely destroyed, and its economy utterly paralyzed. Indonesia lacks the system and resources for handling emergencies of such magnitude.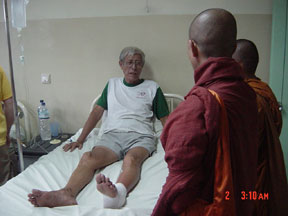 The world has come together to give help to Asia's tsunami-stricken areas. The Indonesian population at large is extremely grateful for the massive outpouring of sympathy, the generous donations and the humanitarian work rendered by individuals and governments from around the globe. But one of the dire needs that have to be met quickly is the shortage of doctors, especially orthopedic surgeons, since many of the survivors have suffered broken bones that are largely left untreated and, in many cases, eventually must be amputated. There are also frequent cases of patients who have their lungs filled with seawater that can't be removed due to lack of medical facilities. Most of the temporary shelters are packed with too many people, and the supply of medicines is terribly inadequate.
Many fear that several months after the outburst of generous donations, "donor fatigue" will set in. A more sustainable and long-term relief effort will certainly be required, for a period of one to two years at the very least.
Psychological assistance
Members of FPMT's Potawa Center in Jakarta Barat first visited refugee camps in Medan-North Sumatra shortly after the tsunami hit. Four members joined in the voluntary aid efforts organized by Majelis Buddhayana Indonesia (MBI), one of Indonesia's largest Buddhist organizations. They noted the need to help with the refugees' mental health. So in collaboration with MBI, a team of eight volunteers, including professional psychologists, went for the second field visit.
We conducted a four-day preliminary assessment of refugees' mental health as well as counseling sessions and a crash course in counseling for local volunteers, a few of whom are teachers of the refugee children.
The team met with the refugees in person to get an insight into the situation. We are only able to cover a fraction of the people in need, hundreds if not thousands are still left untouched because of the lack of manpower and time constraints.
The few refugees that we interviewed are generally all right in that they still have hope to live on, but for some, especially children, there is reason for concern. When asked to draw a picture, one child drew scenery with the sun crossed out. Others drew the sea in which appeared a ghostly being. These children, if left untreated, will experience considerable emotional difficulties in the future.
Potowa Center is implementing a long-term fundraising program to be able to offer help in the form of counseling to meet the psychological and spiritual needs of refugees, who are suffering from various traumatic disorders and depression resulting from loss of family and everything they ever relied on for their livelihood. Potowa Center is developing a program to provide regular counseling by sending psychologists on a rotating basis, as well as conducting courses on basic counseling for aid workers and volunteers.
Very importantly, people will also be assigned to share the Buddhadharma to plant seeds and help others to eventually change their lives.
Most of the current aid covers the refugees' obvious physical needs, but providing psychological and religious/spiritual counseling was clearly identified to be of utmost importance for them to regain their mental health to help them to reclaim their lives. MBI, on the other hand, intends to focus on providing school tuition sponsorships, shelter, employment, and medical care for the refugees.
We at Potowa Center are also doing Medicine Buddha pujas and the practice of animal liberation, as recommended by Lama Zopa Rinpoche.
Appreciation also goes to Potawa volunteers, Witarsa, Hendwi Wijaya, Naomi Sutikno, Lisa, Fenny, Melly, Shanti and Liana.