News/Media

*If a menu item has a submenu clicking once will expand the menu clicking twice will open the page.

Study & Practice

*If a menu item has a submenu clicking once will expand the menu clicking twice will open the page.

Projects

*If a menu item has a submenu clicking once will expand the menu clicking twice will open the page.

FPMT

Cherishing others opens the door to every happiness for self and others.

Lama Zopa Rinpoche

*If a menu item has a submenu clicking once will expand the menu clicking twice will open the page.

Shop

The Foundation Store is FPMT's online shop and features a vast selection of Buddhist study and practice materials written or recommended by our lineage gurus. These items include homestudy programs, prayers and practices in PDF or eBook format, materials for children, and other resources to support practitioners.

Items displayed in the shop are made available for Dharma practice and educational purposes, and never for the purpose of profiting from their sale. Please read FPMT Foundation Store Policy Regarding Dharma Items for more information.
Open Letter to a President
March-May 2002
Lama Zopa Rinpoche has a message for U.S. President George Bush about the effectiveness of spiritual solutions to terrorism and the looming threat of a war in Afghanistan. He offers a range of prayers and practices for Buddhists and non-Buddhists alike.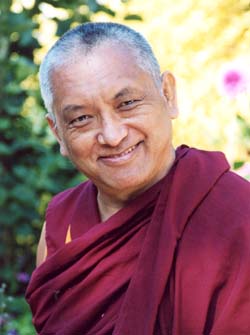 Since war was declared, some people have been protesting against it and clamoring for peace. But if what those people really want is peace, then they should first come up with a clear practical idea how to stop the terrorist attacks in the United States and other countries. Otherwise, you shout for peace and let the United States be completely destroyed by terrorists? This is like the saying in the Tibetan Buddhist texts: "A blind yak eating grass." Or the Western saying: "To throw out the baby with the bath water."
So many people are suffering now due to lack of awareness of what will come in the future. The problem is that common ordinary people are limited in what they can see, because of the lack of development of the mind. They do not have the power to see beyond, to read the minds of the terrorists and those in training. If Government Intelligence had the power to see beyond, then they could foresee future dangers. They see the harm in the minds of all those harmful people and terrorists. They could see what damage they could do to the United States and the whole world.
War is what ordinary people in the world regard as the solution. The problem is that war, even if it is won, is like a medicine that has side effects. It may temporarily help the situation but afterwards there will be continual complications. Why? Because the people you defeat generate hatred towards you and in future generations they harm you back. In the natural law of actions, called karma in Sanskrit, the action of harming leaves an imprint on the mental continuum and that imprint is like a seed. When it ripens later, the person experiences the result of receiving harm from others.
I understand that the situation is very difficult and that the American public is very angry but there are ways to solve the problem other than by going to war. It is possible that these terrorists can be overcome by spiritual power rather than by using military power. War costs so many lives and so much money. Even one missile can be so expensive, costing millions of dollars. When spiritual power is used to solve the problem, it saves all this expense and costs hardly anything.
Buddhism, and especially Tibetan Buddhism, has so many methods to help bring peace and happiness to sentient beings. If the Government were interested in the possibility of using spiritual methods to solve the current problems, they would need to consult with the spiritual head of each of the different traditions. Then practices could be done for a few months or a year in order for them to be effective. This way is not like military war, which makes some people happy and some people upset. These practices are unseen, so they do not irritate or upset anybody; that means also nobody gets angry and plans to retaliate back …
Read the complete article as a PDF.