News/Media

*If a menu item has a submenu clicking once will expand the menu clicking twice will open the page.

Study & Practice

*If a menu item has a submenu clicking once will expand the menu clicking twice will open the page.

Projects

*If a menu item has a submenu clicking once will expand the menu clicking twice will open the page.

FPMT

There is no samsaric pleasure that is new, so let go of the clinging that creates samsara.

Lama Zopa Rinpoche

*If a menu item has a submenu clicking once will expand the menu clicking twice will open the page.

Shop

The Foundation Store is FPMT's online shop and features a vast selection of Buddhist study and practice materials written or recommended by our lineage gurus. These items include homestudy programs, prayers and practices in PDF or eBook format, materials for children, and other resources to support practitioners.

Items displayed in the shop are made available for Dharma practice and educational purposes, and never for the purpose of profiting from their sale. Please read FPMT Foundation Store Policy Regarding Dharma Items for more information.
Buddhism in Latin America
Buddhism in Latin America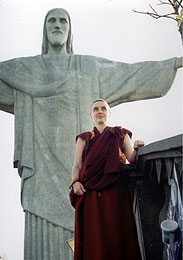 Although the four territories and twenty romantic, passionate, independent countries that constitute Latin America are predominantly Roman Catholic, the Dharma has taken root in recent decades. Buddhanet.net alone lists nearly ninety Buddhist centers in just thirteen of those countries – by no means a complete list – and FPMT has centers and study groups in Brazil, Colombia, Guatemala, and Mexico, plus a Brazilian national office. In May of this year, His Holiness the Dalai Lama made a memorable visit to Brazil, Argentina, Chile, Peru, and Colombia, not his first to Latin America, nor likely his last.
We trace some of the triumphs and tribulations as the Dharma ripens among a diverse and dynamic population, some of whom see the famous Corcovado statue of Christ the Redeemer in Rio de Janeiro, Brazil, as 1000-arm Chenrezig, and the Black Virgin Mary (patron saint of Brazil) as Black Tara.
BRAZIL
Marly Ferreira, FPMT National Coordinator, Brazil: Buddhism arrived in Brazil with the first ship bringing Japanese immigrants in 1908. Today, there are some remarkable Buddhist temples in Brazil, notably the Chinese Zu Lai Temple where His Holiness the Dalai Lama gave teachings in April, and two beautiful Tibetan Gompas, one constructed by Chagdud Rinpoche in the south of Brazil, and another being constructed by Tashi Sonan Rimpoche in the state of Espirito Santo.
Tibetan Buddhism began to take root in the 1980s. In 1992, visits from both His Holiness the Dalai Lama and Lama Zopa Rinpoche made a great impact on Dharma students who had been attracted to the lineage by a mixture of enchantment and curiosity. We had read about the lamas, their magical powers and stories from the Himalayas, and the guru-disciple relationship we longed for.
Beginning students became devoted Dharma practitioners, and non-Buddhists began to admire Buddhism as a philosophy. Those early days also brought the visits of lamas from other traditions. By the mid-1990s, all four Tibetan Buddhist lineages were in Brazil and I found myself involved as Center Director of the FPMT center in Rio de Janeiro, the Dorje Jig Je center, which later became Centro Shiwa Lha (which, in Tibetan, means Shantideva).
Times, however, were very difficult. Brazil is the only Portuguese-speaking country in Latin America [Spanish predominates in most of them], and Dharma material was very scarce. Texts were rare, and images of deities were not to be found. Prayers, sadhanas, and books were inaccessible because of the language barrier. There was no Internet, no FPMT Foundation Store, no "google-search," and finding a text or image was a reason for great rejoicing when the precious treasure was finally encountered. In time, books such as Liberation in the Palm of Your Hand by Pabongka Rinpoche (1878 – 1941) and other texts were translated, but just for study, as printing them is expensive. The translation work continues, but much is still needed.
Being a Buddhist in Brazil, and I believe also in all Latin America, brings many difficulties but also many opportunities. One particularity is that we function more from the heart than from the intellect, and a good quality resulting from this is that we are more open to authentic guru devotion, so it ripens very easily.
[This is an excerpt of the full article printed in Mandala. The seven-page feature covers not only Brazil, but also Colombia, Mexico, Guatemala and Puerto Rico.]