News/Media

*If a menu item has a submenu clicking once will expand the menu clicking twice will open the page.

Study & Practice

*If a menu item has a submenu clicking once will expand the menu clicking twice will open the page.

Projects

*If a menu item has a submenu clicking once will expand the menu clicking twice will open the page.

FPMT

If you have fear of some pain or suffering, you should examine whether there is anything you can do about it. If you can, there is no need to worry about it; if you cannot do anything, then there is also no need to worry.

His Holiness the Dalai Lama

*If a menu item has a submenu clicking once will expand the menu clicking twice will open the page.

Shop

The Foundation Store is FPMT's online shop and features a vast selection of Buddhist study and practice materials written or recommended by our lineage gurus. These items include homestudy programs, prayers and practices in PDF or eBook format, materials for children, and other resources to support practitioners.

Items displayed in the shop are made available for Dharma practice and educational purposes, and never for the purpose of profiting from their sale. Please read FPMT Foundation Store Policy Regarding Dharma Items for more information.
Letter from Bodhgaya How wonderful it would be if…
By Ven. Kabir Saxena
This is a time in Bodghaya for the local people to take stock of the year that slipped by and assess their current situation. This year, like so many before, the situation gives grave causes for concern. Inadequate monsoon and winter rains mean failed crops, rising prices, and real hardships for those close to or below the poverty line. Remember that this state, Bihar (the name comes from the Sanskrit for monastery, vihara, because in the centuries following Lord Buddha there were so many monasteries flourishing here), is already considered one of the most adrift, suffering, and lawless states in India. With state elections imminent, politically motivated murders abound. People call it a jangal raaj, a kingdom where the law of the jungle predominates. In the midst of all this sits benevolently the priceless jewel of the Place of Awakening, where thousands have been praying at the main stupa. And four kilometers from there sits this merely labeled monk in front of a Compaq computer screen, punching keys in an attempt to effect a heart-to-heart communication with so many kind Dharma companions all over this wounded planet from Ulaan Baatar to Portland, South Africa to Denmark, to those with, and to those without, mobile phones, and made possible through the kindness of so many, including a patient editor who awaits, uncomplaining, this tardy contribution.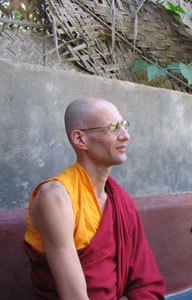 The point is as follows: Right now, I cannot with total effectiveness deal with the afflicted rumblings in even my own mental continuum, let alone apply a soothing balm to, or generate a healing panacea for, all the troubled and dissatisfied beings that I've encountered here in just the last month.
A sampling…
The farmer whose crop has failed and who desperately wants his daughter to be admitted to the Maitreya UE School. Only twenty-five places and over a thousand applicants. (Don't forget that having a daughter here means the parents have to generate an adequate dowry, often well-nigh impossible for them: Not to marry off your daughter invites much intolerable social criticism and ridicule.)
The countless sad and exhausted beggars with arms much thinner than even my scrawny ones, jamming them through the gaps of the Mahabodhi Stupa railings, interrupting the flow of mantra with their own poignant "Dedo sahib, dedo memsahib" – Give, sir; give, madam.
The constant requests for jobs and favors from people who know me. These disheartening confluences of needy beings with me and my present inability to really help them at all, even with their temporal needs, let alone liberation and enlightenment, are a reminder to pray over and over to be able to be a wish-fulfilling jewel for them as quickly as possible.
To transform oneself into that jewel, the inner garbage disposal team needs to work overtime, in a holy alliance with the power of prayer. We've only to look at the lives of our kind gurus to see how inconceivable past prayers have translated into unimaginable current activity benefiting others. As we have been told, the power of the Medicine Buddhas to help us in these degenerate times stems from the strength of their past aspirational prayers, and after all, how many prayers does the Guru Puja alone contain? All the prayers we make with the best intentions possible are planting the seeds, however tiny, that will grow into beneficial consequences. Sometimes just reciting the words of certain texts like the Samantabhadra-carya-pranidhana, or King of Prayers, can be so inspiring.. The same source states – "May I perfect an ocean of prayers."
There are also the five powers, the fifth of which is that of prayer, which Pabongkha Rinpoche says is "dedicating, just before you go to sleep, the root virtues you have acquired that day so that they serve to increase your two types of bodhichitta." That classic text also mentions that bodhisattvas have gained the courage not to be afraid for themselves, and that they'd be happy to take rebirth in hell through the power of compassion and prayer.
So, dear patient readers, let us not despair at our current lack of bodhisattvic qualifications. We have clear light buddha-nature already. We have gurus and precious human bodies (that we prayed for like crazy in past lives) and thick holy tomes such as Lama Zopa Rinpoche's highly illuminating Teachings from the Vajrasattva Retreat that Dr. Nick must have prayed hard for even before he was conceived. But to convert how wonderful it would be if… into action, we need to take responsibility ourselves, and remember to add the final magic words – "Please, guru-buddha, bestow your inspiring strength to enable me to do this."
I can just feel another prayer coming…