News/Media

*If a menu item has a submenu clicking once will expand the menu clicking twice will open the page.

Study & Practice

*If a menu item has a submenu clicking once will expand the menu clicking twice will open the page.

Projects

*If a menu item has a submenu clicking once will expand the menu clicking twice will open the page.

FPMT

From the Buddhist point of view, attachment for something means that it's very difficult for us to separate from it. We have a very strong attachment – strong like iron – for the things we think of as being very good. We need to learn to be flexible.

Lama Thubten Yeshe

*If a menu item has a submenu clicking once will expand the menu clicking twice will open the page.

Shop

The Foundation Store is FPMT's online shop and features a vast selection of Buddhist study and practice materials written or recommended by our lineage gurus. These items include homestudy programs, prayers and practices in PDF or eBook format, materials for children, and other resources to support practitioners.

Items displayed in the shop are made available for Dharma practice and educational purposes, and never for the purpose of profiting from their sale. Please read FPMT Foundation Store Policy Regarding Dharma Items for more information.
January / March 2010
FEATURED MEDIA
Teachings from the Medicine Buddha Retreat
By Lama Zopa Rinpoche
For most, attending a retreat with Lama Zopa Rinpoche is a rare and precious occasion (and with a rigorous program schedule, not for the faint of heart!) But one needn't feel that they've missed out because Lama Yeshe Wisdom Archive has produced another book, Teachings from the Medicine Buddha Retreat, which preserves the retreat experience. Organized chronologically to reflect the teachings as they happened during a Medicine Buddha retreat at Land of Medicine Buddha in the fall of 2001, the book contains a wealth of advice, prayers and teachings that reflect Lama Zopa Rinpoche's tremendous wisdom. Contemporary and historical images help to make the text dynamic, while Rinpoche's stories about early students and great Buddhist masters bring it heart. Well worth reading!
Published by Lama Yeshe Wisdom Archive
Paperback US$20.00
www.LamaYeshe.com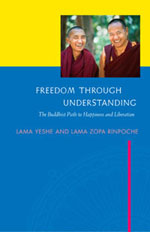 Freedom Through Understanding: The Buddhist Path to Happiness and Liberation
By Lama Yeshe and Lama Zopa Rinpoche
In 1975 during their first trip to Europe, Lama Yeshe and Lama Zopa Rinpoche gave a weekend seminar in England, once again demonstrating their charisma and knowledge, and the profound effect of Buddha's wisdom on Western people. Freedom Through Understanding covers the purpose of meditation, bodhichitta, the importance of motivation, tong-len and the shortcomings of attachment, among other topics. Produced by the Lama Yeshe Wisdom Archive, this is one of the few works that feature both Lama Yeshe and Lama Zopa Rinpoche. With the book being offered free by Lama Yeshe Wisdom Archive in print and online formats, there is no excuse for not treating yourself and a friend to a copy of these beautiful teachings!
Published by Lama Yeshe Wisdom Archive
Paperback and PDF (FREE)
www.LamaYeshe.com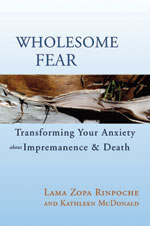 Wholesome Fear: Transforming Your Anxiety about Impermanence & Death
By Lama Zopa Rinpoche and Kathleen McDonald*
Imagine you're in a foreign country, there's a sudden terrifying earthquake – and the voice you hear is Lama Zopa's, rapping out this instruction: "Meditate on bodhichitta!" You are scared witless because you think you are going to die, but you have just been given the best advice in the world. This was Kathleen McDonald's unforgettable experience at Kopan Monastery in Nepal, back in 1974. Now she has collaborated with Rinpoche in this splendid book, crammed with clear unequivocal words of wisdom about how we don't need to fear death at all; rather, the fear is the risk of dying with an uncontrolled mind, and dying without having done anything positive in this life. It really is a "wholesome" fear, with extraordinarily positive qualities. With vivid descriptions of exactly what happens when we die, and the ultimate death experiences of great yogis, plus practical powerful guided meditations, this book is like having Lama Zopa Rinpoche at your side. What more could you ask for a perfect death?
Published by Wisdom Publications
Paperback US$14.95
www.wisdompubs.org
*Kathleen McDonald (Ven. Sangye Khadro) is the author of the best seller How to Meditate alsopublished by Wisdom Publications.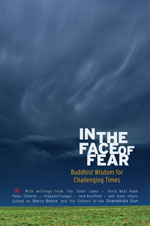 In the Face of Fear: Buddhist Wisdom for Challenging Times
Edited by Barry Boyce and Shambhala Sun editors
It's a scary world out there. The wise, warm and challenging voices of more than thirty writers in this anthology tell it like it is, and there isn't a Pollyanna among them. No false promises, no denials, no platitudes, instead a wealth of kindness and compassion, starting with His Holiness the Dalai Lama's advice not to try to avoid or deny suffering, but to do "just the opposite – wholeheartedly concentrate on and investigate it deeply," which is guaranteed to wake us up to love. This is wonderful bedtime reading. Try one a night for a month and you'll have the best dreams of how to transform difficulty into awakening, how to deal with money, work and family problems, and how to cope with strong emotions like fear. Writers including Thich Nhat Hanh, Jack Kornfield, Pema Chödrön, Matthieu Ricard and Dzigar Kongtrul Rinpoche help us to find the right tools that will give us a happy life in a chaotic world.
Published by Shambhala Publications
Paperback US$15.95
www.shambhala.com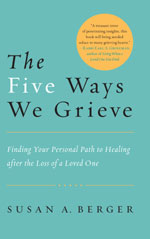 The Five Ways We Grieve: Finding Your Personal Path to Healing after the Loss of a Loved One
By Susan A. Berger
Grief is a brutal teacher with many faces. Dr. Elizabeth Kübler-Ross has described the five classic stages of grief: denial, anger, bargaining, depression and acceptance, but there is a life to be lived after the death of a loved one, a life that cannot be exactly as it was before. Susan Berger's research shows that there are five identity types, each of which represents a different way of creating meaning for the survivor. Each has its advantages and disadvantages, its strengths and weaknesses, but overall, Berger's categorizing is a very interesting way of looking at various coping mechanisms. She interviewed dozens of people (and has her own Center for Loss, Bereavement and Healing in Massachusetts) and found that grieving people tend to fall into one of these categories: "Nomads" battle with a range of unresolved emotions; "memorialists" are committed to preserving the memory of their loved ones; "normalizers" place primary emphasis on their family, friends and community; "activists" get out there and "do something!" and "seekers" look outward for answers to the meaning of life. Understanding where we are at any given point in time helps us to move forward and Berger's insights and suggested exercises are very helpful.
Published by Trumpeter Books (an imprint of Shambhala Publications)
Hardcover US$26.95
www.shambhala.com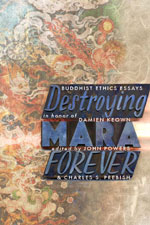 Destroying Mara Forever: Buddhist Ethics Essays in Honor of Damien Keown
Edited by John Powers and Charles S. Prebish
Damien Keown is believed to be the only academic in the world to hold the title of Professor of Buddhist Ethics and now that he is retiring from Goldsmith College, London, the editors cast a net to see how many people could claim expertise in the field even though they may not hold the title. They found close to thirty, yet when Keown started thirty years ago there was a mere handful. Whatever the impetus behind this book, readers will welcome this collection of insightful essays on the ways in which Buddhist perspectives inform some of the ethical issues facing the modern world: consumerism, globalization, environmental problems, war, ethnic conflict and interreligious tensions. The contributors are all scholars who, together with Keown, have contributed greatly to textual studies and their ethical applications; ethics and social engagement; and ethics in a global context. Topics range from non-violence to "doing good" as well as "refraining from evil" to interdependence and the complexities of pain and suffering. An engrossing and very topical read.
Published by Snow Lion Publications
Paperback US$22.95
www.SnowLionPub.com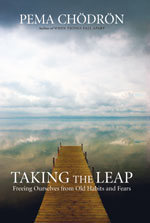 Taking the Leap: Freeing Ourselves from Old Habits and Fears
By Pema Chödrön
We all know how easy it is for old habits to hook us into less than helpful states of mind. Taking a leap into something new and better does involve making a commitment to let go of old grudges, and to avoid people and situations that threaten or upset us. Yes, sometimes that feeling of dread and discomfort can connect us to others who are feeling those same sensations. Our own suffering, she says, can open us to a loving relationship with the world. She shows us how to change our perspective, starting right now, not "later when things will improve." All of us have three basic human qualities: natural intelligence, natural warmth and natural openness. This book helps us to awaken those qualities.
Published by Shambhala Publications
Hardcover US$21.95
www.shambhala.com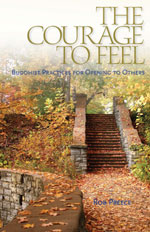 The Courage to Feel: Buddhist Practices for Opening to Others
By Rob Preece
The author is a practicing Jungian psychotherapist and long-time Buddhist whose new book is dedicated to Lama Yeshe and Lama Zopa Rinpoche, both of whom epitomize compassion. Deeply affected by their kindness and care, it is not surprising that Preece is driven to help others to foster bodhichitta in our minds and hearts. Far from didactic, this book helps us discover the joys of exchanging self with others and repaying the kindness. True happiness lies in learning to look outside ourselves. There are useful meditation practices at the end of each chapter.
Published by Snow Lion Publications
Paperback US$14.95
www.SnowLionPub.com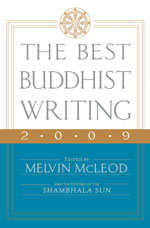 The Best Buddhist Writing 2009
Edited by Melvin McLeod
This annual collection seems to have been coming out as regularly as clockwork for ages, yet this is only the sixth year – and one of the best, in times that are particularly challenging. Eclectic as always, the voices are of mothers and fathers, prisoners, teachers, caregivers, physicists, famous novelists, rabbis and high lamas. This year there is also a recurring theme – multifaceted Buddhist responses to the world's environmental problems. Check this one out, it's a keeper.
Published by Shambhala Publications
Paperback US$17.95
www.shambhala.com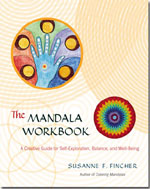 The Mandala Workbook: A Creative Guide for Self-Exploration, Balance and Well-Being
By Susanne F. Fincher
The word "mandala" means a lot to contributors and readers of this precious magazine. In a wider sense, mandala is Sanskrit for "magic circle" and its shape represents a whole universe in more ways than one – but whatever its particular meaning, the act of visualizing, drawing or even dancing one, is transformative. The author has diligently researched their history, then moves on to show how mandalas play a healing role in our lives – and how to create them. Imaginatively illustrated, with a myriad of exercises and suggestions, this will become a much-thumbed workbook.
Published by Shambhala Publications
Paperback US$18.95
www.shambhala.com
FOR YOUNGER READERS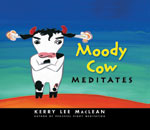 Moody Cow Meditates
By Kerry Lee MacLean
Yes, this is a picture book for kids, but this adult reviewer, who has her own "moody cow" days, believe me, was enchanted by this original and effective meditation teaching tool. Similar in story line to Alexanderand the Terrible, Horrible, No Good, Very Bad Day by Judith Viorst, it works by alerting children to their grumpiness, with a lovely lilt to the language, and concludes with a practical activity to help children settle their minds. Hopefully, the day is not that far off when meditation will be practiced more widely in homes and schools. A book like this could easily be incorporated into curriculum guidelines.
Published by Wisdom Publications
Paperback US$15.95
www.wisdompubs.org
The Amy & Gully Books
By W. W. Rowe
Recommended reading age: 7 – 12
Published by Snow Lion Publications
www.SnowLionPub.com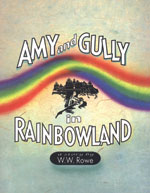 Amy and Gully in Rainbowland US$5.95
In this book, Amy and Gully, children, are playing dress-up when they find themselves in a magical land called Rainbowland, famous for its wondrous rainbows. There they meet a mysterious man whose name is Trinlay. After the siblings' arrival in Rainbowland, they find th at they can't return to their grandmother's house until they acquire the Wishing Stone. In their journey to get it, Amy and Gully learn that being selfish makes you unhappy and that when you are kind to others, the kindness is reflected back. And they find how strong your will-power can be.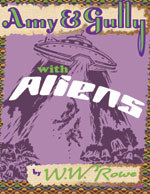 Amy & Gully with Aliens US$6.95
In this sequel, Amy and Gully find themselves captured by aliens after collecting leaves for school homework. Two aliens hold the girls captive and do experiments on them. Thankfully, they come out unharmed thanks to Gully's fast thinking. When the creator of the two aliens, Marla (yet another alien), comes, Amy and Gully are persuaded to participate in a test that Marla has prepared. The test seems to be a story of loving-kindness and evil. When evil starts to triumph, the children find they can control that part of the story. Amy and Gully learn that loving-kindness is the best treasure the world can offer and to always keep it in one's heart, because when one hurts others, one is hurting oneself. Although they no longer remember the actual experiences after they are released from the company of the aliens, they still have the knowledge they acquired.
The Amy and Gully books are an imaginative way to get across to young children, and even teenagers, the beauty of happiness, kindness, love and good deeds. They are written in a way that engages the readers, showing a spirit of adventure which is always entrancing and fun. I know the stories will affect all readers, whatever age, and make them think twice about being nasty or selfish. They certainly had that effect on me.
Reviewed by Grace Tsuchida-Taylor, age 13.