News/Media

*If a menu item has a submenu clicking once will expand the menu clicking twice will open the page.

Study & Practice

*If a menu item has a submenu clicking once will expand the menu clicking twice will open the page.

Projects

*If a menu item has a submenu clicking once will expand the menu clicking twice will open the page.

FPMT

If you have fear of some pain or suffering, you should examine whether there is anything you can do about it. If you can, there is no need to worry about it; if you cannot do anything, then there is also no need to worry.

His Holiness the Dalai Lama

*If a menu item has a submenu clicking once will expand the menu clicking twice will open the page.

Shop

The Foundation Store is FPMT's online shop and features a vast selection of Buddhist study and practice materials written or recommended by our lineage gurus. These items include homestudy programs, prayers and practices in PDF or eBook format, materials for children, and other resources to support practitioners.

Items displayed in the shop are made available for Dharma practice and educational purposes, and never for the purpose of profiting from their sale. Please read FPMT Foundation Store Policy Regarding Dharma Items for more information.
Social Service as a Dharma Practice
A practical guide to Dharma practice in action
By Yangsi Rinpoche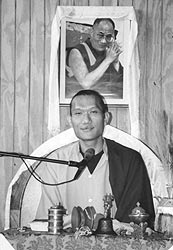 You have all heard the term "engaging bodhichitta." There are two types of bodhichitta – aspiring bodhichitta and engaging bodhichitta. "Engaging" means taking action, doing something based on bodhichitta mind, the wish to liberate all beings from suffering. In the context of our Dharma practice, we try to understand, and we try to meditate, and after that, there is something we can do. This is engaging bodhichitta. We are not only building up the wish inside our minds, but we are actually doing something physically to serve others.
Basically, social service should be something that we do totally from our hearts. We should act with no expectation involved at all. We serve completely from the heart. In one way, this kind of training helps us not to become totally intellectually dry. It brings our hearts more freshness. And it brings us the ability to integrate our own understanding of Buddhadharma into reality. Once we are out of the teachings or off the cushion, once we hit reality, what happens?
In the teachings, Buddha himself really encouraged us to serve people who are sick. In one sutra he very strongly encouraged his followers to serve people who are physically ill, who are unable to stand on their own feet. In general, in the teachings, there is no shortage of encouragement to serve others.
Also, within the Mahayana tradition, there is the example of the great yogi Arya Nagarjuna. He was a scholar, and his own daily activity involved teaching the Madhyamaka, the path of the Middle Way. He studied, and not only that, he practiced community service. He served his own community for a long time.
Dharma practitioners in early Tibet were also strongly involved in the community. They were not separate from the community. This tradition has its origins in the Mahayana. In the Mahayana, we meditate, we try to build our meditation, but we are simultaneously functioning in society – we are not running away from it. We practice the Dharma that is in front of us. We try to help, we try to do whatever we can do. Bodhichitta and compassion become the base of service. This is how it was done in Tibet.
Even these days in the southern part of India, the monasteries have organized local health care systems that provide medical care for everybody – Indians, Tibetans, ordained, not ordained. There is no difference; the services are open to everyone. Most of these services are offered free of charge. Everything is done by the monks. This is really beautiful.
Some of my students in Puerto Rico are such a wonderful example of this tradition. First, they studied and meditated on the teachings of Buddha for many years. Then a group of students began to serve food to the homeless population in the ghetto there, just once in a while, whenever they could get everything together and cook a meal. They would cook the meal at home, together, and then a group of them would go to the ghetto and give out the food. Some of the other students at the center were inspired by this, and due to that condition we established the Compassion in Action program at the center. Now center members go on a weekly basis to serve those in need. The homeless community there knows them now, and they are very happy when Sundays come around!
The reason we should offer service is because we are practitioners of the Mahayana tradition. It is as simple as that. For Mahayana practitioners, there are three aspects of practice. The first is the turning of the scholarly wheel of Dharma, which means learning the teachings. The second is the turning of the meditation wheel of Dharma, which means doing the meditative practice. And the third is the turning of the active, engaging, service wheel of Dharma. This is the context in which we serve. And this is why I think that social service is a crucial element of the Buddhist path. We should not be interested in social service because we are trying to be politically correct..
This article is an excerpt of the full article printed in Mandala.