News/Media

*If a menu item has a submenu clicking once will expand the menu clicking twice will open the page.

Study & Practice

*If a menu item has a submenu clicking once will expand the menu clicking twice will open the page.

Projects

*If a menu item has a submenu clicking once will expand the menu clicking twice will open the page.

FPMT

If you have compassion in your everyday life, you collect the most extensive merit and purify much negative karma in a very short time. Many lifetimes, many eons of negative karma get purified. That helps you realize emptiness.

Lama Zopa Rinpoche

*If a menu item has a submenu clicking once will expand the menu clicking twice will open the page.

Shop

The Foundation Store is FPMT's online shop and features a vast selection of Buddhist study and practice materials written or recommended by our lineage gurus. These items include homestudy programs, prayers and practices in PDF or eBook format, materials for children, and other resources to support practitioners.

Items displayed in the shop are made available for Dharma practice and educational purposes, and never for the purpose of profiting from their sale. Please read FPMT Foundation Store Policy Regarding Dharma Items for more information.
Where Are All the Western Geshes?
December 2006 / January 2007 Issue
Ask a Lama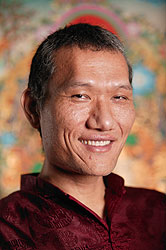 For this issue's "Ask a Lama" installment, Mandala spoke with Yangsi Rinpoche at his budding Buddhist University, Maitripa Institute. A Lharampa Geshe from Sera Je and Gyume Colleges in India, Rinpoche opened Maitripa in January 2006 and serves as both President and professor.
Where are all the Western geshes, khenpos, drupons, and lamas? I'm concerned about the lack of fully-qualified Western teachers. – Rinchen Gyatso, Rosemead, CA.
Two things are happening right now: one is that Western students have completed all the necessary training and have come out with the label of "qualified" or "ready to teach." Then, there is the other side where, due to individual karmic relationships, the teacher just naturally builds up the necessary qualities, but is not trained in the traditional way. In terms of individual students, you can relate to someone as "this is my teacher, I see he/she as qualified," but as for society, at this moment, all the traditions are trying to standardize that status. 
For me, personally speaking, there are a lot of qualified Western teachers, ordained and non-ordained, but right now the West is a "crossed place"; even though some qualified teachers exist, there's not this box where people can categorize who is qualified and who is not. 
The Geshe qualifications, etc., were founded in Tibetan culture. In the West, you need to adopt a standard in line with your own culture. Already established are the seeds, but the growing hasn't been completed. The standardization may not go exactly how it went in Tibet and India; once the Dharma is more related with Western culture, it will shape its own identity. 
In regards to the foundation for a qualified teacher, if a person is really knowledgeable but lacks compassion and patience in how they relate with students, then I think everything is not so beneficial. If the teacher, whoever that it, has the knowledge and on top of that has compassion and patience toward the students, and of course does this without ego and so forth, then pretty much they're qualified. Basically, there are ten qualities mentioned in the Lam-Rim – only ten, not hundreds of qualities! If an individual reads and takes responsibility for this, and if that person can handle those ten things, then that's it, they're qualified. 
In terms of training Westerners to teach tantra, one thing I see is that the Western attitude towards learning needs everything to be explained, everything needs to be laid out. If that mentality stays very strong and dominates their mind, it can be a little bit difficult to become a tantric practitioner. There are so many things beyond our explanation. Some Westerners are already great practitioners, but generally speaking, the scientific mind can create some obstacles. And tantrayana is like poetry; from a scientific point of view it doesn't make sense. Individuals who can have both minds simultaneously, that is good for making a qualified teacher. 
When looking for a teacher, if you have a very conditional mind but at the same time are really wishing to find a teacher, you will be limited in finding someone who can help you. Be very open. I see in the West the "I" being in the center – this is "my" teacher – you are still in the center, like the teacher is a protection or a buffer. It is important for that relationship to not be like a projector, where you project something onto the relationship and see everything there. The relationship of student and teacher is something that grows and grows. And during that time, it won't be like a perfect picture, you just need to naturally let it grow; don't be so tight. 
Basically, there are three qualities of a master: understanding well the right qualities; having discipline in applying those qualities; and having a very respectful attitude toward students, treating your students like your teachers. Once you have these three qualities, there is no doubt you are trained. There are a lot of students now who are very intelligent and very enthusiastic, so there will be many qualified teachers in the future, definitely.