News/Media

*If a menu item has a submenu clicking once will expand the menu clicking twice will open the page.

Study & Practice

*If a menu item has a submenu clicking once will expand the menu clicking twice will open the page.

Projects

*If a menu item has a submenu clicking once will expand the menu clicking twice will open the page.

FPMT

My religion is kindness to all

His Holiness the Dalai Lama

*If a menu item has a submenu clicking once will expand the menu clicking twice will open the page.

Shop

The Foundation Store is FPMT's online shop and features a vast selection of Buddhist study and practice materials written or recommended by our lineage gurus. These items include homestudy programs, prayers and practices in PDF or eBook format, materials for children, and other resources to support practitioners.

Items displayed in the shop are made available for Dharma practice and educational purposes, and never for the purpose of profiting from their sale. Please read FPMT Foundation Store Policy Regarding Dharma Items for more information.
Lama Zopa on the Road in America
by Merry Colony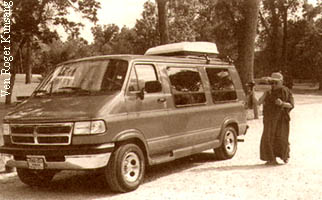 The summer of '97 could well indicate a new beginning in the travel style of Lama Zopa Rinpoche. Certainly, given the advice of one of his main teachers Ribur Rinpoche and others regarding Rinpoche's hectic touring schedules and the consequent toll on his health, we should all pray for such.
At a slower pace, with greater autonomy and fewer scheduled events, Roger Kunsang, Roger Munroe and our precious Rinpoche left California in the first days of August and embarked on the USA tour, but this time in a luxury conversion Dodge Ram van, maroon of course, complete with custom seats, TV and VCR. On this tour there would not be the constant hum of departure gate announcements, delays at baggage claim carousels or curbside's anxious check-in crowds. Nor would there be the katas given in haste amongst rushing onlookers. A great start to what can hopefully become the downsizing of Lama Zopa Rinpoche's annual travel agenda.
As a method for giving teaching to us, the style in which Rinpoche traveled, ate and rested provided a whole new market of opportunities for him to show us how to create merit amidst the more ordinary scenery of daily life. The most consistent way in which Rinpoche did this, Roger Munro said, was to make the environment, at every moment, were, into a merit field. That Dodge van, be assured, was power-packed, bestowing blessings on all who were in its reach and providing those within with the means to create merit almost effortlessly. And if there is anything that comes close to death as being a definite in our lives, it is that we will ride in our vehicles. So how to use them for merit? Fill them with holy objects and then circumambulate them at rest strops, parking lots and shopping malls. That's what Rinpoche did!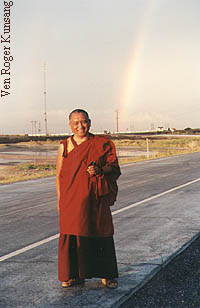 The route the entourage followed, starting off in Santa Cruz in California, was first through Nevada where the first night was spent on the side of the road, Rinpoche sitting up all night on the platform bed inside the van, Ven. Roger and Roger on the ground outside. When Roger 2 awoke in the morning, a bit  disoriented, the first utterance he made was, "Where are we?" From inside the van a muffled voice replied, "In hell!" For the most part, however, Rinpoche remained quiet as they drove through the desert of Nevada, except to remark now and then on how a particular mountain "looked angry" or another "like an animal with its skin ripped off." In Arizona Rinpoche was asked if he would like to see the Grand Canyon. "A hole in the ground! What for?" he replied.
When they reached Salt Lake City, Utah the atmosphere within the vajra vehicle and in the surrounding environment changed. There were several rainbows and a thin white cloud resting on the mountains surrounding the city, "as if a kata were draped on them," Roger M. said. Rinpoche commented that the local deities seemed pleased and then got out to inspect the salt lake, the first interest he'd actively taken in the scenery so far. Roger M. reflected on how in his previous life the Lawudo Lama had made trips by foot to Tibet to buy salt. There may well have been a connection as Rinpoche seemed very interested in how and why and what kind of salt was there. After a visit with the family of Gomo Tulku they continued on to Wyoming and then Nebraska.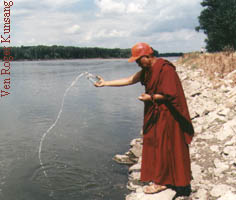 It was here, in the flatlands of middle America, that Rinpoche gave one of his best teachings. As it happened there was a Wheel Turning Day, August 7, when all the merits accumulated were multiplied ten million times. There were no stupas nearby, no statues, no Dharma centers. Except of course the  unbelievably powerful objects that Rinpoche carries with him, and needless to say Rinpoche's holy body itself. Within an hour the Motel 8 room where they had spent the previous night was transformed into a gompa and other than to eat lunch in the park nearby and bless the sentient beings living in the Platt river, the three did not leave the hotel room/gompa all day. They circumambulated a small formica table in the room adorned with their mani wheels, statues and the most precious stupa Rinpoche carries containing the Buddha's relic. They prostrated to the makeshift altar where Rinpoche had set up laminated sheets of Lama Tsong Khapa and Medicine Buddha. And all around they set up water bowls, of the plastic Park Inn variety courtesy of the motel. Then they meditated on the purpose of the perfect human life, and making it worthwhile by accumulating merit on behalf of sentient beings and dedicating all the merits to them. The example shown has to make us ask: Is there really that much I need to make my life worthwhile?
The next stop was Deer Park, Wisconsin, the home of Geshe Sopa Rinpoche, one of Lama Zopa Rinpoche's teachers. The entourage spent twelve days here, Rinpoche receiving teachings for two hours every day from Geshe-la. At the end Rinpoche offered a long life puja for Geshe Sopa, for which he shopped at the local department store, buying among other things, an Edgewood dinner set. The tsog offering was three tiers of gaudy supermarket cake, one of which had a smily face decorated in three-inch- thick frosting. Geshe-la was extremely pleased. When it came to the part in the puja where the mandala is offered and an original memorized praise is recited to the Lama, the tables were untraditionally turned. Rather than Lama Zopa offering the praise, Geshe Sopa himself spoke a moving praise of Lama Zopa's extraordinary qualities as a yogi-practitioner. Before leaving Deer Park Rinpoche granted the Vajrasattva empowerment, at the request of Geshe Sopa, to the many students of Geshe-la who were present.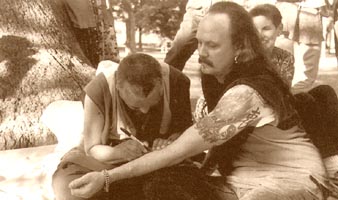 On to Decatur, Illinois. At Tilopa Center Rinpoche taught for three nights on The Three Principal Aspects of the Path followed by a Four-Armed Chenrezig empowerment. At a picnic Rinpoche is known to have  given his first tattoo. On the forearm of a tattoo artist Rinpoche wrote, "The moment you remember death all other problems will be solved." The man went home that night and put the needle and ink to the words. Yet another skillful means of bringing the teachings into our daily life American reality.
By now Ven. Tsenla had joined Rinpoche's entourage and they drove back West to Osel Shen Phen Ling in Missoula, Montana. Director Deanna Sheriff wrote, "Rinpoche transformed our environment and all who came in touch with him. He has challenged us to build a stupa in Montana for the benefit of all who live here and particularly for the growing Tibetan community. We are delighted to fulfill his vision for us. We are also trying to hold Rinpoche's vision of a bigger center in our visualizations and we invite students worldwide to pray for our success." The vajra mobile then headed to the Dharma Friendship Foundation in Seattle for a Vajrasattva empowerment and public talk, then on to San Francisco for another Vajrasattva empowerment sponsored by Tse Chen Ling Center and attended by 200 people.
Being the first stop of a month-long program in California, S an Francisco saw the beginnings of an international audience with several Taiwanese in attendance. From there the venue moved south to Cupertino's Medicine Buddha's Healing Center. Here the numbers swelled, with students that had come from New Zealand, Europe, Nepal and Taiwan for the Heruka and Vajra Yogini initiations preceded each night by extensive lam-rim teachings. Rinpoche used Lama Yeshe's text for the Heruka and would periodically read notes to us that Lama written as well as stopping where Lama had stopped when he had given the initiation years ago. It was a heartfelt touch for those of us who had attended those very memorable initiations.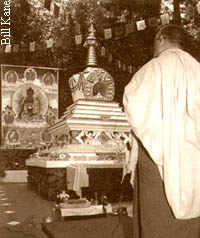 Land of Medicine Buddha in Soquel hosted the next event, a Palden Lhamo empowerment. Co-director Mark Gatter tells of having lunch with Rinpoche the day of the empowerment when it was discovered that Rinpoche didn't actually have the text with him. This inspired several Roger-powered long distance cellphone calls from the table until a text was located in Australia. They then returned to the center where the text was faxed through. Only when Rinpoche had started the preparation was it discovered that there were some pages missing. More calls to Australia. Just then three monks from Nalanda Monastery in France arrived, one of them carrying the exact text Rinpoche was in need of. He had brought it as an auspicious offering to the guru! Said Mark: "Don't you just love this stuff?" The initiation then proceeded without a hitch, the gompa filled with students from all over the world, finishing at 5am.
And now we bring you to date, where, as of writing, nearby at Vajrapani Institute, the extremely auspicious Dharma event of seventy students and Rinpoche doing a Most Secret Hayagriva retreat is in its final days. Many in attendance had followed the eight days of initiations preceding the retreat which had finished each night between 3 and 5am. When on the first day of retreat Rinpoche announced that this was "not going to be picnic," a slight panic could be felt in the room. Picnic it hasn't been (in fact meals have been taken in silence and without undue lagging about). Spiritual feast is more the description. At the start, however, it looked as though Rinpoche may depart early and go to Dharamsala for teachings from His Holiness, but the decision to stay was made when Geshe Sopa advised Rinpoche to remain. From our hearts, thank you Geshe-la!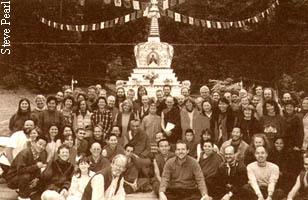 For twenty-four days, now, we have had the indescribable fortune of getting a taste for how the guru would have us meditate and conduct ourselves in retreat. First session at 5am, as with all sessions, began with extensive motivation and prostrations to the Thirty-five Buddhas followed usually by commentary and then the sadhana either chanted in Tibetan or done silently in one's own language. Rinpoche had invited Sera Je Geshe Thubten Sonam to come as our puja leader. After session and breakfast 1000 water bowls were offered at the stupa of the most precious Lama Thubten Yeshe. Another session began at 9:30am and another at 3pm. The evening session at seven included commentary as well as extensive torma and tsog offerings. After sometimes forty-five minutes of Rinpoche's elaborate dedication prayers, we usually got to bed well after midnight.
The amazing thing to experience was how our resistance to the heavy schedule became less and less, and while tiredness always lurked around the edges, it was very sustainable, and it even became enjoyable to be making such effort to make our lives meaningful.
We even had the merit to walk out of the gompa one session and see a seventeen-foot Medicine Buddha tangka hanging from the redwoods behind Lama's stupa. This was Peter Iseli's most recent offering (for nearby Land of Medicine Buddha), and Rinpoche honored him that night with praise and presents after extensive offerings and prayers had been made to the tangka Buddhas.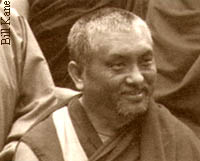 On the last morning of retreat Rinpoche explained that only since his being in the USA did the plan to do this Most Secret Hayagriva retreat take shape. He also said that he did not expect there to be as much  interest as there was and that he was pleased with how the retreat went.
Rinpoche then said that he would like to dedicate the positive accumulation to His Holiness. A letter will be sent to His Holiness explaining that this is the first time in the West that a group has done this particular practice and that we would all like to dedicate the merits to be guided by the Compassionate Buddha in all our lives and never to be separate.
Finally Rinpoche paid tribute to Paula Chichester and Roger Munro, who are about to begin their second three-year retreat. "Bearing so much hardship, this is what I am most interested in. Generally people who have done three-year retreat, you don't see much result, but I can see the improvement, stability. This is the result of having practiced Dharma during the retreat. Anyone can recite mantras but practicing Dharma is very difficult. When there is no development in the mind it is not because one doesn't have mantras to recite or deity practice to do, it is because no Dharma practice gets done." Rinpoche wished them both a good journey.
Tomorrow is fire puja and then as we all came together so we will part, each to their to their own destination, to their next work. We dedicate all the merits to all the FPMT students, benefactors, teachers and projects. That all may have success and that all obstacles be cleared.
And most of all that our lamas who show us the path, without whom we would not even know the name of Buddha, will have long and healthy lives and that all their holy wishes may be fulfilled without delay.