News/Media

*If a menu item has a submenu clicking once will expand the menu clicking twice will open the page.

Study & Practice

*If a menu item has a submenu clicking once will expand the menu clicking twice will open the page.

Projects

*If a menu item has a submenu clicking once will expand the menu clicking twice will open the page.

FPMT

Over and over again our experiences prove that it is our mental outlook that is fundamentally responsible for whether we are successful or unsuccessful, healthy or ill, attractive or ugly, happy or depressed.

Lama Thubten Yeshe

*If a menu item has a submenu clicking once will expand the menu clicking twice will open the page.

Shop

The Foundation Store is FPMT's online shop and features a vast selection of Buddhist study and practice materials written or recommended by our lineage gurus. These items include homestudy programs, prayers and practices in PDF or eBook format, materials for children, and other resources to support practitioners.

Items displayed in the shop are made available for Dharma practice and educational purposes, and never for the purpose of profiting from their sale. Please read FPMT Foundation Store Policy Regarding Dharma Items for more information.
Beatrice Ribush: Special Tribute from Lama Zopa Rinpoche
OBITUARIES
June-July 2008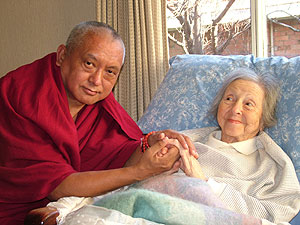 Bea Ribush, mother of Nicholas Ribush who is the director of the Lama Yeshe Wisdom Archive, was a very special person. When she died, Lama Zopa Rinpoche wrote this tribute to her:
Bea Ribush shouldn't have any difficulties in the future because in her heart she was always thinking about the happiness of others; always thinking about others' needs. Her basic mental attitude was always kind-hearted. My guess is that that's the way she was even before she met Buddhism, so there's no question in my mind how, after meeting Buddhism, her mind developed, especially in kindness.
Another part of her nature I liked was her humor. Even when she was quite old she still retained her humorous heart.
I originally met Bea at the fourth Kopan course in Nepal, about the time Nick started to help with the transcribing of the course teachings. After that Lama Yeshe asked Nick to start publishing and later Wisdom began in London. Now Tim is the publisher of Wisdom and for many years Nick has been doing the Lama Yeshe Wisdom Archive.
There is great benefit in publishing Dharma, in bringing Dharma to sentient beings in this way, so this is an important aspect of the FPMT's activities. Also, in the beginning, when Nick first came to Kopan, he was with Yeshe Khadro. Both were busy working for sentient beings; both have been busy from that time up to now, working for others, and I think have been very beneficial for the FPMT. It was also Nick and Yeshe Khadro who, with Tom and Kathy Vichta, offered the land that became Chenrezig Institute. Again, there has been much benefit from that center since it started. So up to now there has been unbelievable benefit, bringing light into the hearts of sentient beings, leading them on the path to liberation.
Nick invited his mother to the fourth Kopan course, which was her entry into Tibetan Buddhism. The first few times Lama and I went to Australia we stayed at Bea's house. Once she requested us to give a talk at her Buddhist organization in Melbourne; she asked me to talk about something from a text. This is what I remember.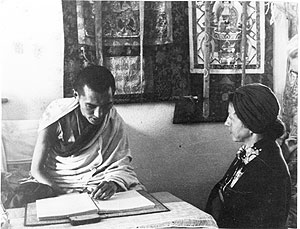 One time during the 1974 course at Diamond Valley I was talking about the eight worldly dharmas and with a big smile Bea asked the question, "There must be some good things in this life?" She brought this question up after I had been leading meditation on the hell realms. At that time I could see that there were a lot of empty spots in the tent and in the distance I could see people leaving with their rucksacks on their backs. At that time I thought, "This is like a dream"—that's the antidote I was using.
Bea was a really sweet mother and she had a very special connection with Lama Yeshe. Once she did a Cittamani Tara retreat. I always have very good memories of Bea.
Bea's death is a very good teaching for us: sooner or later our own friends will be hearing that we ourselves are dead or dying. So this is a teaching to remember, a reminder of our own death and what happens after that. This is what we need to keep in our heart and think about.
With much love and prayers,
Lama Zopa
The full story of Bea's life and death is in the June-July 2008 issue of Mandala.