The Dream: One Thousand Maitreya Statues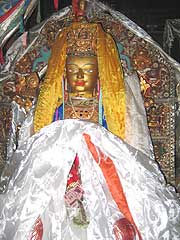 As progress on the 500-foot (152-metre)-high Maitreya statue in Kushinagar continues, other parts of Lama Zopa Rinpoche's aspirations for world peace, via homage to Maitreya, are being fulfilled.
Lama Zopa Rinpoche reminds us that: "After Shakyamuni Buddha's teachings end in this world, there will be an eon of weapons by which many millions of people will die. There will be an eon of sickness from which many millions of people will die. There will be an eon of famine and poverty, all over the world, and many people will die and suffer inconceivably. Then Maitreya Buddha will descend. Therefore, by building more Maitreya Buddha statues, those eons of incredible suffering are shortened, and Maitreya Buddha's teachings will arise earlier."
He explained that the building of Maitreya statues will not only bring world peace, happiness, and spiritual and economic prosperity, but individuals, families, and organizations who contribute to the building of a Maitreya statue will all receive benefits. He quoted the words of Buddha in the Sutra Requested by King Salgyal:
However many atoms there are in the stupa [or the statue] and in the statue of the Foe Destroyer, the Qualified Gone-Beyond One [Buddha], the person who built this will definitely achieve kings' reign in deva and human realms equaling that number of atoms, will achieve the form and formless realm concentrations [based on shamatha] by completing the experience of all the perfect deeds and the ultimate state of enlightenment: that which is devoid of the sufferings of rebirth, old age, and so forth.
"This means," said Lama Zopa Rinpoche, "that however many atoms there are in the statue, for that many lifetimes you will be reborn as a king in the deva or human realm. By being a king you have so much advantage. If you have met the Dharma and you also have worldly power, then you can help so many sentient beings materially to spread the Dharma and to cause others to practice the Dharma. You can help so many beings who are suffering, who are sick, and who are in poverty."
Many monasteries in the Gelugpa and other traditions have large statues of Maitreya Buddha in their gompas. They are in the sambhogakaya aspect, which is of particular benefit for the Mahayana teachings because of the five definite attributes of the sambhogakaya, which are:
giving only Mahayana teachings
existing until samsara ends
being surrounded by only bodhisattvas
abiding in the definite realm of Ogmin
being adorned with thirty?two perfect qualities (tsn.zang) and eighty minor perfections (pe.j'), the most sublime of Buddha's qualities.
"Therefore, I thought to build 1,000 one-story or higher Maitreya Buddha statues in different parts of the world," he said. "The more holy objects there are in the world, the more sentient beings will have the opportunity to be liberated from the oceans of samsaric sufferings and to achieve enlightenment."
One of those large statues is already planned for the roof of an office building in Taiwan. And Lama Zopa Rinpoche recently arranged for a six-foot high statue of Maitreya to be built for the nunnery attached to Reting Monastery in Tibet. Reting is the place where Je Tsongkhapa wrote the famous Lam-rim Chenmo. (There is also a new 30-foot-high Maitreya statue in the main gompa of Reting Monastery. [see photo] )
This article can be read in its entirety in Mandala
Contact Info
1632 SE 11th Avenue
Portland, OR 97214-4702 USA
Tel (503) 808-1588 | Fax (503) 232-0557
About FPMT
FPMT is an organization devoted to the transmission of the Mahayana Buddhist tradition and values worldwide through teaching, meditation and community service.
more...
About Buddhism
If you're new to Buddhism, please read our
Buddhism FAQ
. A place to learn about Buddhism in general, FPMT, and our Discovering Buddhism at Home series.