News/Media

*If a menu item has a submenu clicking once will expand the menu clicking twice will open the page.

Study & Practice

*If a menu item has a submenu clicking once will expand the menu clicking twice will open the page.

Projects

*If a menu item has a submenu clicking once will expand the menu clicking twice will open the page.

FPMT

Our problem is that inside us there's a mind going, 'Impossible, impossible, impossible. I can't, I can't, I can't.' We have to banish that mind from this solar system. Anything is possible; everything is possible. Sometimes you feel that your dreams are impossible, but they're not. Human beings have great potential; they can do anything. The power of the mind is incredible, limitless.

Manjushri Institute, 1977, Currently unpublished
Lama Yeshe Wisdom Archive

Lama Thubten Yeshe

*If a menu item has a submenu clicking once will expand the menu clicking twice will open the page.

Shop

The Foundation Store is FPMT's online shop and features a vast selection of Buddhist study and practice materials written or recommended by our lineage gurus. These items include homestudy programs, prayers and practices in PDF or eBook format, materials for children, and other resources to support practitioners.

Items displayed in the shop are made available for Dharma practice and educational purposes, and never for the purpose of profiting from their sale. Please read FPMT Foundation Store Policy Regarding Dharma Items for more information.
Mandalas as Tools for Peace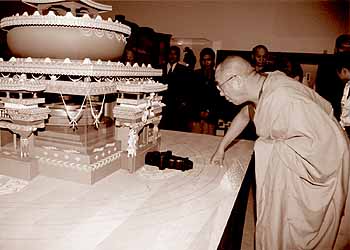 Maxwell and Quintanar, two students of Los Angeles lama, Lama Gyatso, use the principles of the Mandala to educate young people. "The pair have used the Mandala principles in a nonsectarian way to train thousands of youths in peace education, conflict resolution, job training and life skills through their Glendale, California-based nonprofit organization, We Care for Youth," WRITES TERESA WATANABE, LOS ANGELES TIMES RELIGION WRITER.
On this day, Maxwell and Quintanar are bringing Mandala training to fourteen teenagers at Camp Scudder. The boys are 16 to 18. They have robbed, carjacked, sold drugs and taken them, dodged bullets and fired them. Maxwell leads them to define themselves, not by their dark acts, but by their pure hearts.
Do they have them? These guys with these criminal records?
Maxwell wastes no time finding out. She asks who has lost a loved one. Each one raises a hand. An uncle shot dead in an alley. A cousin who got in the way in a gang fight. A best friend; so many friends. Another beloved uncle — kidnapped, killed and thrown in a dumpster. My little baby, and I didn't even get to go to the funeral. Tears fall.
"The reason we do this is to show you the one common condition we all share," Maxwell says gently. "We will all die."
Other common conditions: We all have hearts; otherwise they wouldn't break like this. And we all want to be happy. With that, Maxwell offers a basic Buddhist teaching — the impermanence of life, nurturing compassion for others by focusing on what we share — without once mentioning Buddhism.
Then she tells each of them to draw his own personal Mandala, a diagram shaped like a lotus flower with a round center and eight petals. Buddhist practitioners use it for healing and meditation by identifying the self with the symbol of divine power in the circle's center.
Maxwell translates this into simpler language. The center is your pure self. The petals are the things that protect it. Draw it.
Some get to work immediately. Others look stumped. No one has ever asked them to think about their goodness. By session's end, though, everyone has succeeded in the task.
Adam draws a blue center with the words: love, happiness. His biggest protector: MOM. "The hate is outside. It's what people see all day but they don't know me. It's OK to express your goodness sometimes."
In his center, Gary puts a heart, family, Watts and the names of two loved ones. In one petal, he outlines a cross as a protector — but doesn't shade it in, since he's not yet sure about his faith. Others draw their centers as mind, a smiling face, a prayer.
"When you get back out on the street, use this," Maxwell says, pointing to the Mandala's center. "This is what makes you glow. Don't do anything that takes you out of your right mind. Remember: Just like you, others feel deeply."
The teenagers won't change overnight. But the lama would say that the Mandala has planted a seed of awareness in them that is certain to ripen sometime. And the Shi-Tro Mandala — which they viewed when they attended the Dalai Lama's blessing of it — can liberate them and all those in pain, Lama Gyatso says.
Which is why he's bringing the 3-D Shi-Tro Mandala here to Los Angeles.
"We need a major healing," Lama Gyatso says. "We are kind of running out of time."