News/Media

*If a menu item has a submenu clicking once will expand the menu clicking twice will open the page.

Study & Practice

*If a menu item has a submenu clicking once will expand the menu clicking twice will open the page.

Projects

*If a menu item has a submenu clicking once will expand the menu clicking twice will open the page.

FPMT

The mental pollution of misconceptions is far more dangerous than drugs. Wrong ideas and faulty practice get deeply rooted in your mind, build up during your life, and accompany your mind into the next one. That is much more dangerous than some physical substance.

Lama Thubten Yeshe

*If a menu item has a submenu clicking once will expand the menu clicking twice will open the page.

Shop

The Foundation Store is FPMT's online shop and features a vast selection of Buddhist study and practice materials written or recommended by our lineage gurus. These items include homestudy programs, prayers and practices in PDF or eBook format, materials for children, and other resources to support practitioners.

Items displayed in the shop are made available for Dharma practice and educational purposes, and never for the purpose of profiting from their sale. Please read FPMT Foundation Store Policy Regarding Dharma Items for more information.
Dharma teachers: seven years in the making
Don Handrick was a 38-year-old accountant in San Francisco when he felt the first urges of a premature mid-life crisis in 1996. He made a life-changing decision to devote seven years of his life to full-time study in Italy to be a Western Dharma teacher. As for his relationship, he and his partner, Patrick Gutierrez, are "making it work", even though Patrick has to go on living in the United States. Don's family has "gotten used to the idea".

Seven years — for Don and his fellow students the big question is "Will we all complete the seven years and the additional one-year retreat that follows?" He talked to Julia Hengst when he was back in the US earlier this year.
"[The opportunity to learn to be a Western Dharma teacher] arrived at a very advantageous time for me; I was dealing with a lot of issues around death and dying and wanting to find answers. Sogyal Rinpoche's book answered all the questions I had and gave me a new view of spirituality and philosophy of life more in line with where I was at the time. I went on retreat with Sogyal Rinpoche and took refuge with him, and continued to work within his structure of Rigpa in various ways.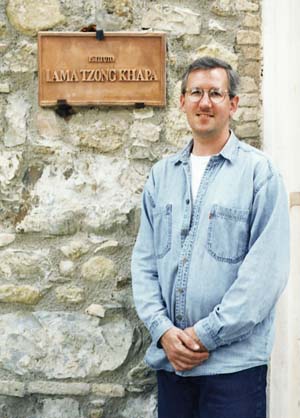 "In 1995, fortune opened up when I moved to the same street in San Francisco where the FPMT center Tse Chen Ling was located. Every day I walked past it. At one time Ven. Robina Courtin [Mandala March 2001] was teaching a Thursday night series. She was just what I needed to draw me in! This series answered even more questions I had, especially with regard to emptiness, and it was very exciting and stimulating for me to get the Gelugpa view of things."
Don quickly became a voracious student of the Dharma at Tse Chen Ling and attended some of the broad palette of topics they offer for classes. He was at the center in 1996 when the Master's Program was announced, and it gave him a chance to look at what he wanted to do with the rest of his life. He had worked at Levi Strauss & Company in finance and accounting for since 1979, and he wasn't sure that he wanted to do that forever.
"Around the middle of December in 1996, Lama Zopa Rinpoche visited the Bay Area to open what is now Gyalwa Gyatso Center. After an evening of teachings at Tse Chen Ling, we had the chance to ask him questions, and although I'd never met him before, I knew he was someone I could totally trust with such a life-changing decision. When I asked him if it was the most beneficial thing for me to do, he did divination with his prayer beads and said, 'From my observation it's very good.' I had such a feeling of knowing I was in the hands of this incredible being. It was a real sense of turning it all over to him. If he'd told me there were obstacles and I couldn't do it, I wouldn't have gone."
From then on it was a matter of wrapping up loose ends and making plans with Istituto Lama Tzong Khapa. Everyone who attends the program needs to have at least a year of lam-rim study, so Don continued to put as much time into studying lam-rim as he could.
"I think part of what drew me to the program is that it wasn't that I would just get this education and who knows what would happen to me afterwards. I've never taught professionally, but it's something I felt drawn to.
"There is immeasurable benefit in the Tibetan teachers we have because of the unbroken transmission of all these texts that have come from India to Tibet. The integrity of the tradition is very strong.
"However, when we get to translating things into Western culture, oftentimes there's benefit to having people within that culture serve as the link between this tradition. I've had many wonderful Tibetan teachers and feel there will always be a value to their presence in this organization. It's not that Western teachers can replace them, but in terms of augmenting the study and bringing a cultural slant to it, I think there will be a value added.
"I've had many wonderful Western teachers, too — Ven. Robina just to name one — people who've really shown they've integrated the Dharma into their lives, have very deep understanding of it, and are able to speak from the heart. Within this cultural context they can make references, can relate to what it's like living in America, living in Europe, and places much different to India, Tibet or eastern cultures that may not be as heavily influenced by technology growth, corporations and all the other things that go along with Western culture."