News/Media

*If a menu item has a submenu clicking once will expand the menu clicking twice will open the page.

Study & Practice

*If a menu item has a submenu clicking once will expand the menu clicking twice will open the page.

Projects

*If a menu item has a submenu clicking once will expand the menu clicking twice will open the page.

FPMT

It is important to understand that true practice is something we do from moment to moment, from day to day. We do whatever we can, with whatever wisdom we have, and dedicate it all to the benefit of others. We just live our life simply, to the best of our ability.

Lama Thubten Yeshe

*If a menu item has a submenu clicking once will expand the menu clicking twice will open the page.

Shop

The Foundation Store is FPMT's online shop and features a vast selection of Buddhist study and practice materials written or recommended by our lineage gurus. These items include homestudy programs, prayers and practices in PDF or eBook format, materials for children, and other resources to support practitioners.

Items displayed in the shop are made available for Dharma practice and educational purposes, and never for the purpose of profiting from their sale. Please read FPMT Foundation Store Policy Regarding Dharma Items for more information.
The Dharma School Comes Home
October / December 2009
By Liz Hall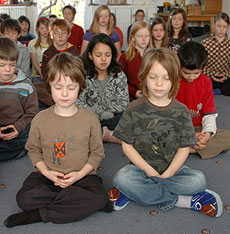 As my husband and I bickered about something insignificant recently, our seven-year-old son, Dylan, intervened. Leading us both gently towards our wooden Buddha statue, he suggested, "Come on, Mummy, come on, Daddy, why don't we just sit down and meditate?"
It was an unusual occasion, partly because we argue infrequently, but also because this was the first time our son had prompted us to meditate, and with such tenderness. I admit that Dylan does not always behave in such a bodhisattva-esque fashion, but since he joined The Dharma School, Europe's only Buddhist school, last year, we are witnessing more and more spontaneous acts of kindness and mindfulness. Last week, for example, he stopped on the way to school to pick up a snail from the pavement, placing it on the wall so it wouldn't be crushed.
Knowing our son is being nurtured in a school which emphasizes mindfulness and compassion is a source of great joy to us. Wouldn't it be wonderful if all children could have the same opportunities? As Lama Zopa Rinpoche says, "Worldwide, we need to pay more attention to education and teach the importance of a warm heart from kindergarten through university."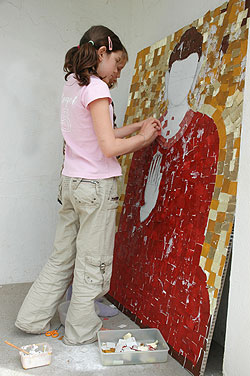 The school curriculum looks not only at Buddhist values but at corresponding values outside of the tradition, including secular values such as the Declaration of Human Rights.
Every Friday and on special occasions, the school holds a half-hour puja. During these, Peter Murdock, the school's head teacher, will sometimes call for those present – children, parents and teachers – to sit quietly and send out love and support to certain people or situations. This can range from a child who is leaving the school, to a family suffering bereavement, to world peace.
Sometimes, a monk will join the puja. Other times, children show their work or Peter discusses things of relevance to the school. For Peter, it is not as important to have children sitting quietly meditating as it is to help them be mindful of how they act and interact.
"Meditation can help the children think about themselves and what kind of people they are. But we're not seeking to develop actual meditative qualities in kids as such. It's more about how they act and interact," says Peter.
Testing Time
Although Peter Murdock has been practicing mindfulness and meditation for three decades, in June, the sudden death of Sarah, the much-loved mother of three pupils at The Dharma School, proved to be an intense test of how to be mindful and how to help children grasp the impermanent nature of all things.
When His Holiness the Dalai Lama was asked a few years ago how teachers can teach children about love and compassion, his emphatic answer was, "Through your action!" He suggested explaining to students "about the value of a sense of caring, compassion and tolerance."1At such a difficult time for staff, children and parents, Peter knew it was his actions that would speak loudest.
"Death is a heavenly messenger, along with old age and sickness, and a religious mendicant. And this was a live example of us dealing with death at the school – about how mindfulness works in practice, about how we dealt with the shockwaves and ripples that came through," he says.
Peter was "numbed and stunned" when he heard the sad news. But he knew he didn't have time to tuck himself away and meditate. He knew he had to act quickly and exceptionally mindfully. His main focus was on what the children needed. The staff members were looking to Peter to lead the way. He told them to carry on teaching for the moment.
"Given the emotional waves that were washing through the school it was important that the children understood what had happened and could ascribe a reason to the feelings they were picking up. So the message had to go out quickly and with consideration."
Despite the trauma, Peter's years of being mindful served him well. The "witness" part of his mind was active and he was able to calmly come up with a structured plan of action: phoning the widowed husband, writing a letter to the community, and with the husband's permission, talking to the staff and children.
"Witnessing is a strong part of my practice and this was coming through even though my mind was in trauma. I was witnessing that my mind was all over the place, but I had a plan and I have learned to follow my gut instincts and adhere to plans in times of crises, irrespective of the chaos in my own mind."
Apart from wanting to give the children information rapidly, he says, "We needed to create the space for them to respond." This meant letting the children cry if they wanted to, uninterrupted.
"Every child has a mum and knows the kids affected. It was very traumatic and there were children howling and sobbing. One child cried for three-quarters of an hour. It was important not to hide the grief and to give the children an opportunity to respond to the tragic news.
"I used the word mindfulness and said that everyone needed to be more aware than usual of people's feelings." He reassured the children that Sarah's sudden death was very unusual but that it was understandable that they might feel concerned about their own mums dying. He asked them what they would like to do. "The children made suggestions: give toys to their bereaved friends, write cards, paint, write letters and so on – and they went off to their classrooms to do these activities."
In a community puja later that week, Peter stressed that death will affect people differently and that if any of the children were sitting there feeling happy, that was OK.
Being mindful about communication was essential. "In the staff meeting, we discussed being direct and straight with the kids in a gentle caring context, to be in receptive mode, ready when a child wanted to talk about it."
As part of a special puja for Sarah that was attended by a monk from Chithurst Buddhist Monastery the following week, the school children worked on a beautiful colored chalk mandala in the school grounds. Parents and teachers joined them to chant afterwards.
Peter says, "Mindfulness is accepting that it's not possible for pleasure to be lasting." Poignantly, although one of Sarah's sons said he knew the mandala couldn't last forever, he wished it could last just a little longer. The mandala was given a protective coating although it already bears the ravages of time, weather and children's feet.
Peter, who teaches the Lotus class (ages 10 and 11), uses the image of the weather to help children be mindful and manage their emotions.
"We learn as adults to gauge and manage our feelings within a day. Some things will blow us all away like death, but we tend to program ourselves to manage the day whereas it's different for children. Most tend to run the gamut of feelings in two or three hours let alone a whole day. They recreate their feelings very directly with little sense of time or place and I use an image like the weather changing to describe this."
Mindfulness Initiatives on the Rise in Education
Mindfulness is interwoven into the everyday fabric of The Dharma School, attended by some 70 children ages 3 – 11. The school's head teacher, Peter Murdock, says mindfulness manifests in four main ways: through encouraging children and staff to be reflective and develop inner qualities such as compassion; through ensuring Buddhist values are rolled out in the school curriculum; through helping children get to know themselves through practices such as pujas and meditation and through helping them learn to deal with death and impermanence.
Although such an approach is not surprising in a Buddhist school, mindfulness initiatives are underway in a growing number of schools across the globe. In the UK, for example, Tonbridge School is teaching pupils to be mindful. Last year it took part in a mindfulness training pilot project with its Year 10 pupils (ages 14 -15). The scheme was spearheaded by Professor Felicia Huppert from Cambridge University's Well-Being Institute. She is also a consultant on emotional well-being for the National Institutes of Health's Toolbox initiative in the USA.
For four weeks, students were given an eight-minute mindfulness drill each day and required to complete before-and-after questionnaires, measuring their happiness levels. According to housemaster Richard Burdett, there were "very real improvements," particularly for those who were "emotionally more up and down."
Burdett from Tonbridge School has been teaching mindfulness for six years. For his Master's degree in Buddhist Studies, he has been researching the topic of where mindfulness and secular practice overlap.
"Mindfulness has earned its spurs as a therapeutic intervention for treating depression but I hope to address both what mindfulness is and the interplay between it as a secular and a Buddhist practice. How do you approach mindfulness in schools? My sense that to only pitch it as a therapeutic intervention, to strip it of anything spiritual with hippy, flaky connotations, is to miss out some real depth in accessing the way we deal with the world that goes way beyond mindfulness in a therapeutic sense.
"One thing I see is that someone goes to mindfulness to sort out their backache, but goes way beyond that, getting a sense of the world being bigger than them, touching what is at the rock of religions, not the doctrine, but experiencing a different way of being, not just doing all the time."
"My idea is to give students an indication of all the possibilities of mindfulness, conveying that it is a skill that can be used in lots of different ways, making it explicit that here is something that has a place in religion. Most religions have a contemplative aspect, of which this is an example, and in the West, we also recognize it as a therapeutic tool."
He thinks that in some ways, "at an absolute level, nothing is lost by approaching mindfulness in a secular setting as it's such a powerful tool which helps people with their suffering."
The US experience
In the US, there are at least 17 schools rolling out mindfulness training, according to a map being compiled by the Association for Mindfulness in Education (AME). AME is an association of organizations and individuals working together to provide support for mindfulness training as a component of K-12 education in the US.
Congressman Tim Ryan helped put mindfulness in education on the map at Capitol Hill in June this year. Addressing US Health and Human Services Secretary Kathleen Sebelius, Ryan, a keen meditator, advocated mindfulness as a "very inexpensive way of teaching kids to increase their attention span and their level of focus." He also urged the department to boost research and education in this arena.
AME, which holds its 2009 Mindfulness in Education Conference on October 30 through November 1 in Oakland, California, believes mindfulness provides the optimal conditions for learning and teaching, supporting all pedagogical approaches. It believes mindfulness training develops skills such as attention and concentration, emotional and cognitive awareness and understanding, bodily awareness and coordination, and interpersonal awareness and skills. According to its map, mindfulness is being taught in seven schools in Pennsylvania, eleven in California, and one school in each of the following states: Rhodes Island, Florida, Tennessee, Virginia and Maryland.
Park Day School, a progressive, independent school in Oakland, California, has been teaching mindfulness to pupils for some years. It believes mindfulness enhances concentration and focus, improves impulse control and decision making, reduces violence and stress, and builds empathy and community. It rolls out mindfulness training across the school in series of three weekly 15-minute lessons for a five-week period. Teachers are trained in four sessions, and are given a mindfulness curriculum.
So far, the school has taught mindfulness to almost 5,000 children. Teachers report that children are calmer and more focused. Along with a heap of qualitative data, the school is now collating quantitative data. A resounding 93% of students say mindfulness has helped them in some way, according to a recent evaluation of response from 565 students. Some 59% say it helps them focus better in the classroom; 61% say it helps them calm down when they are upset and 52% say it helps them make decisions. Every single one of the classroom teachers said they had benefited personally from the mindfulness classes.
Certainly, the evidence is piling up showing the benefits of meditation and mindfulness. For her Master's degree in Education at the University of San Diego, Hawazin Jazzar investigated the benefits of a mindful meditative practice in the classroom and its effects on well-being and performance.
"Throughout the literature, findings were consistent with my hypothesis that meditation can in fact have a positive and constructive impact on student performance and well-being as a whole," she writes in her paper "Meditation 108: Mitigating Stress and Anxiety in the Classroom".
Hawazin highlights how some local elementary schools have integrated meditation with yoga in their extra-curricula to raise awareness of the whole through awareness of the self. These include the Integral Elementary School of La Jolla, Rainbow Kids Integral Preschool, and the InnerKids Program. In a college setting, she identified more than 12 student organizations in the US that teach and practice meditation on university campuses as part of general or health services.
Susan Kaiser Greenland founded the InnerKids Foundation in 2001 with her husband. She teaches and develops mindful awareness curricula for children as well as educators, parents, therapists and health care professionals. She has taught hundreds of school and community based programs to children in the greater Los Angeles area. Like so many, she has taken inspiration from the work of Jon Kabat-Zinn, the founder of the Stress Reduction Program at the University of Massachusetts Medical School. Scientist Kabat-Zinn has played a key role in getting mindfulness meditation accepted, showing its power to help people suffering from chronic pain. The benefits of mindfulness and meditation, as many of Kabat-Zinn's studies show, are multiple.
Liz Hall was involved with the FPMT Nagarjuna Center in Alicante for a number of years, before moving back to England recently. She corresponds with inmates as part of the Liberation Prison Project and is a graduate of the FPMT Foundation of Buddhist Thought two-year correspondence course devised by Geshe Tashi Tsering. She is a journalist and a life/business coach, using mindfulness techniques with her clients.
A few suggested resources:
The Educators Guide developed by the Dalai Lama Foundation, this is a general guide for the middle school teacher, including a complete lesson plan for the module Pathways to Empathy, with background information, description of all activities, discussion questions, and vocabulary words.
A group of educators, students, and activists has set up the Mindfulness in Education Network to support and cultivate the practice of mindfulness in educational settings.
Dr. Amy Saltzman's CD, The Still Quiet Place, a series of guided practices for children and adults.
Mindful Teaching and Teaching Mindfulness By Deborah Schoeberlein
Published by Wisdom Publications www.wisdompubs.org
1His Holiness the Dalai Lama. Many Ways to Nirvana: Reflections and Advice on Right Living. Penguin Publications: 2004. p. 40