News/Media

*If a menu item has a submenu clicking once will expand the menu clicking twice will open the page.

Study & Practice

*If a menu item has a submenu clicking once will expand the menu clicking twice will open the page.

Projects

*If a menu item has a submenu clicking once will expand the menu clicking twice will open the page.

FPMT

I want to say without hesitation that the purpose of our life is happiness.

His Holiness the Dalai Lama

*If a menu item has a submenu clicking once will expand the menu clicking twice will open the page.

Shop

The Foundation Store is FPMT's online shop and features a vast selection of Buddhist study and practice materials written or recommended by our lineage gurus. These items include homestudy programs, prayers and practices in PDF or eBook format, materials for children, and other resources to support practitioners.

Items displayed in the shop are made available for Dharma practice and educational purposes, and never for the purpose of profiting from their sale. Please read FPMT Foundation Store Policy Regarding Dharma Items for more information.
Training for Community Life: An Interview with Sister Jotika
October / December 2009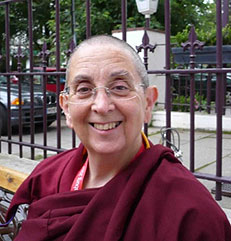 IMI is pleased to report that the first pre-ordination monastic training led by Sister Jotika and Ven. Thubten Saldon was successfully completed last month at Land of Medicine Buddha.
After the retreat, IMI was fortunate to have the opportunity to spend time with Sister Jotika to reflect on what motivates her commitment to training new monastics and why she puts so much emphasis on community living.
Sister Jotika was born in Spain in 1945 and was educated during her teenage years at a progressive convent school run by nuns. It was this experience that influenced so much of the way Sister Jotika approaches her training today with new monks and nuns.
After her schooling years, Sister Jotika took novice ordination at Chithurst Monastery in England with Ajahn Sumedho in 1983, and there she began to get involved with monastic training. Later in 2004, she took full ordination with His Holiness the Dalai Lama in Taiwan.
Sister Jotika has lived in monasteries for the last 18 years in England, Taiwan, Burma and Spain. She is currently most affiliated with Tushita Meditation Center in Dharamsala.
IMI: How has the experience of growing up in the convent school informed what you're doing today?
Sister Jotika: The role of those nuns was building community and a sense of responsibility in each classroom. I learned without knowing I was learning. I learned through the example of the nun-teachers and their wise influence. They were trained on how to get a class of thirty young women to be united and successful – intellectually and spiritually.
I ordained in 1983 in England, and then two things became clear. Firstly, the value of the Buddha's vinaya, the main teaching for monastics on how to train the mind. Secondly, the role of the teacher, that the teacher should be living in the midst of the community and present there with us all the time.
The teacher should be an ongoing guiding force within a monastic community. The community has an established routine and also the vinaya discipline code of honor, but even though we promise to follow high standards, sometimes we fall short. The teacher is there to help us see when we are being moved by the mind. They have a presence and a different way; they offer reflection on why you are getting angry and upset. A community needs a teacher within the community to be a successful leader, guiding members and training newcomers.
In the West we think everyone is the same, but it's not like that on the spiritual path, and that needs to be recognized. You need to see when you need to be trained and helped with living in the vinaya and monastic traditions.
When we ordain, we commit to becoming enlightened through the monastic vessel, and this means you will need to be trained. The Buddha created a Sangha as a fast track to enlightenment. When we took the vows we agreed to enter into a community that is governed by the vinaya, and this was for the purpose of training the mind. Some mature and senior people can be teachers in the community and work with the lay people, but the real teacher is the most senior person. This is someone you trust. You go to that person, you like their character and their approach; it's not something that's imposed on you. You might respect them or you may not even like their personality. That's not the best way to have a student-teacher relationship, but you bear it.
There could be a few different leaders within the community, although that's not ideal. Some teachers are stern, and some are quiet. You have to decide which teacher you are going to work with. Once you decide, you have to do it 100%. This means deciding to bear the grating feeling in your mind when you don't understand what is being imparted from the teacher. But you give in and trust that they are wiser than you and see the way forward. If you hold on and resist, it becomes a fight. Sometimes when we are faced with the most selfish aspects of the mind, we need to trust the person. You feel like you don't want to give in, but you know the person is right.
IMI: What is the role of individual Sangha members in a community?
Sister Jotika: Teachers get whoever wants to ordain, they don't have a choice. Some people have a lot of baggage, but everyone needs to be given a chance if they want to reach their goals. There are a lot of romantic ideas about monasticism and what it means to be a nun or monk. When we do the application form and write why we want to ordain, nobody says they want to ordain to reach enlightenment. They say they want to work for the Dharma. You don't need to ordain to work for the Dharma. You can take the bodhisattva vows and just work. As monastics, we have to go back to the way the Buddha wanted us to become his children. Most people want to go back to their homes, work, etc. Taking rabjung, the first level ordination, means going forth and leaving behind your home.
Sangha literally means community. You are living with other monks and nuns who are upholding the same values and code, and you have their support across all the issues of your entire life. You are practicing together, working and sharing resources. It's not a group of individuals coming together and defending their own path; it's being together to train the mind and be of service to the lay and broader monastic community. If we establish the right relationship, we offer support to the lay people and, in turn, the lay community provides us with financial support. This is an interdependent relationship that is balanced. The monastics don't need to be closed off and separated from the world. When the teacher says you're ready now that you don't show signs of being controlled by the mind (for example, expressing jealousy and anger, or gossiping), then you can work and inspire the lay community. You can give back and this supports the monastics. There is nothing more depressing than a monastic that is frustrated and angry. In that case, what is the point of being a monastic?
If we don't keep the monastic communities going and continue with the trend of living on our own, the Dharma in the West will not live long. The Dharma is passed on among the generations of monastics. If we care about the tradition, we have to create monasteries so the teachings can survive. The trend now is to live on your own and to keep working. Look where that has taken us over the last 30 years. People are not trained today. You have your own practice, but, the monastic community is the repository. The trend to live alone started among the Western Tibetan nuns and monks, not by the Chinese or Theravadins. It's time to reflect on the consequences. We need to think about how to change the trend and create new monasteries and communities. If we are bodhisattvas then let's get on with it and benefit the Sangha, Dharma and lay community. We need to plant the seeds of the teachings so in the future there is fruit for the monastic and the lay people.
IMI: How do we determine community well-being?
Sister Jotika: By the level of harmony. People should be happy and relaxed, doing their practice with a sense of spiritual well-being. The leader must nurture well-being and find out what's going on when there is not harmony or when people's minds get clouded or they say something unskillful on a daily basis and need to let go of that which is obstructing them.
This means you are able to live with people you like and are close with, and also with those people who from a personality point of view you don't like. You give them compassion to be completely themselves. You see their character and not make a problem out of it. You're spacious and don't make everyone fit in a square hole. The other person can be there in full expression. You don't try to force people into becoming a quiet or extrovert person. We all come with different karma and we have to learn how to coexist.
We usually want to be selfish and make it all about me. But if you have taken the bodhisattva vows, you should be helping your roommate or a person in the gompa because they are all sentient beings. So we need to be patient and considerate of that person we don't like.
We all bring different qualities into the world and our communities. Some people have a gift for writing, teaching, helping others, solving problems in the lay community, databases and computers. We each need to allow the expression of unique talents by nurturing individuals but remembering that the primary goal we all share is the gold of enlightenment. When we purify the mind we can allow all these individual gifts to manifest even more. If we have gifts and we don't purify the mind, we can burn people. Look at the world where people are fighting, trying to get advantage over each other. Why? Because people are selfish. We have to see what a mind tainted by selfishness does. It doesn't mean that we are enlightened when we start teaching. It means we know our mind and how to control it. When you have other people who depend on you, it's essential to practice sincerity.
IMI: What are the benefits of rules in a community?
Sister Jotika: If the rule is to train your mind, then it must be a living experience. The rule is the container for training the mind. Otherwise the mind burns you out. The rule is a vehicle for training your mind. You might have a rule that says you cannot sing and yet you have the intention to sing. If you are guided properly, you will see why you want to sing, and that reason may be an attachment to your definition of happiness based on past longing. You see what is arising. It's using the rule skillfully, not as a hammer – that has no point, and that's not how the Buddha taught. You'll see it's not the action of singing that's a problem; rather, it's the attachment in the motivation. You can contemplate and see: "I'm clinging to a memory of the past of when I was happy." Community is about training the mind and having the opportunity to be faced with your mind all the time, especially through the reflection of the teacher. If you could do that on your own we'd all be enlightened and not have to be so humble to put yourself in the hands of someone else and face pride.
IMI: Who is the source of your inspiration?
Sister Jotika: His Holiness the Dalai Lama is my inspiration, main teacher and guide. I want to help the Western Tibetan monastics in whatever I am able to do, whatever they need.
IMI: What are you plans for the future?
Sister Jotika: I am now going back to Spain to set up a nunnery. We are in the process of administering the building permit. We need enough space for around 6 to 15 nuns. It's not all about numbers. We'll start with a few and build a solid community base, making sure everyone in the community is OK.