News/Media

*If a menu item has a submenu clicking once will expand the menu clicking twice will open the page.

Study & Practice

*If a menu item has a submenu clicking once will expand the menu clicking twice will open the page.

Projects

*If a menu item has a submenu clicking once will expand the menu clicking twice will open the page.

FPMT

Our grabbing ego made this body manifest, come out. However, instead of looking at it negatively, we should regard it as precious. We know that our body is complicated, but from the Dharma point of view, instead of putting ourselves down with self-pity, we should appreciate and take advantage of it. We should use it in a good way.

Lama Thubten Yeshe

*If a menu item has a submenu clicking once will expand the menu clicking twice will open the page.

Shop

The Foundation Store is FPMT's online shop and features a vast selection of Buddhist study and practice materials written or recommended by our lineage gurus. These items include homestudy programs, prayers and practices in PDF or eBook format, materials for children, and other resources to support practitioners.

Items displayed in the shop are made available for Dharma practice and educational purposes, and never for the purpose of profiting from their sale. Please read FPMT Foundation Store Policy Regarding Dharma Items for more information.
Letters from Prison: Paul Dewey
November-December 1997
By Paul Dewey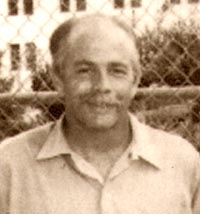 Most of my life up until about nine years ago had been centered around me, I, mine. The results were heartache, frustration and tragedy for everyone near and dear to me as well as myself. As a pre-teen I discovered the underworld of alcohol and drugs. That's what was happening in the mid-sixties and I quickly became an active part of it. Getting stoned had the false promise of some kind of satisfaction or fulfillment; the elusive butterfly of bliss. But it never quite seemed to materialize, it was always just one hit, one dose, or one more drink away, no matter how much I'd already taken. As the years went by, misfortune and trouble increased proportionately with my substance abuse. At the age of sixteen I overdosed on Seconal and phenobarbital at Disneyland (the happiest place on earth?). This was really nothing unexpected, by this time I'd been told by many people that I had serious problems with alcohol and drugs. That was the first time that I considered that there might be something to what they said.
In my early twenties I married and a couple of years later we had a beautiful daughter, Jennifer. Because she was the center of my world and meant more to me than life itself, I even quit using psychedelics and hard drugs so as not to jeopardize the integrity and security of my family. However, my pot smoking and drinking increased markedly, and although I saw decreased productivity/increased consumption, I kept chasing a fulfillment that seemed so near, yet was always just out of reach.
As the years passed, although I acquired a thriving auto repair business, owned a nice house in the Los Angeles suburbs, had nice cars, community standing and respect, I was still dissatisfied and restless.
Nineteen-eighty, a bad year, marked the turning point of my success and affluence. My wife quit getting high; my lifestyle was no longer good enough and she gave me ultimatum after ultimatum. In September my little brother committed suicide one month after I'd fired him. That tore me up and I handled it with alcohol. A few months later my mother died of cancer. She'd been in and out of hospital for nearly two years but I'd only gone to see her a couple of times because it made me feel bad. I handled that one in true alcoholic style as well; I stayed in a stupor for months, more from guilt than grief. I had to close down my business for good, and finally my wife took Jennifer and left me. This was the last straw, and I lost my mind for a time.
In an effort to help me my sister invited me to a Buddhist meeting of the Nichiren Shoshu. But this only led to another round of craving and its natural result: more suffering for everyone. I fell in love with one of the members, who was married with two teenage children. If the Five Precepts ever were presented, I certainly don't recall because my whole introduction and foundation in Buddhism was certainly a breach of all of them. And my drinking continued unabated.
On May 21, 1988 everything took a radically tragic turn. The night before I'd gotten really drunk and woke up with a rip-roaring hangover. So I took the cure: a quart of whiskey and a twelve-pack of beer. The last thing I remember was watching the early morning news. The next thing I remember was waking up six hours later in a hospital ninety-four miles away, paralyzed from the neck down.
A detective read me my rights and informed me that I was under arrest for one count of murder and a possible second count if the eighteen-month-old baby didn't survive the brain surgery currently underway.
I had drunk myself into a blackout and driven nearly 100 miles before smashing into the back of a compact car at sixty miles an hours. They were legally stopped in the left lane to turn. I completely crushed that car and it's a wonder that all four occupants weren't killed. The driver lost an eye and required a hip prosthesis, the baby survived the brain surgery, the eight-year-old boy in the back seat suffered a deep laceration from the middle of his forehead down his right cheek to his jawline. His thirty-eight-year-old aunt, also in the back seat, died instantly from a broken neck. Three days later I started to regain feeling in my extremities and in a week's time I was back on my feet.
That whole scene is so terribly sad, I'm overwhelmed with grief writing about it now, nine years later. The terror and horror of those people is just unimaginable to me. Because of that event I really, and for the first time, started to seriously evaluate what my life was about. I didn't like what I saw one bit. I was a drunk, a liar, a thief, an adulterer, and now a killer. But my immorality was much deeper. At the very core of it all was me, me, me, and my self-centeredness and complete disregard for everyone and everything. Going to any lengths in an attempt to satisfy me only caused untold grief, pain, and mayhem to everyone around me; strangers as well as familiars. My life up to that time had for the most part been meaningless.
I vowed that I would never again be responsible for being intentionally or recklessly the cause of anyone's pain, anguish, suffering, or death. It was crystal clear that the only true worthwhile activity was working for the welfare and happiness of others.
I am now serving a life sentence for murder. Since then I have used each day as an opportunity to develop those qualities that will best serve others: mindfulness, compassion, and loving kindness. In giving meaning to my life by being an asset instead of a liability to others, I've found the path to satisfaction and fulfillment that I wasted so much of my life on.
The Buddhist concepts that I'd learned in Nichiren Shoshu opened the door for me to fully explore Buddhism. In doing so I've learned of bodhicitta and Mother Tara as the very essence of Buddhist self- sacrifice and compassion. And for that reason I am compelled and drawn to Her as the embodiment of all that I strive to become.
And it's because of people like you and the FPMT and the friends I've made over the past nine years that I've been able to pursue Tara's goal of liberating all creatures from the sufferings of the endless cycle. Without the aid and encouragement of people like you, I have only to reach for my letters and books that all of you have sent me whenever I feel too small and insignificant to make a difference. Because of these friends I have learned of the endless cycle of suffering, death, and rebirth and that I am capable of helping lead them to liberation. Because of that knowledge I am responsible to attain that state of full realization in order to help lead all to that enlightened state. Not to do so is the same as withholding medicine from someone dying of a fatal disease.
Even with a life sentence to serve I don't think I have enough time to write down all of the specific incidents that led me to where I am. I want all connected with FPMT to know how fortunate I feel to have made such caring friends on this journey. All of your influence and inspiration have helped me so very very much and you all should know that I'm indebted and eternally grateful.
---
I hope this letter finds you in the best of health and spirits. I am really looking forward to your visit and meeting with you. There is a great deal that I would like to learn from you and only hope that I am able to retain what you have to share.
I have two meditation/practice sessions daily, morning and evening, and would like to describe them for you and perhaps get some fe edback concerning an unusual intense experience that I had last Friday night. This experience has somehow changed everything for me. I can't describe specifically what it is that is changed because for all appearances' sake everything is the same. Words are inadequate to convey the powerful impact that this experience caused. I will try as best as I can.
I start the morning practice at about 4:30-4:45. After having gotten cleaned up and put my work stuff together I read the Four Noble Truths, Eightfold path and Five Precepts. Then for a few minutes or so I meditate on my breathing, blocking everything out and just focusing on the in and out of my breath. I find that this helps to calm, center and focus my mind. The success of the rest of the session is dependent on this.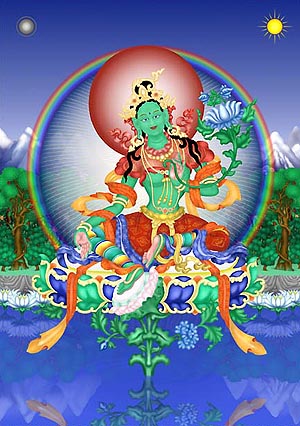 After getting my mind focused I visualize Tara: light green in color, translucent, animate, three dimensional body of light. She is emanating an aura of light that envelops me and all Buddhas, Bodhisattvas, Gurus, Deities, Dakinis and sentient beings with boundless love and compassion. As I've told you before, I am not adept at the complex visualizations so vast in scope. So I compensate for this deficiency and just "know" that they are all there. This allows me to maintain my focus on the image of Tara.
Next I take refuge in Tara as the Buddha of fully realized enlightenment; as the Dharma of the Buddha's sacred speech; as the Sangha of the body of followers who revere the holy Dharma; as my Lama whose kindness and compassion guide me to Her fully enlightened state; as the Deity who manifests all of the pure qualities of Buddhahood in Her mind, Her speech, and Her actions; and as the Dakini who is the agent of all enlightened activity and reveals my own latent enlightened nature.
I then make an offering of the earth filled with the smell of incense, covered with a blanket of flowers, and wearing the moon, stars, and sun as jewels. In my mind's eye I see this as a paradise and offer it all to Tara with a prayer that all beings experience this pure world.
Next I imagine and consider that all beings, without exception, have been at one time or another my mother, father, sister, brother, daughter, son, wife, teacher, etc. in one or more of countless lifetimes. I am grateful for the self-sacrifice, nurturing love, and unfailing loyalty that they have shown me and am deeply indebted. I realize that like me, they all suffer from their own karma in the endless cycle of rebirth and that more than anything we desire to be free of suffering. More than anything we desire peace and happiness. Because they have no one to show them the way to liberation, it is my duty and responsibility to attain Tara's fully enlightened state and lead all to that same state.
I make a conscious effort to maintain this line of thought throughout the day in all situations; even with the sometimes obstinate and unreasonable guards.
Still holding my image of Tara I see and feel Her emanating rays of white, red and blue light from Her forehead, throat and heart. These rays of light penetrate the foreheads, throats and hearts of myself and all sentient beings, clearing away the negative karma of our actions, speech and thoughts.
Next, I silently recite the five-line Praise in Twenty-One Homages. I continue to repeat this praise until I hear the bottom tier being released. I have about ten to fifteen minutes until they get to the fifth tier where I am and release us for breakfast.
Now I offer a prayer of dedication that all beings attain the state of Tara's enlightenment. And a prayer that Bodhicitta arise where there was none and where it has arisen to increase more and more. Then I offer the Jetzun prayer coupled with prayers of personal concerns and then silently recite Her mantra om tare tuttare ture soha for the remaining five to ten minutes. This formal practice period prepares me mentally, emotionally, and spiritually for the genuine practice of living Buddhism in all of my day-to-day activities and integrating my study and formal practice into every situation. Not easy, not always successful, but I try, and each day I progress a little at a time.
The evening formal practice period is essentially the same but I have more time to focus and stabilize her visualization and more time to silently recite her mantra. Though the two practice periods are nearly the same in content, they are a world apart in nature. Where the a.m. period is primarily one of reverence, devotion and dedication, the evening period is more self-discipline and attention to focus. Only because in the evening the other 799 prisoners in the cell block are wide awake and wound up. The racket is deafening and resembles nothing less than bedlam and chaos. This could be an insurmountable obstacle if I let it be, and for a time it was. But I've kept at it and the obstacle became a stepping stone to closer communion and a sweeter practice.
Because I don't work weekends I sometimes spend several hours on Friday and/or Saturday nights in Tara meditation and visualization. Last Friday night was especially loud on the tiers for some reason and it was especially hard for me to get centered and focused enough to begin with the visualization. Maybe I was impatient and tried to start prematurely before I was "in the zone." Whatever, it was a struggle all the way through. Towards the end after the Jetzun prayer, I was still struggling to hold the image of Tara clearly and block out the racket from the tiers. The harder I tried, the harder it became, and the harder I would try and I was just about ready to call it a night when it got quiet; real quiet. Somewhere very far away I knew it was still there and hadn't diminished. Tara became so clear and vivid, so real, unlike anything that I have ever experienced. It was as if I'd been removed entirely from the prison and was very high above it. It was just Tara and me and the whole field of merit as real as I sit here now. I was no longer consciously trying to hold her image. She was there with me on Her own. And all the characters of the field of merit were just as real and vivid.
I feel that I need to qualify this somewhat. It was not a dream. When I do dream I very seldom have any recall. When I do it is hazy, vague, and without continuity. Nor was this a hallucination. It's been over twenty years, but I'd quite my share of those as well. They always have a surrealistic character that easily defines them.
I would love to report a message or some sort of profound revelation or something of earth-shaking magnitude, but there was none of that. She just sat there and smiled and never have I felt so close and intimate. As if I were Her and She were me. I felt the deepest sense of peace, security, clarity and ecstasy in every cell, nerve and membrane. It was so intense and so real that the feelings and image are still with me as strong as if it had just happened.
I don't know if this type of experience is common or not. But I have learned from it. I learned that no matter how difficult or how much of an exercise in futility it may seem, never give up! The benefit speaks for itself. And from this encounter Tara is no longer a symbolic archetype that I hope to embody at some point in the future. She has shown me that she is real and attainable and available even to me. This is a milestone for me and like I said, I don't know how, what or why, but everything is changed.
Paul Dewey