News/Media

*If a menu item has a submenu clicking once will expand the menu clicking twice will open the page.

Study & Practice

*If a menu item has a submenu clicking once will expand the menu clicking twice will open the page.

Projects

*If a menu item has a submenu clicking once will expand the menu clicking twice will open the page.

FPMT

In the lam-rim, there's some advice on how to get up early in the morning without being overwhelmed by sleep. Before getting into bed the night before, wash your feet while thinking of light. Try it; it works.

Lama Zopa Rinpoche

*If a menu item has a submenu clicking once will expand the menu clicking twice will open the page.

Shop

The Foundation Store is FPMT's online shop and features a vast selection of Buddhist study and practice materials written or recommended by our lineage gurus. These items include homestudy programs, prayers and practices in PDF or eBook format, materials for children, and other resources to support practitioners.

Items displayed in the shop are made available for Dharma practice and educational purposes, and never for the purpose of profiting from their sale. Please read FPMT Foundation Store Policy Regarding Dharma Items for more information.
By Kabir Saxena
"Activities are harmful until one attains the doctrine, so take shelter in the silence of the forest life." Jowo Atisha.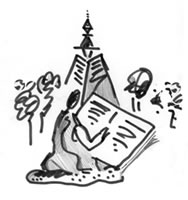 It took me a long time, dear faithful readers, to realize that my life trajectory was leading me to an unsavory future in which Mahayana gurus, Beethoven symphonies, and carrot halva would not be encountered; a future in which there would be lamentation and desolation all around, and no helpers, only torturers. Finally, something sank in, and I realized monkhood was, for me, one sure way to tame the unsubdued creator of hell, my very own mind. The forest life is still a little way ahead! For now, Nagarjuna's words give me courage:
Someone who has acted carelessly but later becomes careful and attentive is as beautiful as the bright moon emerging from the clouds.
Yes, wouldn't we all like to be that bright moon in this sad and broken age of dregs in which we're daily reminded that humanity's actions have begun to reflect those of the guardians of hell? I write this in Mcleod Ganj, a favorite haunt for almost a quarter century now, and I have much to rejoice about in the afterglow of two weeks of teachings, including bodhisattva vows, from His Holiness the Dalai Lama.
And yet I am sad and wearied, almost inconsolably so, by the way in which the mire of samsara is appearing to me at present. The wheel of sharp weapons is spinning faster now, and recent events in Israel (where my brother and his family live) almost seem to guarantee an accelerated slide toward a dress rehearsal of Armageddon. In addition, even a Pentagon report states that climate change is a greater threat to the world than terrorism is, and other studies suggest that we'll have about 33 percent less potable water in the world twenty years from now. That means the village women in rural Bihar, who now walk a few kilometers to the nearest well, may soon find that source dry; and thus the interior areas of that hapless region will resemble even more the hungry ghost realms we are familiar with in the Lam-rim texts. As imbalances in the earth's atmosphere, oceans, and land masses multiply, resources will dwindle due to more droughts, hurricanes, and rises in sea levels, and increasing populations will compete and fight for increasingly scarce water and food.
But you've heard all this before, stated much more eruditely in The Ecologist, The New York Review of Books, or wherever. So why am I repeating it? Because it reminds us that the only way to live now, the only way to salvage a guilt-ridden conscience, the only way, indeed, to live what could be considered a meaningful life by the standards of those who are even only slightly wise, would be to embrace the vision, the dedication, the intelligent and tender openheartedness of the bodhisattva way of life. What else can we do that is even remotely helpful?
Many of you will have seen the third and final episode of The Lord of the Rings. Even the climactic destruction of the ring left me wondering. Was the self-grasping and self-cherishing totally and forever banished from Frodo's heart? What would be the karmic result of all that carnage, since it wasn't all motivated by compassion? All the heroes of the movie are men and women of action, and where is the right view and meditation that precedes right action? It is not much in evidence. And so, like the demented king in the movie gobbling his food and cremating his undead son, like the soldiers and horsemen galloping to their deaths, like the hideous twisted orcs in their savage blood-lust, we human beings, so-called, of the twenty-first century, lacking the wisdom of calm and compassionate interconnectedness, unleash the dogs of war and misery on each other in utter disregard of that simple, ennobling statement that says that, just like myself, all beings wish for happiness and cannot bear to suffer.
Frantically running through life's tangled jungle we are chased by sharp weapons of wrongs we have done returning upon us; we are out of control … trample him, trample him, dance on the head of this treacherous concept of selfish concern. Tear out the heart of this self-centered butcher who slaughters our chance to gain final release.[1]
One good result of all the thousands of hours of teachings I've heard and the few minutes I've meditated is that a conviction has emerged that Dharma wisdom and the mind of compassion is the only way out of this sordid samsaric swamp. And I am inspired by the students of Lama Zopa Rinpoche, like Ven. Roger Munro, who advocates a "professional" approach to Dharma practice, and the experiences of Petra McWilliams in a recent Mandala [September 2003] where she grapples with the demon of self-cherishing and connects with a wider world via the clear seeing of the kindness of the mother. That is really wonderful.
But the sorrows of the world still haunt me, and sometimes in the mornings as I don my monk's robes, which takes longer than slipping on a shirt and trousers, I am reminded of the noble line of Zen monk-poet Ryokan:
Oh that my monk's robe could gather up all the suffering people in this floating world."
Ven. Kabir Saxena (Losang Tenpa) works for the Maitreya Project Universal Education School in India.
1. The Wheel of Sharp Weapons by Dharmarakshita.