News/Media

*If a menu item has a submenu clicking once will expand the menu clicking twice will open the page.

Study & Practice

*If a menu item has a submenu clicking once will expand the menu clicking twice will open the page.

Projects

*If a menu item has a submenu clicking once will expand the menu clicking twice will open the page.

FPMT

Without understanding how your inner nature evolves, how can you possibly discover eternal happiness? Where is eternal happiness? It's not in the sky or in the jungle; you won't find it in the air or under the ground. Everlasting happiness is within you, within your psyche, your consciousness, your mind. That's why it's important that you investigate the nature of your own mind.

Lama Thubten Yeshe

*If a menu item has a submenu clicking once will expand the menu clicking twice will open the page.

Shop

The Foundation Store is FPMT's online shop and features a vast selection of Buddhist study and practice materials written or recommended by our lineage gurus. These items include homestudy programs, prayers and practices in PDF or eBook format, materials for children, and other resources to support practitioners.

Items displayed in the shop are made available for Dharma practice and educational purposes, and never for the purpose of profiting from their sale. Please read FPMT Foundation Store Policy Regarding Dharma Items for more information.
"Universal Education" Dharma for the 21st Century
By Alison Murdoch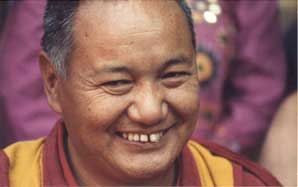 "In Buddhism we have an incredible arrangement, universal education from beginning at birth until death, as an old person. I feel these things could be put into a universal language…" – Lama Yeshe
" The main aim is to reach more people. Help stop the violence, war, and help decrease destruction in the world…"
– Lama Zopa Rinpoche
Around thirty years ago, Lama Yeshe began to outline his vision of a new educational initiative that would make both the depth and the breadth of the Buddhist teachings on compassion and wisdom accessible to the modern world. Lama spoke of bringing together the wisdom of every country and religion "without culture games," of healing the rift between science and spirituality, and of achieving this by using straightforward logical language free from any dogma. He described how the FPMT and "universal education" (UE) needed to evolve a symbiotic relationship, in which each would provide resources for the other and share their skills and experience.
Over the past few years, Lama Zopa Rinpoche has been developing this vision in response to the deepening political, social, educational, and environmental problems that he observes in the contemporary world. "Some may be afraid of the name religion yet may relate to talking about kindness and love. The main goal is to educate others in techniques to have a peaceful life." Rinpoche has also encouraged UE to develop fresh learning methods and styles, such as computer games and drama.
Under Rinpoche's guidance, a new international organization is being set up in London, UK, to take this vision forward. Over 300 people have joined the UE network since its launch in August 2004. The network will offer quarterly newsletters, a program of national and international gatherings, and a range of mechanisms for connecting with people who share similar interests and areas of work. A website is in progress that will help to raise the profile of UE and make it easier to raise the funds that will be needed, both centrally and in support of the work of individual UE projects.
From October 25 to 30, 2005 there will be a five-day international gathering just outside of London, UK, which promises to be a pivotal moment in the development of Lama and Rinpoche's UE vision. If you are interested in Universal Education, please don't miss it. For further details, and to join the UE network, send your name, country of residence, and preferred language to alison@universaleducation.org.uk. We also welcome any offers of financial or volunteer support.