News/Media

*If a menu item has a submenu clicking once will expand the menu clicking twice will open the page.

Study & Practice

*If a menu item has a submenu clicking once will expand the menu clicking twice will open the page.

Projects

*If a menu item has a submenu clicking once will expand the menu clicking twice will open the page.

FPMT

To meet the challenge of our times, human beings will have to develop a greater sense of universal responsibility. Each of us must learn to work not just for his or her own self, family or nation, but for all.

His Holiness the Dalai Lama

*If a menu item has a submenu clicking once will expand the menu clicking twice will open the page.

Shop

The Foundation Store is FPMT's online shop and features a vast selection of Buddhist study and practice materials written or recommended by our lineage gurus. These items include homestudy programs, prayers and practices in PDF or eBook format, materials for children, and other resources to support practitioners.

Items displayed in the shop are made available for Dharma practice and educational purposes, and never for the purpose of profiting from their sale. Please read FPMT Foundation Store Policy Regarding Dharma Items for more information.
April-May 2008
BEGINNINGS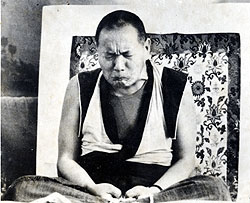 Marcel Bertels, then a monk, was in retreat when Lama Yeshe pulled him out and asked him to "do business" to support the Mount Everest Centre, as so many new boys were arriving at Kopan. And so Marcel developed a fashion manufacturing business in Kathmandu. Adele Hulse's recounting of the life and times of Lama Thubten Yeshe continues …
Marcel still turned up at Kopan for dinner with Lama every night, but with the fashion business rapidly expanding, he came home later and later. By 1978 a slum suburb had sprung up behind the Boudha stupa, and it was through this area he walked at midnight, often carrying large sums of money. It wasn't safe. Lama told Chophel to leave the Kopan kitchen, become Marcel's manager, and have his wife cook for them. Chophel rented a small house in the inner city area and proved to be a very good manager.
"Lama told me to walk everywhere and avoid taking rickshaws to save money," said Marcel, who did everything exactly as Lama instructed. Several Buddhist centers now regularly imported Tibetan incense, offering bowls and such. Peter Stripes in Melbourne, and another student in Florida, imported Tibetan-style jackets, bags and bright boots with curled-up toes. In Italy, Massimo Corona went into business importing the fashion garments designed by Susanna Parodi for the Samsara label. She was a terrific designer.
"Lama Yeshe was always giving me business advice," said Marcel. "He started promoting the idea that he wanted a shop. I wasn't that interested, so Lama said he was going to open it by himself, which, of course, demanded I get interested. Then when I was thoroughly involved, he told me I could have this project of his, this shop. He was very clever with me.
"Our first shop was in the new Soaltee Oberoi Hotel, just outside Kathmandu. It lasted about eighteen months and although it didn't lose money, the area was too quiet for us. Lama bought much of the stock himself during shopping trips to Hong Kong – mostly porcelain, and never any very expensive items. His top price was around two hundred dollars, but ten or twenty dollars was much more common. I was often totally embarrassed, because he never stopped bargaining; he just ground the seller right down. Lama's sole purpose was to make a profit.
"He was always worried I would sell things too cheaply. Sometimes he came into the shop to check up for himself. He'd scurry about putting the most ridiculous prices on things then stubbornly refuse to let me lower them when they didn't sell. As a result the shop was always full of stuff no one would buy. If I reminded him of this he'd say, 'If people don't want to pay, then I don't want to sell!' But he did finally soften up, and we got rid of everything, eventually…
Read the complete article as a PDF.