By Sean Jones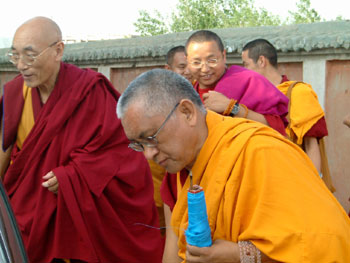 The Enlightenment Experience Celebration ended at Idgaa Choetzinling Monastery in Ulaanbaatar, Mongolia, after a month of Buddhist teachings, an exhibition of a collection of the Buddhas' relics at the Kalachakra Temple, the distribution of 29,000 prayer books to Buddhist practitioners [one copy for every 80 people in Mongolia], the ordination of 110 new Buddhist monks and nuns, and an International Buddhist Film Festival.
This was the fourth such international event to be held by the Foundation for the Preservation of the Mahayana Tradition (FPMT) and the first time it was located in Mongolia, where it attracted about 100,000 people to the various events. [Previous EECs were held in India and Nepal.]
The event began when two renowned Buddhist masters, Choden Rinpoche and Lama Zopa Rinpoche, together with the Buddhas' relics, all arrived on the same plane from Seoul. They were welcomed at Ulaanbaatar airport by top government officials and TV cameras. A Mongolian-style police escort took them into town with flashing lights and sirens wailing. Two weeks later, Kyabje Dorje Chang Denma Locho Rinpoche was warmly welcomed at the airport by Lama Zopa Rinpoche and entourage.
On Saka Dawa, the holiest day in the Buddhist calendar, no less than 9,000 Buddhists queued up patiently to view the sacred relics, a world record attendance for the relics exhibition shrine, which has been touring the world for several years. On average days as many as 3,000 devotees poured into Ganden to queue for the blessings and to pay their respects. In addition, about 1,000 people a day attended the four weeks of teachings with as many as 1,500 at the great initiations …
Enduring vignettes of the lamas at EEC…
Lama Zopa Rinpoche dedicating and listing one by one all the things that exist conventionally but also "are totally empty and therefore do not exist."
Choden Rinpoche gliding around like a pillar of clear light.
Denma Locho Rinpoche rocking back and forth, ceaselessly hammering out the teachings from his throne.
At the very end, as the rinpoches sat in the departure lounge waiting to board the plane, what seemed like the entire staff of the airport came in for a blessing and to offer scarves in a long procession, kneeling on the ground and bowing deeply one by one to receive a tap on the head. Only in Mongolia … !

This article can be read in its entirety in Mandala
Contact Info
1632 SE 11th Avenue
Portland, OR 97214-4702 USA
Tel (503) 808-1588 | Fax (503) 232-0557
About FPMT
FPMT is an organization devoted to the transmission of the Mahayana Buddhist tradition and values worldwide through teaching, meditation and community service.
more...
About Buddhism
If you're new to Buddhism, please read our
Buddhism FAQ
. A place to learn about Buddhism in general, FPMT, and our Discovering Buddhism at Home series.