News/Media

*If a menu item has a submenu clicking once will expand the menu clicking twice will open the page.

Study & Practice

*If a menu item has a submenu clicking once will expand the menu clicking twice will open the page.

Projects

*If a menu item has a submenu clicking once will expand the menu clicking twice will open the page.

FPMT

Look at modern society. Many people put themselves down; that's their worst problem. You can see this everywhere in the world; people put limitations on themselves, on their own reality.

Lama Thubten Yeshe

*If a menu item has a submenu clicking once will expand the menu clicking twice will open the page.

Shop

The Foundation Store is FPMT's online shop and features a vast selection of Buddhist study and practice materials written or recommended by our lineage gurus. These items include homestudy programs, prayers and practices in PDF or eBook format, materials for children, and other resources to support practitioners.

Items displayed in the shop are made available for Dharma practice and educational purposes, and never for the purpose of profiting from their sale. Please read FPMT Foundation Store Policy Regarding Dharma Items for more information.
Editor's Choice – Media Reviews
FEATURED MEDIA
January-March 2013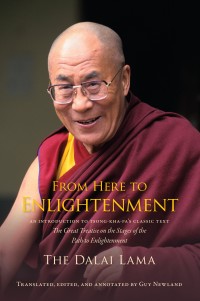 From Here to Enlightenment: An Introduction to Tsongkhapa's Classic Text The Great Treatise on the Stages of the Path to Enlightenment
By His Holiness the Dalai Lama; Edited by Guy Newland
Reviewed by Michael Jolliffe
Lama Tsongkhapa's The Great Treatise on the Stages of the Path to Enlightenment (Lamrim Chenmo) is a hugely important work, not only for the followers of the Gelug school of Tibetan Buddhism that regards Tsongkhapa as its founder and most important thinker, but for all the schools of Tibetan Buddhism that recognize the Lamrim Chenmo as representative of Buddhist scholarship at its best. From Here to Enlightenment introduces English speakers to this important text through the words of His Holiness the Dalai Lama, arguably the most important and well-known Buddhist thinkers of today, as well as one of the most distinguished heirs of Tsongkhapa's tradition.
The majority of the book focuses on Tsongkhapa's text, essentially, his step-by-step guide leading a student from ordinariness into enlightenment. Beginning with the meaning of life and the definition of true happiness, moving to the core motivation shared by Mahayana Buddhists, and eventually concluding with an introduction to the nature of self and phenomena that is the crux of liberating wisdom, His Holiness paints a highly detailed, yet manageable, picture of Tsongkhapa's spiritual project.
Editor Guy Newland points out in his introduction that "his explanations [are woven] around a single, profound theme: dependent arising, the notion that all things arise and exist only through deep interconnections," and understanding this crucial point can fortify one's grasp of His Holiness' presentation, especially when it deviates into topics that Tsongkhapa himself did not necessarily explicitly address, such as "global responsibility," "non-sectarianism within Tibetan Buddhism," and "interreligious dialogue."
If you have been curious about Lama Tsongkhapa's Lamrim Chenmo but have been overwhelmed by its length or style, From Here to Enlightenment is a relaxed but reliable resource, offering a thorough introduction to its key and most valuable points, and is certainly more than enough to contemplate!
Published by Shambhala Publications
Hardback US$24.95
www.shambhala.com
(Get this book and support the FPMT through the Foundation Store!)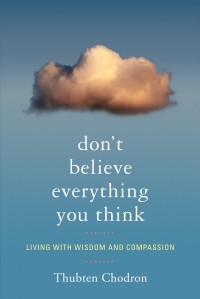 Don't Believe Everything You Think
By Ven. Thubten Chodron
Reviewed by Michael Jolliffe
One of my first gateway books to Tibetan Buddhism was Essential Teachings by His Holiness the Dalai, a 1995 commentary on The Thirty-seven Practices of Bodhisattvas by Togmay Zangpo, a 13th-century Buddhist monk. I loved the book, not because I necessarily understood it, but because somehow its essence "felt right" and contained beautiful and touching passages from the root text that, when filtered through His Holiness' understanding, seemed immensely practical. Learning to act and think like a bodhisattva seemed much more achievable!
Ven. Thubten Chodron's Don't Believe Everything You Think contains similar beautiful passages (taken from Ruth Sonam's translation of The Thirty-seven Practices with a few minor adjustment) and practical commentary. It is a solid and thorough commentary, tending not to deviate much from traditional commentaries, such as His Holiness', and is every bit as helpful for shaping one's thinking and one's life.
However, Chodron's commentary is special, and not necessarily because of what she says (although she does say some insightful and wonderful things), but because she decides to let her students speak with her by weaving their thoughts and experiences into her work. I have never seen a teacher allow her students to participate in her own writing as does Chodron in Don't Believe Everything You Think, and certain audiences will definitely appreciate this democratic (perhaps, revolutionary!) approach being experimented with. As the Western Buddhist world's fledgling commentarial tradition develops, it'll be interesting to see if others pick up Chodron's lead.
Published by Shambhala Publications
Paperback US$16.95
www.shambhala.com
(Get this book and support the FPMT through the Foundation Store!)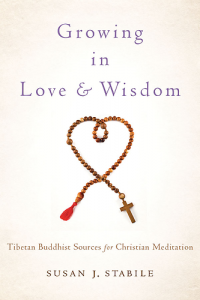 Growing in Love and Wisdom: Tibetan Buddhist Sources for Christian Meditation
By Susan J. Stabile
Reviewed by Carl Jensen 
Author Susan Stabile was raised in the Catholic tradition, and is now a Catholic, but spent 20 years in between as a practicing Buddhist, including a year ordained as a nun in the Tibetan Buddhist tradition. Her new book, Growing in Love and Wisdom, is meant to introduce a number of meditations from Tibetan Buddhism to a Christian audience by focusing on the things that Buddhists do in order to cultivate positive mental states.
The book includes many of the lam-rim meditations with which Tibetan Buddhists are familiar, including those on equanimity, tong-len, the four immeasurables, death and impermanence, the eight worldly concerns, and refuge. One meditation, explicitly based on the Tantrayana, asks the meditator to see herself as Christ. Another introduces the ways of meditating on the "I" in order to understand all of the ways that it does not exist. The book even introduces practices based on the Eight Mahayana Precepts and the seven-limb practice. The author has modified all of these meditations and practices with the aim of bringing some of their benefits to a Christian audience.
With its numerous quotations from Lama Zopa Rinpoche and Lama Yeshe, this book provides a bit of the flavor of Tibetan Buddhism to Christian practitioners. As a person deeply grounded in her Catholic faith, but also very familiar with Tibetan Buddhist practices, the author gives one interpretation of how the topics of the lam-rim can be presented in a way that highlights the similarities, rather than the differences, between faith traditions. It seems that this book provides an avenue for fruitful interfaith dialogue for Buddhists who work with people of differing religious backgrounds – and perhaps also for Buddhists who would like a way to communicate more deeply with their friends and family who practice Christianity.
Published by Oxford University Press, USA
Hardback US$19.95
www.oup.com/us/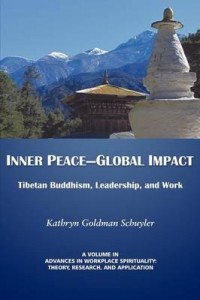 Inner Peace – Global Impact: Tibetan Buddhism, Leadership, and Work
By Kathryn Goldman Schuyler
Reviewed by Laura Miller
Inner Peace-Global Impact takes a groundbreaking look at how Tibetan Buddhism is interrelating with modern Western organizational structures as well as individual lives. The book is part of a series called Advances in Workplace Spirituality: Theory, Research and Application, which explores the relationship between spirituality and religion and organizational life. To date, not much scholarship has been undertaken to describe and understand how Tibetan Buddhism's emergence in Western countries has shaped ideas and experiences in areas having to do with leadership, management, organizational development and the like. In Inner Peace-Global Impact, editor Kathryn Goldman Schuyler has assembled a far-reaching collection of articles that explore the confluence of the Tibetan wisdom tradition and Western society and culture. Goldman Schuyler is a trained sociologist and has coached over 200 executives, but she also has been drawn into Tibetan Buddhist spiritual practice. Inner Peace-Global Impact reflects this combination of the professional and the spiritual.
Inner Peace-Global Impact is meant for a wide audience of readers, from people involved in management training to Tibetan Buddhist practitioners curious to learn more about the tradition's impact outside of Tibet. With such a sweeping topic as Tibetan Buddhism, leadership and work, one might expect a collection of dry and abstract articles. Fortunately, the opposite is true. The pieces gathered in Inner Peace-Global Impact are thoroughly engaging, detailed and informative. Goldman Schuyler offers a diverse collection of thoughtful interviews, personal narratives and focused studies that give the reader specific and thorough examples of the interweaving of two cultures, instead of trying to present an all-encompassing yet simplistic overview.
Students of FPMT may be interested to read the chapter contributed by Nick Ribush – long-time student of Lama Yeshe and Lama Zopa Rinpoche, who currently serves as director of Lama Yeshe Wisdom Archive – which offers a history of the organization's development. I found equally interesting the story of Chogyam Trungpa Rinpoche and the Shambala tradition's evolution as well as Sogyal Rinpoche's reflections on Rigpa International and Buddhism in the West. Other sections of the book include an interview with Thupten Jinpa, who serves as one of His Holiness the Dalia Lama's interpreters and is an accomplished Western scholar; an essay on mind training and embodied learning in leadership development; personal stories on the integration of Buddhist practice with a variety of professions, including in the field of arts, social work and the service industry; and several other articles.
Kathryn Goldman Schuyler makes an important contribution to our understanding of Tibetan Buddhism's influence on Western culture and society. Inner Peace-Global Impact is a book for anyone who has wondered how Buddhist practice is changing the world. 
Published by Information Age Publishing
Paperback US $20 (via Inner Peace-Global Impact website)
Amazon Kindle $9.99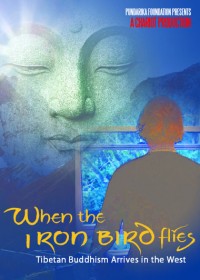 When the Iron Bird Flies: Tibtan Buddhism Arrives in the West
By Victress Hitchcock
Reviewed by Laura Miller
When the Iron Bird Flies is an enjoyable documentary about Tibetan Buddhist practice in the West. The filmmaker Victress Hitchcock talks to a diverse group of Tibetan Buddhist teachers and practitioners primarily in the United States and India, putting together a portrait that gives a sense of the breadth of practitioners engaging with the Tibetan tradition.
The film also gives a summary overview of Buddhist principles, including a basic presentation of the four noble truths. The benefits of Buddhist practice are also explored through personal stories. My favorite part of the film was watching the transformation of a young, urban female practitioner over the course of a several-month-long retreat. When the Iron Bird Flies offers several stories like this, which illustrate the power of Tibetan Buddhist practice and help explain its ever expanding appeal to Westerners. 
Published by Chariot Videos
DVD US$24.95
www.chariotvideos.com