News / Media

*If a menu item has a submenu clicking once will expand the menu clicking twice will open the page.

Education

*If a menu item has a submenu clicking once will expand the menu clicking twice will open the page.

Projects

*If a menu item has a submenu clicking once will expand the menu clicking twice will open the page.

FPMT

We are not compelled to meditate by some outside agent, by other people, or by God. Rather, just as we are responsible for our own suffering, so are we solely responsible for our own cure. We have created the situation in which we find ourselves, and it is up to us to create the circumstances for our release. Therefore, as suffering permeates our life, we have to do something in addition to our regular daily routine. This "something" is spiritual practice or, in other words, meditation.

The Purpose of Meditation
Lama Yeshe Wisdom Archive

Lama Zopa Rinpoche

*If a menu item has a submenu clicking once will expand the menu clicking twice will open the page.

Shop

The Foundation Store is FPMT's online shop and features a vast selection of Buddhist study and practice materials written or recommended by our lineage gurus. These items include homestudy programs, prayers and practices in PDF or eBook format, materials for children, and other resources to support practitioners.

Items displayed in the shop are made available for Dharma practice and educational purposes, and never for the purpose of profiting from their sale. Please read FPMT Foundation Store Policy Regarding Dharma Items for more information.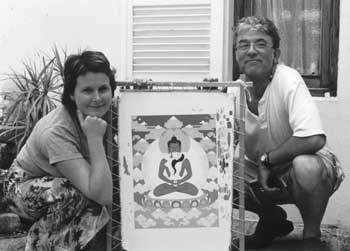 Andy Weber spent seven years living and studying the iconographical art of Tibetan Buddhism under the guidance of accomplished masters in India and Nepal. His teachers were Ludhup, who had escaped from Tibet with some 250-year-old scrolls, and the master artist Tsang in Tibet. "Ludhup initiated me into the world of Vajrayana art, and Thargye provided me with a detailed map of that world," he said.
He and his students now offer their artwork and their services to the wider Dharma community. When Dolma Beresford, born in Dharamsala and raised by Buddhist parents, moved to London, and attained a degree in graphic design, she jumped at the chance to learn from Andy, who, as a friend of her parents, was part of her childhood.
"When Andy said, 'Come to my course at Jamyang Buddhist Centre!' I knew I wanted to see him again," she said. "The idea of escaping the world of deadlines and paying the rent to draw the Buddha appealed to me. It was a weekend that would change my outlook and take my interest in Buddhism in a direction I never thought possible…
Artist Ella Brewer was apprenticed to Andy Weber for six years. A student of Lama Zopa Rinpoche, who has encouraged her painting and teaching work, Ella is one of only two people in New Zealand teaching thangka painting (the other teacher is a Tibetan in Auckland who needs to use an English translator.) She recently moved to Auckland on NZ's north island, where she is residing at Dorje Chang Institute. She is also using her skills to bring Tibetan art to the wider community.
At the request of Lama Zopa Rinpoche, Ella has already started on thirty-two Mahamudra lineage paintings for the Mahamudra Centre in Coromandel (90 minutes drive from Auckland). Sponsors are being sought so Ella can concentrate on the art works which would otherwise take many years to complete. Ideally she would like to undertake a three-year retreat during which she would doubtless make great progress on the series. She has almost finished the first painting of Manjushri…
Andy is teaching in many Dharma centers, art centers and universities worldwide. He has taught students in Holland for twenty years and he says that "some of those have become very professional and very good. They exhibited some of their work at Maitreya Instituut during the recent CPMT meeting (Mandala December 2004), which everyone really appreciated. What's more, Lama Zopa mentioned the benefits of thangka painting during his teachings."
Andy will teach in southern California in April 2005.
For further information: www.andyweberstudios.com, www.sacredpaint.com and www.thangka.nl
This article can be read in its entirety in Mandala