News/Media

*If a menu item has a submenu clicking once will expand the menu clicking twice will open the page.

Study & Practice

*If a menu item has a submenu clicking once will expand the menu clicking twice will open the page.

Projects

*If a menu item has a submenu clicking once will expand the menu clicking twice will open the page.

FPMT

The minute you cherish others, you have happiness and peace in your life.

Lama Zopa Rinpoche

*If a menu item has a submenu clicking once will expand the menu clicking twice will open the page.

Shop

The Foundation Store is FPMT's online shop and features a vast selection of Buddhist study and practice materials written or recommended by our lineage gurus. These items include homestudy programs, prayers and practices in PDF or eBook format, materials for children, and other resources to support practitioners.

Items displayed in the shop are made available for Dharma practice and educational purposes, and never for the purpose of profiting from their sale. Please read FPMT Foundation Store Policy Regarding Dharma Items for more information.
Integrating Ngondro into your Daily Meditation
PRACTICE
August-September 2007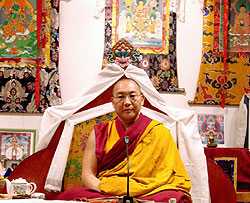 A very busy Dagri Rinpoche sat down with contributor Katy Fradet to discuss how to integrate Ngondro or "Preliminary Practices" into a daily session of meditation. Katy met him in his small house, local-Indian-style, surrounded by a beautiful and peaceful garden in Sera where she could hear the birds singing at sunset while Rinpoche spoke. He cancelled his participation in a puja to devote time to the interview in the hope that this "little talk" as he called it, would be of benefit.
Katy Fradet: What is the purpose of doing Ngondro practices, for instance doing 100,000 prostrations, mandala offerings, etc.?
Dagri Rinpoche: The purpose of Ngondro practice is to accumulate merit, which is the cause for the main meditation practice to be successful. If you want to eat a delicious meal, first you have to prepare it, you have to cook it well!
KF: How does one organize a session of Ngondro?
DR: Ngondro practice can be combined with the six preparatory practices to be done in a main session of meditation:
First Preparatory Practice – Preparing the Meditation Space & Visualization of the Buddhas
First chose a place for your meditation and clean it well. This helps the mind to be at ease. Traditionally, the retreat place was preferably settled high in the mountain, where the air is pure. In any case, it should be a clean and inspiring place. Then select some representation of the body, speech, and mind of the buddhas. This is not indispensable but still strongly recommended, as the mere viewing of a representation (statue, painting, etc.) of the buddhas and bodhisattvas purifies negative karma, accumulates vast merits and produces imprints to achieve buddhahood in the future. Most importantly, if we generate the feeling that the buddhas are really here in front of us and we visualize nectar and rays of light, white and red, pouring down from their three doors of body, speech, and mind and absorbing into our body, speech, and mind, it purifies uncountable past negativities: physical, verbal, and mental. This is a very powerful practice to do when done with strong faith. Then we visualize that the buddhas actually dissolve into ourselves.
Second Preparatory Practice – Making Offerings
The second preparation is the practice of offering, which can be done with material substances or visualized ones. The purpose of this practice is to accumulate merit. In regards to material substances, these days flowers are easily accessible and they are a great object of offering as they please the eye and produce the karma to obtain beauty in the future. If we chose to offer water, it has to be pure (drinkable). There are two types of offerings: the mundane or normal ones (material), and the supreme ones which are "based on samadhi," or concentration; as you visualize them, you see them as innumerable, filling unlimited space. …
Read the complete article as a PDF.