News/Media

*If a menu item has a submenu clicking once will expand the menu clicking twice will open the page.

Study & Practice

*If a menu item has a submenu clicking once will expand the menu clicking twice will open the page.

Projects

*If a menu item has a submenu clicking once will expand the menu clicking twice will open the page.

FPMT

If we want to understand how we are ordinarily misled by our false projections and how we break free from their influence, it is helpful to think of the analogy of our dream experiences. When we wake up in the morning, where are all the people we were just dreaming about? Where did they come from? And where did they go? Are they real or not?

Lama Thubten Yeshe

*If a menu item has a submenu clicking once will expand the menu clicking twice will open the page.

Shop

The Foundation Store is FPMT's online shop and features a vast selection of Buddhist study and practice materials written or recommended by our lineage gurus. These items include homestudy programs, prayers and practices in PDF or eBook format, materials for children, and other resources to support practitioners.

Items displayed in the shop are made available for Dharma practice and educational purposes, and never for the purpose of profiting from their sale. Please read FPMT Foundation Store Policy Regarding Dharma Items for more information.
THE YEAR IN RETROSPECT: The Foundation's Story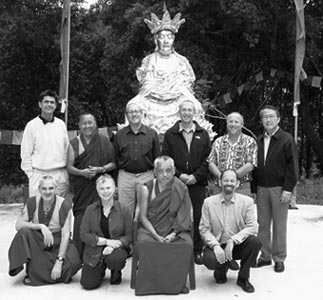 Front, from left: Ven. Roger Kunsang, Paula de Wiis-Koolkin, Lama Zopa Rinpoche, Andrew Haynes. Back: Tim McNeill, Ven. Pemba Sherpa, Massimo Corona, Peter Kedge, Karuna Cayton and Hong Boon Sim. Absent: Khenrinpoche Geshe Lundrup, Ian Green and Tara Melwani.
Last year was one full of challenges and accomplishments in the life of the Foundation for the Preservation of the Mahayana Tradition (FPMT). Executive Director Massimo Corona explains why FPMT, Inc., exists and what its recent achievements have been.
"It's sometimes easier to call our organization FPMT than give it its full title," Massimo begins. "But despite advice to the contrary back in the 1970s – 'It's too long, Lama!' – Lama Thubten Yeshe insisted that Foundation for the Preservation of the Mahayana Tradition expresses everything that the organization stands for.
"'We have to be like a mini-society,' Lama said. He saw the need for a flexible structure that would unite the – at that time – thirty or so Dharma centers springing up around the world, a structure that would hold them in such a way that this new culture could be developed and practices and experiences could be shared. Lama never intended to bring Tibetan culture to the West; rather, he wanted to create the conditions in which a new culture could be formed, incorporating Dharma into each culture's specific way of life.
"Because we are introducing Tibetan Buddhism to non-Buddhist countries, we have to create our own support systems," Massimo told Mandala. "Buddhist countries automatically look after their centers and monasteries and their Sangha. We need to be united in the way centers are established and run and in how the Dharma is integrated into everyday life. Seeing this, Lama created the Foundation, and he also created the Council for the Preservation of the Mahayana Tradition (CPMT): This a convention that meets somewhere in the world every eighteen months. Center directors and staff and spiritual program coordinators come together in that same spirit of unity and sharing. Today there are 133 centers and study groups in 31 countries.
"In early times FPMT was not yet a legal entity. We had a 'Board' but it was more 'virtual' than it was formally recognized. It was not until the late 1980s that FPMT was incorporated in California as an association of Buddhist churches under U.S. law." [All legal terms relating to religious organizations in the U.S. use Christian language: church, not temple; minister, not monk.]
Supporting FPMT centers
" Under the guidance of our spiritual director, Lama Zopa Rinpoche, FPMT, Inc. supports all its centers and activities educationally and administratively. It also contributes to about forty charitable projects around the world."
Massimo explains: "In respect to the support given to centers and students, in 2003 the Education Department of FPMT International Office made available more than 200 products such as practice texts, study materials, practice CDs, and home studies for distance learning. The curriculum is offered on three levels, depending on students' knowledge of Buddhism.
"Already forty-five centers are conducting Discovering Buddhism [introductory level] courses regularly, and close to 400 people are participating in Discovering Buddhism at Home. Fourteen centers are hosting the Basic Program [intermediate level], and by 2006 we will have our first graduates from the Masters Program [advanced level] when they finish their nine-month retreat after seven years of study," Massimo said.
"On the administrative support side, Center Services has completely revised and expanded the Handbook, FPMT's essential manual that covers many different aspects of running a center from how to organize teachings to handling meetings and setting up management committees, as well as ethical policies, handling grievances, and many more topics.
"We are now shaping a workshop for next year called Foundation Training. This will be developed based on feedback from center staff after CPMT 2004, but what we envisage is that our staff will visit various regions round the world to offer center directors and others a 7 or 8 day course that addresses the purpose and culture of FPMT, how to integrate Dharma practice with the work of managing a Buddhist community, how to handle interpersonal problems in a tight community where everyone is practicing Dharma based on cutting through self-cherishing attitude, and other subjects. This can be a very intense psychological practice, when it is done with others doing the same thing at the same time, living under the same roof. It can be very delicate; this is why people feel that they need training to recognize the dynamics and know how to deal with them.
"To support the above activities we have a website (completely overhauled in 2003 and receiving visits from around 1,800 people daily) and an online shop that offers Dharma practice and study materials and ritual objects, as well as furniture, rugs, lamps, and the like, whatever helps to create a Dharma home.
"And to keep practitioners, old and new, informed about the Dharma, we have Mandala, which has undergone many metamorphoses yet continues to be the voice of FPMT and Tibetan Buddhism," Massimo said.
Making charity
" In 2003, under the guidance of Lama Zopa Rinpoche, we were able to distribute $1.3 million to a number of projects, thanks to donations of $1.2 million from all around the world; the balance came from FPMT's reserve funds. I'll try to give an overview of the major projects.
"The main activity is to support monasteries in Tibetan refugee communities in India and Nepal, and also to restore the religious and cultural heritage of Mongolia. We offer food to monks and nuns; we contribute to the construction of stupas and other building projects; and we help with salaries for the abbots and main teachers in the six Gelug monasteries in India (Sera, Ganden, Drepung, the Panchen Lama's monastery Tashi Lhunpo, and the Upper and Lower Tantric Colleges, Gyuto and Gyume).
"Projects are supported with amounts from $2,000 to $3,000 for smaller projects, right up to $400,000 for building a monastery in Mongolia. With a final $148,000 we helped to complete the Yiga Choezin monastery there; we had also disbursed $220,000 in 2002, so all together the total cost was $400,000.
"The Sera Food Fund is a large expense: more than $300,000 last year to help offer three meals a day to 3,000 monks. That includes only 90 breakfasts per year – we don't have enough to pay for all, but the Tibetan community always offers to pay for breakfast when they have to do a puja.
"Besides helping the monasteries, we have created an Education Fund which in 2003 disbursed more than $89,000, mainly to sponsor scholarships and to help subsidize the running costs of the Masters Program at Istituto Lama Tzong Khapa in Italy.
"We donated $50,000 to edit and publish Geshe Sopa Rinpoche's commentary to Je Tsongkhapa's Lam Rim Chenmo.
"For His Holiness the Dalai Lama's long life puja we disbursed $5,500, and for Lama Zopa's Puja Fund we disbursed $9,600.
"Then we have the Mongolian scholarship fund from which we drew $26,000 to sponsor Mongolian monks to travel to monasteries in South India where they can further their studies, and $47,000 to FPMT-Mongolia to support our center there, as well as a soup kitchen. $44,800 went toward remodeling the Drolma Ling Nunnery in Ulaanbaatar and supporting its 20 nuns with food and heating.
"Fro m the Lama Yeshe Sangha Fund we disbursed $7,700 that basically went to support a group of monks and nuns in long (three-year or more) retreat.
"The Maitri Charitable Trust was established in Bodhgaya many years ago to provide help in the eradication of leprosy, the treatment of TB, medical assistance and care for expectant mothers and newborn babies, rescuing malnourished small children, educating children and adults in rural areas, and rescuing and caring for animals in Bodhgaya. This year we disbursed $5,000.
"Allocation of most of the $80,700 raised from Merit Boxes in 2003 was listed in Mandala June/July 2004. There are too many other projects to list individually. The overall picture of generosity is very heartening, and a big word of thanks goes to all those benefactors who made this possible," Massimo concluded.