News/Media

*If a menu item has a submenu clicking once will expand the menu clicking twice will open the page.

Study & Practice

*If a menu item has a submenu clicking once will expand the menu clicking twice will open the page.

Projects

*If a menu item has a submenu clicking once will expand the menu clicking twice will open the page.

FPMT

Try to eliminate the negative attitudes, which bring suffering, and increase the positive attitudes, which bring happiness.

Lama Zopa Rinpoche

*If a menu item has a submenu clicking once will expand the menu clicking twice will open the page.

Shop

The Foundation Store is FPMT's online shop and features a vast selection of Buddhist study and practice materials written or recommended by our lineage gurus. These items include homestudy programs, prayers and practices in PDF or eBook format, materials for children, and other resources to support practitioners.

Items displayed in the shop are made available for Dharma practice and educational purposes, and never for the purpose of profiting from their sale. Please read FPMT Foundation Store Policy Regarding Dharma Items for more information.
The Fourteen Dalai Lamas: A Sacred Legacy of Reincarnation
In The Fourteen Dalai Lamas, author Glenn H. Mullin vividly brings to life the myth and succession of all 14 Dalai Lamas in one volume for the first time. The book contains a chapter on each Dalai Lama (except Dalai Lamas 9-12, who are covered in one chapter). Mullin has included characteristic excerpts from the Dalai Lamas' teachings, poetry, and other writings that illuminate the principles of Tibetan Buddhism expressed in their lives.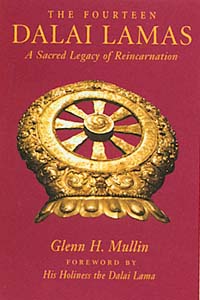 The 14th Dalai Lama, spiritual and temporal leader of the Tibetans in exile, is well known, but the 600-year tradition to which he is heir is less familiar. From the birth of the first Dalai Lama in a cowshed in 1391, each subsequent Dalai Lama has been the reincarnation of his predecessor, choosing to take up the burdens of a human life for the benefit of the Tibetan people. For almost six centuries, the Dalai Lamas have served as the Tibetans' spiritual leader and have held secular power for almost half that time. All the Dalai Lamas are revered as incarnations of Avalokiteshvara, the Buddhist deity of compassion, but each has been a unique individual with different abilities and temperaments. Over the ages, various Dalai Lamas have been poets, statesmen, builders, philosophers; most have been disciplined monastics, but one [the Sixth] was a lover of women. The potential of some was tragically lost when their lives were cut short, possibly the victims of political intrigue, while others lived long enough to shape entire eras of Tibetan history.
Glenn H. Mullin is an internationally known scholar and translator and the foremost Western expert on the lives and teachings of the Dalai Lamas. He lived for many years in Dharamsala, India, where he translated many books and monographs for the Library of Tibetan Works and Archives. Now based in the United States, he continues to write, travel and lecture widely. He is the author of the 10-volume series Teachings of the Dalai Lamas, as well as Death and Dying: The Tibetan Tradition, Mystical Verses of a Mad Dalai Lama, and Tsongkhapa's Six Yogas of Naropa.
Extract
The Sixth Dalai Lama
[One tradition surrounding "Lhasa's immortal lover", the Sixth Dalai Lama,] is that he never passed away. Instead, just as Padmasambhava had done a thousand years earlier, he manifested the tantric siddhi of immortality.
According to this legend, the "deaths" of the Sixth … were both hoaxes: the first while he was being held captive by the Mongols; and the second many years later as the elderly abbot of a provincial monastery.
In both of these cases he had feigned a death scene in order to assist disciples and trainees in their meditations upon impermanence and death, and to cultivate closer karmic ties with them so that he would be able to more effectively benefit them in their future lives. And in both instances he left them a shell of an emanated body for relics, so that they could collect merit by disposing of his remains.
In reality, however, in both instances he merely withdrew his spiritual presence from the scene, and manifested elsewhere.
According to this legend, he is still alive today, and continues to wander the world incognito in order to bring spiritual benefits and transformation to those who are ready. He shows up when least expected but most needed, and works his spiritual magic almost without being noticed.
This legend is quite popular with ordinary lay people, who speak of "Sixth Dalai Lama encounters" much like Americans speak of Elvis spottings.
Read more in Mandala or
Contact Clear Light Books