How to Prepare for and Not Be Afraid of Death
Death and Dying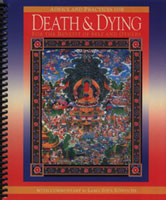 This compilation of advice from Lama Zopa Rinpoche has been gathered from responses to practitioners who have asked specifically how to practice in order to overcome their fears of death and to prepare for their own death during life.


Dying with bodhichitta
The main thing is to practice bodhichitta. Dying with bodhichitta is the best way to die, as you've heard many times. Always keep this in mind. Keep repeating, "I am going to die for the benefit of all sentient beings. The practice, the service, that I am doing and have done is for the benefit of sentient beings."
All during the day, every day, you should live with a bodhichitta motivation. Live your life to serve others. Think, "I'm here to free all sentient beings from samsara and lead them to enlightenment, bringing them happiness in this life and in all future lives and liberation from samsara."
Practicing the five powers
Another fundamental practice is to integrate your life practice with the five powers. This practice makes life most meaningful and beneficial for all sentient beings, and also prevents you from creating obstacles to the path. You can do other practices – sadhanas and mantras – but this is the foundation. There are five powers to be practiced in daily life, and five powers to practice at the time of death. You should know the outline of these two sets of five powers. If you are able to practice the five powers in your daily life, then you will be able to practice them at the time of death …
Excerpted from the new publication from FPMT Education Department, Advice and Practices for Death and Dying for the Benefit of Self and Others, now available from shop.fpmt.org
Contact Info
1632 SE 11th Avenue
Portland, OR 97214-4702 USA
Tel (503) 808-1588 | Fax (503) 232-0557
About FPMT
FPMT is an organization devoted to the transmission of the Mahayana Buddhist tradition and values worldwide through teaching, meditation and community service.
more...
About Buddhism
If you're new to Buddhism, please read our
Buddhism FAQ
. A place to learn about Buddhism in general, FPMT, and our Discovering Buddhism at Home series.