News/Media

*If a menu item has a submenu clicking once will expand the menu clicking twice will open the page.

Study & Practice

*If a menu item has a submenu clicking once will expand the menu clicking twice will open the page.

Projects

*If a menu item has a submenu clicking once will expand the menu clicking twice will open the page.

FPMT

Dharma is a total way of life. It's not just for breakfast, Sundays, or the temple. If you're subdued and controlled in the temple but aggressive and uncontrolled outside of it, your understanding of Dharma is neither continuous nor indestructible.

Lama Yeshe

*If a menu item has a submenu clicking once will expand the menu clicking twice will open the page.

Shop

The Foundation Store is FPMT's online shop and features a vast selection of Buddhist study and practice materials written or recommended by our lineage gurus. These items include homestudy programs, prayers and practices in PDF or eBook format, materials for children, and other resources to support practitioners.

Items displayed in the shop are made available for Dharma practice and educational purposes, and never for the purpose of profiting from their sale. Please read FPMT Foundation Store Policy Regarding Dharma Items for more information.
Intimacy, Love, and Attachment
Intimacy, love, and attachment
By Ven. Tenzin Chönyi Taylor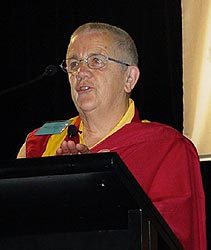 Why do we have so many problems in our relationships? Well, it's about on a par with eating chocolate. Chocolate makes us feel good. So does sex. So does being loved. It is all to do with the endorphins that smooth out the sharp edges of our thoughts. If that was the end of the matter, then we could simply keep a block of chocolate on hand, give ourselves an endorphin hit, and forget about relationships. Why bother with practicing patience with a real person when you can pick up a chocolate bar instead? We have many relationships and many experiences of anger, hurt, jealousy, and resentment whether the relationship is parent-child, child-parent, friend-friend, teacher-student, student-teacher, and so on. There is happiness for the asking, out there, if only we could grab it.
Let's look first at romantic love. Romantic love is addictive. The first flush of excitement, the stranger across the crowded room, the hope that at last all our suffering will be gone throws us into an endorphin high. We are in love. We want more. And that is the start of the addiction: the belief that here, at last, is relief to my suffering. Here is the Prince Charming, Princess Beautiful, who will fulfill all my dreams and bring about my happiness. Chemistry is in action.
For other relationships, perhaps, we are not so much aware of the endorphin rush. Here in my arms is the child who will become what I could never be, or the friend who will never leave me, or the teacher who is my perfect parent-substitute. With this first heart-warming flush of affection to that person and/or from that person we want more. And more. This is often what is meant when people talk about intimacy – that heart-warming flush. We think, with this heart-warmth, that we want happiness for this person, but we do not see a dangerous pitfall of attachment: I want this person to be happy because then I will be happy.
The problem is that we do not know the way in which we are deluded. There are two inner voices whispering in our ears. The first says, "I want this person to be happy." This is a pleasing inner voice, virtuous, the voice that cherishes others. The other inner voice is saying, "I want to be happy." This is also a pleasing voice. I certainly do not want to be unhappy. But the second inner voice is saying that any relationship is about me, about my dreams, my happiness. The addiction is to my happiness, to feeling good.
On the one hand we are seeking intimacy; on the other hand, we are, in fact, without knowing it, separating ourselves from the possibility of being intimate.
Attachment, in the Buddhist sense, overvalues the positive aspects of something and ignores or minimizes any negative aspects. It is not difficult to see how falling in love is a good example of attachment. The stranger across the crowded room has no faults, is the perfect partner, even though we have not yet met. The same can be true for any form of relationship: our children, our pets, our best friends, even our mobile phone. If we make the mistake of overvaluing their positive aspects, then inevitably, we will eventually become disillusioned. This is because we have little hope of really seeing them. Instead we see our dream apparently coming true. We are shocked when the negative aspects of this person can no longer be ignored. We simply do not believe that this cherished friend is going to become our worst enemy….
Excerpted from a longer article published in Mandala April 2006.