News/Media

*If a menu item has a submenu clicking once will expand the menu clicking twice will open the page.

Study & Practice

*If a menu item has a submenu clicking once will expand the menu clicking twice will open the page.

Projects

*If a menu item has a submenu clicking once will expand the menu clicking twice will open the page.

FPMT

Basically, the human mind is mostly unconscious, ignorant, and gets so preoccupied with new experiences, that it forgets the old ones. Review the past month: exactly what happened, precisely what feelings did you have, every day? You can't remember, can you? But if you practice this slowly, slowly, continuously checking within your mind, eventually, you'll be able to remember more and more of your previous experiences.

Lama Thubten Yeshe

*If a menu item has a submenu clicking once will expand the menu clicking twice will open the page.

Shop

The Foundation Store is FPMT's online shop and features a vast selection of Buddhist study and practice materials written or recommended by our lineage gurus. These items include homestudy programs, prayers and practices in PDF or eBook format, materials for children, and other resources to support practitioners.

Items displayed in the shop are made available for Dharma practice and educational purposes, and never for the purpose of profiting from their sale. Please read FPMT Foundation Store Policy Regarding Dharma Items for more information.
Letters from Prison: Timothy Haremza
November-December 1997
By Timothy Haremza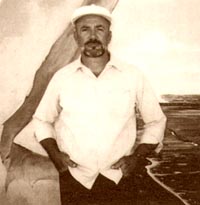 My life, this time, began in 1957. Orphaned at the age of two, I grew up in many, many foster homes and boys' homes. The fights, drugs, guns, gangs, joining the army, coming to prison: it was the truth of suffering, and it is familiar to everyone. I entered adulthood a mean and very vengeful man. Indeed, I had never forgiven my relatives for not taking care of me as a child. I eventually came to prison for robbery, swearing to one day take revenge upon those who I believed to be enemies – especially the ones I felt had betrayed me as a child. In here I continued my ways. The gangs, drugs, trusting only the knife I carried.
Then I began to meditate. My practice was based on hatha yoga principles, Patanjali and so forth. And, in truth, it arose from evil intentions. I dedicated myself to learning asanas, pranayama, and meditation because I wanted to acquire siddhis, powers. Now it seems childish, but at the time I was very serious about hurting others and acquiring the means to do so. I became very dedicated to my practice.
Fortunately I never obtained the powers I sought, but I did learn to sit very still, to watch the breath, to focus on one object. Giving up on power, I continued to meditate because I liked the cool stillness. It was a way of getting out of prison.
One night while I meditated in this way what happened was a light, green light that was there, but without any direction. It was warm, it was feminine, but it wasn't in a specific place: I cannot say whether it was in front of me, or inside of or around me. It just was, and it meant something conclusive for me.
If nothing else had happened in the aftermath of this episode I might have eventually convinced myself to ignore it. But a short time later I saw, in a magazine, a picture of Green Tara: Sgrol-yan Drolma, it said. I couldn't pronounce the name, but I was certain that the woman in the picture and the light were the same. There was never a doubt in my mind concerning this. If I had not been certain I would not be a Buddhist today.
I had to find out everything about the green woman in the picture. Who was she? Where from? Why the light? What did it mean? In this way I was walked gently into the Dharma and away from gangs, drugs, theft and violence.
I now work as a tutor in the prison's academic school. I work for peace between the gangs. Last year, with the help of others who are turning about, it was possible to begin a Buddhist study group. We decided upon the name Milarepa Buddhist Community because the example of Je Mila is especially dear and relevant to us.
Recently I was fortunate enough to receive the guidance and blessings of a lama of the Karma Kagyu, and so, my practice has entered another phase.
From my side, I have been very, very fortunate. The Mother of all Buddhas has indeed saved me from disaster and guided me towards the Dharma, even leading me to a wise and compassionate being upon whom I may rely. I am fortunate, too, to be in prison; for here I learn the lessons of karma, interdependence, and compassion.
We customarily set out an extra mat for Mila during meditation sessions or discussions – to keep the teachings immediate. In Drinking the Mountain Stream, Lama Kunga Rinpoche kindly points out that Mila's songs are a "road map." Actions and results, regret and renunciation, method and wisdom, and – always – the guru. It is all there in the map. But a choice must be made: we can either acquire information about maps or decide to use one. It is the same choice whether you live in Kopan or Chicago, a mansion or a prison cell. This is a small thing we have learned here. When the teachings lose immediacy then we are in danger of becoming romantically attached to maps.
Our focus today is upon education and responsibility. Thanks to the FPMT, Wisdom and Snow Lion we now have a modest library. We are putting together a sort of study manual for Buddhist prisoners that utilizes some of the texts we received. We are also working on a practice calendar and doing more individual and one-on-one study based on the lam-rim and Buddhist tenets. Tara practice is catching on with several people and a solid commitment to meditation remains the basis of practice.
There is a man here named Felix who read a book by Lama Zopa Rinpoche and concluded that he needed to find out how his mind works. Another man, Lin Hua, seems to do well at actualizing the method path. He is doing a life sentence but not giving it the same labels you are. You discover that his easy kindness is the result of his own sweat and work over a long and difficult life.
We have our problems, of course. Aaron smirks if I mention the term shen-tong, and if the shrine is not arranged in conformity to Khenpo Kartha Rinpoche's teachings, I sit through meditation sessions as if being physically tortured. Aaron frequently holds forth about the greatness of Tsong Khapa, and Lin Hua seems to delight in offering remarks about the intellectual understanding of "a certain Buddhist." We have our favorite uncles. You quelled our bickering by sending us multiple copies of Bodhicaryavatara. This text seems to leave silence and kindness in its wake.
The thing we all agree on is the necessity of relating to a qualified teacher. For me, one of Lama Zopa Rinpoche's most profound teachings is contained in some words he uttered as a child, when someone offered to be his teacher: "Can you be like Marpa?" Rinpoche asked.
Dharma practice in prison is easy. Not too many distractions. Not too much social busyness. A year ago receiving regular visits form Ven. Chuen Phangcham didn't seem likely. Waiting to receive a visit from you in the near future wasn't really thinkable. But it is happening. We are very fortunate.
We must not let Tara practice be separate from our life, our work. Tara, compassionate activity and our lamas – how are they different? When Lama Zopa says Tara is the guru, I am grateful he is telling this to everyone. People might not listen to me. She is!
Timothy Haremza