News/Media

*If a menu item has a submenu clicking once will expand the menu clicking twice will open the page.

Study & Practice

*If a menu item has a submenu clicking once will expand the menu clicking twice will open the page.

Projects

*If a menu item has a submenu clicking once will expand the menu clicking twice will open the page.

FPMT

Every second of this human life gives us the freedom to choose between hell and enlightenment, samsara and liberation.

Lama Zopa Rinpoche

*If a menu item has a submenu clicking once will expand the menu clicking twice will open the page.

Shop

The Foundation Store is FPMT's online shop and features a vast selection of Buddhist study and practice materials written or recommended by our lineage gurus. These items include homestudy programs, prayers and practices in PDF or eBook format, materials for children, and other resources to support practitioners.

Items displayed in the shop are made available for Dharma practice and educational purposes, and never for the purpose of profiting from their sale. Please read FPMT Foundation Store Policy Regarding Dharma Items for more information.
Making friends with money
December 2007 / January 2008
GENEROSITY
By Tony Steel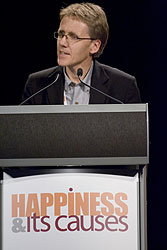 I have been resisting writing this article for some time. The editor's brief was fiendishly problematic – "Just write about how Dharma centers can earn extra income and become financially viable."
"Couldn't I write about some obscure aspect of Madhyamaka philosophy instead?" I ask. At least with that topic there are books that I could refer to, and people I could ask.
I have been Director of a Dharma center for over three years and a Dharma student for nearly fifteen years. I know lots of other Directors, and have visited many other Dharma centers. I am having trouble recalling even one center, including my own, that does not have major issues around financial viability.
Just over a year ago, Vajrayana Institute's new premises celebrated its opening day in the inner Sydney suburb of Ashfield. I rose to give the opening speech before the visiting dignitaries, including Lama Zopa Rinpoche, and two-hundred members and guests. I recounted how difficult it had been to raise the money for the new center and that we had encountered numerous obstacles in finding the property, overcoming local opposition to us moving into the neighborhood, and big cost overruns on renovation of the building.
It had indeed been a struggle. While the acquisition cost of the property was covered by the proceeds from the sale of our previous premises, a bequest from a deceased estate and a bank mortgage, most of the renovation costs were unbudgeted and unfunded. The initial estimate of $AUD500,000 was a tough number for us to finance, but possible. However, when renovation costs escalated to over $1.2 million, we had a big problem in the form of a debt totaling over $2 million.
At the conclusion of the opening ceremony, Lama Zopa took me aside. He said that I shouldn't always talk about the difficulties of running a Dharma center. By focusing on the obstacles and hardships, the job of the Director can become a great burden, and the students can become disheartened.
That piece of advice is a nice place for us all to start in the search for a more secure financial future. Consider the benefits of what we do, focus on opportunities, and energize your center to move forward and grow.
Dharma centers perform a wonderful service, and because suffering is so pervasive there will always be a demand for what we offer. Most centers are actually very rich – maybe not financially, but in terms of the wealth of knowledge that they contain. Where else in our society can you find the learning to liberate yourself and others from birth, aging, sickness, and death? This information can't properly be monetized by charging those wanting access to our knowledge. This is to be provided free or, at most, for a charge that only covers our costs.
The key is to find ethically acceptable ways to take advantage of the assets and strengths of the organization and generate recurring income. A good place to draw inspiration for how this is done is to consider the work of Professor Martin Seligman, founder of positive psychology and author of Learned Optimism. Seligman talks of finding success and enjoyment by concentrating on one's signature strengths. These are skills, assets, or interests that you already have. By focusing on what you are good at and enjoy, you are much more likely to find that success that you are seeking.
If one applies this advice, then the key to developing the financial resources of your organization lies in unearthing the signature strengths of the center and its members. What is it about your center that is valuable or unique? Is it the physical location or premises; the mix of talents amongst your students, faculty, staff, or management; or maybe there is some activity that is already bringing in income that can be built upon? As an example of the latter, it is much easier for a center, which is already earning a small but steady income from catering at an annual festival, to put energy into building this as a business than to start some entirely new and speculative activity.
My own experience in seeking a way out of the mountain of debt that threatened to engulf our center was to use a signature strength of my own. I am a professional conference organizer, so it seemed obvious to me that my experience in organizing conferences was something that could be used to financially benefit the center and to provide a platform for extending what we do to a broader audience.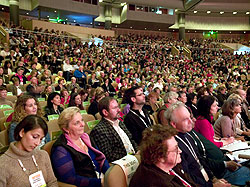 Vajrayana Institute now runs two annual conferences, Mind & Its Potential and Happiness & Its Causes. We have been fortunate in that they have both been very successful events. Our first conference attracted 500 delegates, which we were thrilled with, and our most recent conference attracted 3,400 delegates, which we were blown away by! The events are now being launched overseas with local partners.
We have had to re-invest a good portion of the income generated by these events to build and maintain a conference team within the staff of the center. Nevertheless, there has been enough left over to halve the center's debts over the last year.
Organizing conferences has been a solution that has worked for our center. It is not necessarily a solution for others. You need to find your organization's signature strengths and build around those. Having said that, the activity of running 'events' is an area that is rich in income potential, demands skills and assets that match those existing within many Dharma centers, and does not require significant up-front capital investment. An excellent example is the extraordinarily successful Vesak festival organized annually by Singapore's Amitabha Buddhist Center. It is not uncommon to see religious and non-profit organizations as organizers of a wide range of events such as film festivals, craft markets, food fairs, book fairs, fetes, seminars, training courses, conferences, exhibitions, and so forth.
Others have found success in events that are much closer to the core purpose of their center. This may be the development and long term success of a flagship teaching event, such as the annual month-long Kopan meditation course, or an annual retreat.
What is the secret to financial success for a Dharma center? The answer is that there isn't one. The causes and conditions for success are many and varied. But to start, look within at what you already have and, as Lama Zopa advised, approach the task of spreading the Dharma with a spirit of enthusiasm and optimism.
For more about the Vajrayana conferences go to www.mindanditspotential.com.au/