News/Media

*If a menu item has a submenu clicking once will expand the menu clicking twice will open the page.

Study & Practice

*If a menu item has a submenu clicking once will expand the menu clicking twice will open the page.

Projects

*If a menu item has a submenu clicking once will expand the menu clicking twice will open the page.

FPMT

We are not compelled to meditate by some outside agent, by other people, or by God. Rather, just as we are responsible for our own suffering, so are we solely responsible for our own cure. We have created the situation in which we find ourselves, and it is up to us to create the circumstances for our release. Therefore, as suffering permeates our life, we have to do something in addition to our regular daily routine. This "something" is spiritual practice or, in other words, meditation.

The Purpose of Meditation
Lama Yeshe Wisdom Archive

Lama Zopa Rinpoche

*If a menu item has a submenu clicking once will expand the menu clicking twice will open the page.

Shop

The Foundation Store is FPMT's online shop and features a vast selection of Buddhist study and practice materials written or recommended by our lineage gurus. These items include homestudy programs, prayers and practices in PDF or eBook format, materials for children, and other resources to support practitioners.

Items displayed in the shop are made available for Dharma practice and educational purposes, and never for the purpose of profiting from their sale. Please read FPMT Foundation Store Policy Regarding Dharma Items for more information.
War and Peace in Tibetan Buddhism
March-May 2002
By Glenn H. Mullin
Contrary to popular opinion, the world's oldest profession most probably is not prostitution. It is war. Since time immemorial, humans have relied upon violence and the straight-on attack as the quickest solution to a prickly problem.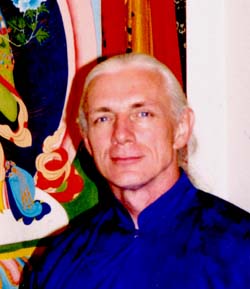 All world religions speak of world peace as an ideal, and sometimes even as an achievable quality in certain periods of human history. However, like most spiritual traditions emanating from India, Buddhism does not think that the present era qualifies for that luxury. We live in the kaliyuga, or Dark Age, when violence and conflict are norms of human society rather than exceptions to the general rule.
For that reason Buddhism has always placed its emphasis upon an attainable individual peace, or nirvana, rather than an unattainable pie-in-the-sky world peace. As the eighth century Indian master Shantideva put it, "One can never remove all thorns from the world, nor cover the entire world with leather to make it seem less thorny. However, by covering one's own foot with a leather sandal it is as though all the world has been covered with soft leather, and all thorns removed." He goes on to say that this "leather sandal of the mind" is nothing other than the inner peace established through cultivating a mindset deeply founded upon gentleness and non-violence.
It may seem that Shantideva's approach is somewhat egocentric, and that it ignores the seemingly bigger problem of social responsibility. However, the present Dalai Lama suggests that concentrating on one's own inner peace is also an effective method of contributing to world peace.
As he put it in Kindness, Clarity and Insight, "World peace depends upon individual peace. We cannot have world peace without the individuals who live in the world first becoming peaceful. Therefore the best way to help establish world peace is to cultivate a peaceful mind within oneself. This will then extend outward, and will positively impact family and friends. This in turn increases the peace of the community, and that contributes to the peace of human society in general."
Does this mean that Buddhism has nothing to say about social institutions and their impact upon the emergence of a peaceful society?
Not at all. There is also plenty of Buddhist literature with advice on how the powers that be can establish those kinds of infrastructures that would encourage peaceful living. However, these remain secondary, and can only work effectively when the individual takes responsibility for his or her own peaceful nature.
The problem is that, when an individual lacks the foundations of inner peace, the presence of outer peace merely leads to boredom; then in turn the bored and idle mind naturally becomes frustrated and irritable, and ends up creating conflict with others as a form of distraction …
The complete article is available as a PDF download.