News/Media

*If a menu item has a submenu clicking once will expand the menu clicking twice will open the page.

Study & Practice

*If a menu item has a submenu clicking once will expand the menu clicking twice will open the page.

Projects

*If a menu item has a submenu clicking once will expand the menu clicking twice will open the page.

FPMT

If you know the psychological nature of your own mind, depression is spontaneously dispelled; instead of being enemies and strangers, all living beings become your friends. The narrow mind rejects; wisdom accepts. Check your own mind to see whether or not this is true.

Lama Thubten Yeshe

*If a menu item has a submenu clicking once will expand the menu clicking twice will open the page.

Shop

The Foundation Store is FPMT's online shop and features a vast selection of Buddhist study and practice materials written or recommended by our lineage gurus. These items include homestudy programs, prayers and practices in PDF or eBook format, materials for children, and other resources to support practitioners.

Items displayed in the shop are made available for Dharma practice and educational purposes, and never for the purpose of profiting from their sale. Please read FPMT Foundation Store Policy Regarding Dharma Items for more information.
Tsunami disaster: Children helping children
If one day these children gather the strength to stand on their own feet, I will show them that it is important to help other children who are helpless as they have been. If they have two pencils, I teach them to give away one, feel the sorrow of another like their own, and remembering the path they have come on, strive to bring light into other's lives.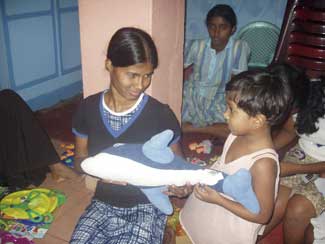 Loku Maniyo, Chief Nun, Sri Yasodara Orphanage
The fifty girls who live in the Sri Yasodara Devi Balika Niwasaya orphanage in Sri Lanka were relatively safe from the ravages of the December 26 tsunami; yet their first thought was "How can we help others?" Homes nearby were destroyed, and three hundred children were being housed in a makeshift camp.
The orphanage, located near Colombo, Sri Lanka's capital on the west side of the stricken island (the most damage was in the east and south) is named after the wife of the Buddha. Yasodara was respected for her patience, wisdom, and strength of character, an example that the orphanage's founder and leader, Bhikshuni Sumeththa Mahagoda or Loku Maniyo ("chief nun"), has set for the girls since she established the orphanage in 1986. The civil war raging at that time had shattered families, and children were crammed into chaotic government camps. Some of her charges were as young as three years of age. The orphanage has survived through the last two decades with donations and Loku Maniyo's persistence.
On that terrible day in December 2004 Loku Maniyo was in the U.S. on a fundraising tour. She watched on television what was happening in her country with horror and grief. Reports of up to 13,000 orphans in Sri Lanka prompted her to set up the Yasodara Relief Fund. As a Buddhist nun she had, till then, taken in only girl orphans, but now she has committed to take in another fifty children, both boys and girls.
Surangi de Silva, 20, grew up in the orphanage. She speaks good English and has excellent computer and internet skills. She gives her account of how the children at Yasodara are sharing what they have with other children affected by the tragedy:
"Sri Lankans have the good habit of helping one another in need. People have been donating as much as they can to the relief funds. At the orphanage we don't have much – no extra books, new clothes, or soap. But there is a Buddhist association in the village run under the auspices of Loku Maniyo, and the young people get together for pujas and other religious ceremonies.
"The tsunami struck on a Poya day (full moon day each month is a religious holiday). Every Poya day we get our dinner in packets from a donor. The girls immediately donated thirty-one dinner packets to the relief fund. Some of the girls collected water bottles and filled them with drinking water. They collected a box full of clothing. Miss Nirmala, Matron Lalith, and the three nuns at Yasodara donated sugar, jam, pain-killers, tea, and biscuits. A group of the littlest girls kept a grocery bag near the collected goods, and when I checked to see what they had put in there, I found pencils, stickers, and pictures.
"Some of the girls donated their new pencil boxes, saying they would use their old ones from last year. They collected small things like hair bands and toys.
"We traveled with the goods to a refugee camp about 12 km from Yasodara by 'tick tock' (a three-wheeler motorcycle). It was a Buddhist temple housing about 125 people, all of whom had lost everything; nothing was left of their houses. Three families were Buddhist, one Tamil, and the rest were Catholics. The head monk explained to them not to ruin their mental condition and to pray to someone they believe in. The Catholics were praying with the Buddhists. He was very happy with our kind deed in donating what we had …"
This article can be read in its entirety in Mandala