News/Media

*If a menu item has a submenu clicking once will expand the menu clicking twice will open the page.

Study & Practice

*If a menu item has a submenu clicking once will expand the menu clicking twice will open the page.

Projects

*If a menu item has a submenu clicking once will expand the menu clicking twice will open the page.

FPMT

If you follow self-cherishing thoughts, those thoughts become your identity. Then anger, pride, the jealous mind – all this negative emotional stuff arises. When you let go of the I and cherish others, negative emotional thoughts do not arise. That's very clear. Anger does not arise at those you cherish.

Lama Zopa Rinpoche

*If a menu item has a submenu clicking once will expand the menu clicking twice will open the page.

Shop

The Foundation Store is FPMT's online shop and features a vast selection of Buddhist study and practice materials written or recommended by our lineage gurus. These items include homestudy programs, prayers and practices in PDF or eBook format, materials for children, and other resources to support practitioners.

Items displayed in the shop are made available for Dharma practice and educational purposes, and never for the purpose of profiting from their sale. Please read FPMT Foundation Store Policy Regarding Dharma Items for more information.
TAKING CARE OF THE SELF
This collection of books is a continuation from "Benefits of Choosing Living Cuisine" by Sandra Lee from the April-June 2011 issue of Mandala located on page 61.
Raw and minimally processed plant-based food is the foundation of "living cuisine." Food is prepared at a temperature of 105 degrees or cooler in order to preserve naturally occurring enzymes and nutrients that a human body needs. Lama Zopa Rinpoche recently ate his first gourmet raw meal prepared by Sandra Lee with the help Nadya Hutagalung and Tara Melwani, remarking that it was important to promote tasty vegetarian food as the best way to prevent animals from being slaughtered for meals.
Photos from Rinpoche's First Gourmet Raw Food Meal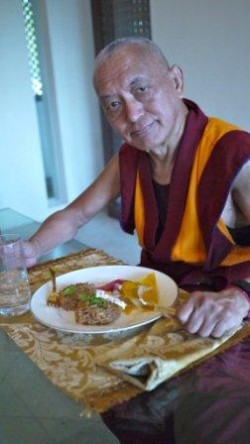 Rinpoche enjoys his first gourmet raw vegan meal. This course featured kimchi and cashew nut ravioli with sesame ginger foam. The wrappers were made from coconut meat as well as beet and carrot juice which provide the color. This dish was accompanied by kelp noodles which were marinated in a sauce of tamari, raw almond butter and chipotle.
Chef Sandra Lee prepares a gourmet raw food meal for Lama Zopa Rinpoche and others, with help from Nadya Hutagalung and Tara Melwani.
Ven. Sangpo, Ven. Thubten Kunsang and Ven. Roger Kunsang were also treated to the raw meal.
Living cuisine combines the best of  nutrition and aesthetics.
Books
Davis, Brenda, Vesanto Melina, and Rynn Berry. Becoming Raw: The Essential Guide to Raw Vegan Diets. Summertown, Tenn.: Book Pub. Co., 2010.
Kenney, Matthew. Entertaining In The Raw. Layton, Utah: Gibbs Smith, 2009.
Kenney, Matthew, and Miha Matei. Everyday Raw. Layton, Utah: Gibbs Smith, 2008.
Kenney, Matthew, and Adrian Mueller. Everyday Raw Desserts. Layton, Utah: Gibbs Smith, 2010.
Wolfe, David. The Sunfood Diet Success System. 8th ed. San Diego, CA: Sunfood Publishing, 2009.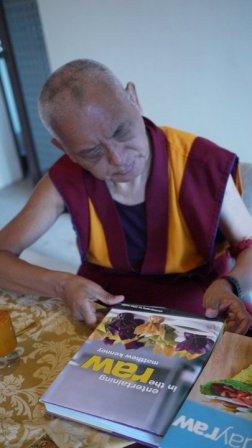 Lama Zopa Rinpoche received Everday Raw and Entertaining in the Raw by Matthew Kenney as gifts.
Meet the Chefs
Chef Sandra Lee
Sandra Lee trained in computer studies and management, spending the last 20 years in the computer industry providing consultancy services to companies in supply chain management. She first discovered raw vegan food by attending a class in Singapore conducted Chef Paul Yeoh. In 2009, Sandra decided to adopt a healthier lifestyle and wanted to learn more about raw vegan cuisine and so attended Living Light Culinary School in California to learn to prepare raw vegan food. While studying she lived on raw vegan food and shares that it was "the best thing that happened to me."
She got to know Matthew Kenney and later attended his 105degrees Academy to train as a raw food chef.
Chef Matthew Kenney
Coming of age in the era of the celebrity chef, Matthew Kenney remains one of the culinary world's most dynamic and innovative talents. Born in New Haven, Connecticut, Kenney grew up on the coast of Maine where he graduated from the University of Maine with a B.A. in Political Science. He was always drawn to the excitement and energy of New York, a city that he enjoyed visiting and when it came time to select a school to pursue a law degree, Kenney seized the opportunity to relocate to the city that he loved.
Once settled in New York, Kenney found that his interests were gravitating towards the culinary world. These interests soon developed into a passion for cooking and restaurants in general, which he began to explore as a line cook at Malvasia, a small Sicilian restaurant. Consumed by the idea of pursuing a culinary career, he enrolled in the French Culinary Institute, which led him to a job at La Caravelle in 1990, and eventually to a chef position at an Upper East Side Italian Restaurant, Alo Alo.
In 1993, 28-year-old Kenney opened his first restaurant, Matthew's on Manhattan's Upper East Side. The upscale, Mediterranean influenced cuisine soon received two stars from The New York Times among other enthusiastic reviews. During the following five years, Kenney built and opened several restaurants whose focus was regional Mediterranean cooking. Mezze in Midtown, Bar Anise on the Upper East Side, Café M at The Stanhope Hotel, and Monzu, underneath Soho's Guggenheim Museum were among his flowing empire. Kenney's expansion within this realm continued when he conceptualized Metrazur in Grand Central Station. Shortly before Metrazur opened, Kenney sold his interest in the project to his partners in order to focus on other projects.
In 1994, Kenney was named one of the Ten Best New Chefs in America by Food and Wine magazine. He also received two James Beard Nominations for Rising Star Chef in America. In 1997, Kenney published his first cookbook, Matthew Kenney's Mediterranean Cooking.
In 1999, Kenney shifted his focus to regional American cuisine. He opened Canteen in Soho in 1999, followed by Commune in New York and Atlanta and Commissary in New York and Portland, Maine. Sugar in Portland, Maine soon followed in 2000. During this prolific time, he also launched the very upscale Matthew Kenney Catering and Events; a line of gourmet products called Modern Fare; and authored Matthew Kenney's Big City Cooking. However, in 2002, Kenney had a life changing experience that altered the course of his culinary career.
After several professional setbacks which included the collapse of his restaurant group, he accompanied a friend to a "raw vegan" restaurant. Though hesitant at first, Kenney not only found his raw meal enjoyable, but was struck by the mental and physical clarity he found upon dining. Bursting with renewed energy, Kenney learned all he could about raw cuisine and organic ingredients, and opened Pure Food and Wine in 2004. What at first sounded like an unusual idea, took the culinary world by storm and become a wildly popular critical success
Almost instinctively, Kenney came to the realization that his mission as a chef was to introduce more people to the benefits of an organic lifestyle. This switch to "innovate organic cuisine" a gourmet style of cooking developed by Kenney not only reflected itself in his culinary interests, but altered his entire way of living. With this new found knowledge, he co‐authored Raw Food, Real World, a recipe and lifestyle book that has quickly become one of the leading references in the raw food movement. He also consulted and partnered on several ventures, including The Plant, a raw food production and educational facility, and Blue/Green, a small group of organic juice cafes. He was named Chef of the Year in 2006 by Veg News.
Matthew Kenney Cuisine is the next chapter in Kenney's culinary evolution. Conceived as Lifestyle Company from which to collaborate on ventures promoting organic living, Kenney currently works with several brands in New York, Madrid, Mexico, Florida and Oklahoma. In 2007, he launched Free Foods NYC, an upscale organic retail and catering business in New York City. He developed and consulted on the successful raw food business, Café 118, in Winter Park, Florida in 2008.
In 2009, Kenney launched his most ambitious project to date, the highly acclaimed raw food restaurant and culinary school, 105degrees, in Oklahoma City. 105degrees is the first and world's only state‐licensed culinary school with an emphasis on raw and vegan cuisine. 105degrees was named as one of America's Best New Restaurants by Forbes in 2010. The Oklahoma location currently hosts students from 14 countries around the world.
His latest books are Everyday Raw, a casual raw food cookbook, which was released in May 2008 and Entertaining in the Raw which was released in the Spring of 2009. Everyday Raw Desserts will be published in August 2010, and will be followed by Everyday Raw Express and Raw Chocolate in 2011 and 2012, respectively.