News/Media

*If a menu item has a submenu clicking once will expand the menu clicking twice will open the page.

Study & Practice

*If a menu item has a submenu clicking once will expand the menu clicking twice will open the page.

Projects

*If a menu item has a submenu clicking once will expand the menu clicking twice will open the page.

FPMT

Good human qualities… honesty, sincerity, a good heart, cannot be bought with money, nor can they be produced by machines, but only by the mind itself. We call this the inner light, or God's blessing, or human quality. This is the essence of mankind.

His Holiness the Dalai Lama

*If a menu item has a submenu clicking once will expand the menu clicking twice will open the page.

Shop

The Foundation Store is FPMT's online shop and features a vast selection of Buddhist study and practice materials written or recommended by our lineage gurus. These items include homestudy programs, prayers and practices in PDF or eBook format, materials for children, and other resources to support practitioners.

Items displayed in the shop are made available for Dharma practice and educational purposes, and never for the purpose of profiting from their sale. Please read FPMT Foundation Store Policy Regarding Dharma Items for more information.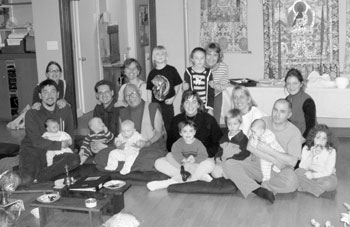 A woman said there was some disharmony between her parents and her siblings. She asked Lama Zopa Rinpoche's advice in improving relations, to bring about harmony between them. Her parents were upset, but her brothers and sisters were even more upset than the parents.

You might start by telling them that the happiness that we think comes from outside actually comes from within us, from within our own mind. And it is the same with our problems. Actually, nothing comes only from outside. Everything depends on how we think. Although some things may seem to come from outside our mind, those are only the conditions for problems to arise.
One way of thinking brings problems in life. With the other way of thinking, we don't see problems. You might start by introducing them to the book Transforming Problems and then to His Holiness's books on the good heart and his teachings on patience.
One's parents of this life are very powerful objects in life. They gave birth to this body, and even a small disrespect shown to them generates negative karma so heavy that the results are already experienced in this life as well as continuing on into the next. Even a small service or respect shown to this life's parents brings results so powerful that the experience of the results starts in this life and then goes on into future lives.
This takes place from karma created with powerful objects, starting with one's parents. This is one of three types of karma. With the second type of karma, the results are experienced in the next life. With the third type of karma, the results are experienced after many lifetimes.
An even more powerful object than one's parents are ordained Sangha, including arhats, who are liberated from the control of delusion and karma. Even more powerful than numberless arhats is one bodhisattva, because of having generated bodhichitta. If you look or glare at one bodhisattva with a disrespectful mind, this creates more negative karma than taking an eye from all the sentient beings of the three realms. If one looks at a bodhisattva with a respectful, devotional look, this creates much more merit than making charity of eyes to all the beings of the three realms. This is how powerful one bodhisattva is. And more powerful than numberless bodhisattvas is one buddha. Still more powerful than all the buddhas is one's own virtuous friend. These are the powerful objects in one's life, so a small disrespect toward them brings great negative results. The more powerful the object, the more negative those results.
Therefore, it's very good that you want to try to help your brothers and sisters to be in harmony with your parents, so that they don't create negative karma with their parents.
You can mention to your brothers and sisters that whatever harm they think their parents are doing to them, if they themselves had not done negative actions towards the parents in the past, there would be no reason for them to receive harm or any unpleasant experiences from the parents now. Thus, remembering karma helps one to practice patience and not to get angry and return the harm. Otherwise, if you get angry, it doesn't help. It leaves an imprint in the mind, planting a seed that will cause anger to arise again continuously in the future. When you think someone is bad – that is, when you label them "bad" – if you retaliate, you create the cause for yourself to receive more harm from others in the future instead of making others harm you less.
Therefore, in order to help yourself and also to protect and give peace and happiness to others and to yourself, now and in the future, the wisest thing is not to get angry or harm them back. The best thing is to practice compassion toward them and toward others.
You may read more advice from Lama Zopa Rinpoche concerning "disharmony in the family" on the Lama Yeshe Wisdom Archive's website under "Lama Zopa Rinpoche's Online Advice Book."