News/Media

*If a menu item has a submenu clicking once will expand the menu clicking twice will open the page.

Study & Practice

*If a menu item has a submenu clicking once will expand the menu clicking twice will open the page.

Projects

*If a menu item has a submenu clicking once will expand the menu clicking twice will open the page.

FPMT

We are not compelled to meditate by some outside agent, by other people, or by God. Rather, just as we are responsible for our own suffering, so are we solely responsible for our own cure. We have created the situation in which we find ourselves, and it is up to us to create the circumstances for our release. Therefore, as suffering permeates our life, we have to do something in addition to our regular daily routine. This "something" is spiritual practice or, in other words, meditation.

The Purpose of Meditation
Lama Yeshe Wisdom Archive

Lama Zopa Rinpoche

*If a menu item has a submenu clicking once will expand the menu clicking twice will open the page.

Shop

The Foundation Store is FPMT's online shop and features a vast selection of Buddhist study and practice materials written or recommended by our lineage gurus. These items include homestudy programs, prayers and practices in PDF or eBook format, materials for children, and other resources to support practitioners.

Items displayed in the shop are made available for Dharma practice and educational purposes, and never for the purpose of profiting from their sale. Please read FPMT Foundation Store Policy Regarding Dharma Items for more information.
Liberating Horses on Saka Dawa
October / December 2009
By Ven. Gyalten Wangmo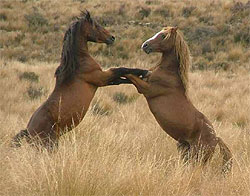 We rarely have the opportunity to save the lives of large animals here at Dorje Chang Institute in Auckland, New Zealand. Crickets, worms and flies from pet shops have been our usual guests for animal liberation practice in recent years. This year, however, a new opportunity emerged and, thanks to our larger FPMT family, multiplied faster than we had ever imagined.
Our director, Kathy Frewen, read an article in the Keri Keri Chronicle about the plight of the Kaimanawa wild horses here on the North Island. The Department of Conservation keeps an eye on herd sizes and, in order to protect their balance with the environment, does regular musters, i.e., rounding up and sorting groups of wild horses. Very young horses that can be tamed and re-homed are kept, but any horses that do not have a home or are too old are sent to slaughter (this can include older pregnant mares).
This year, between 210 to 220 horses would be mustered, during Saka Dawa of all times.
The Kaimanawa Wild Horse Welfare Trust (KWHWT), a group of horse enthusiasts dedicated to preserving and protecting the Kaimanawas, tries to find homes for as many of the horses as possible. People are also able to financially sponsor horses from the muster. This can help ease the financial burden of someone willing to take on a horse or can allow for a period of training for young horses, after which it is easier to find them a home.
Unfortunately, this year, as people struggle financially, far fewer people have been willing to take on an additional horse or offer sponsorship. To gold-sponsor a horse costs $250 NZD. This supports saving the horse from being killed by providing upkeep, for example, or transport support to a new home, medical care or cover a period of training under the care of the Trust. Gold sponsors can then name their horse, receive photos, updates and so forth.
Kathy felt this was a special opportunity for the center to do animal liberation and so we set out to gather enough sponsors to save one or two horses from being killed in the muster a couple of weeks away.
The response we received grew in an inspiring way. Donations started to come in, but so, too, did more and more pledges to sponsor whole horses.
One woman felt strongly that saving a horse was more important than her vacation and used the money she had been saving for a vacation to save a horse instead. People of all ages and financial situations joined in the effort. One supporter baked gingerbread cookies to help raise money. Another woman experiencing difficult health circumstances sponsored four horses. The sacrifices people made to save the lives of these horses, even during these challenging financial times, was inspiring.
With this support, we had already far surpassed our original goal of saving one or two horses, but the pledges continued to come in as the deadline approached.
We called the KWHWT to inform them of the progress of our fundraiser: we could now gold-sponsor nine horses. Marilyn, one of the Trusts' Welfare Officers, answered the phone. She sounded a bit taken aback that we had raised so much. With the annual muster about to begin, emotions were high on the front line. Each sponsorship meant another horse saved from slaughter and thus was deeply appreciated.
The muster would be done over the course of the coming two to three days. Helicopters would round up groups of horses into an enclosure that could hold 100 horses at a time. An onsite vet would then quickly assess their ages and situations, deciding which ones would be kept and which would be culled.
Even as the muster was starting, new pledges continued to flow in. We sent repeated text messages to the KWHWT with updates on additional horses we could support. The situation was dire and we wanted to try to save as many as we could.
Kathy sent a message to Lama Zopa Rinpoche at the Mani Retreat in France and also contacted the Mahayana Buddhist Association (MBA), the FPMT center in Hong Kong famous for their large-scale animal liberation practices, to see if anyone there would like the opportunity to sponsor some horses.
Our local sponsorships continued to grow and the KWHWT let us know that they had a group of twenty horses in mind for us of which most were mares pregnant with foal (meaning two lives saved!) and a couple of geldings. They had found space for them at a newly opened Kaimanawa Wild Horse Sanctuary in Nelson down on the South Island. Uniquely, they would be able to stay wild on a large piece of private land. They needed to sort out the transportation down to the sanctuary (imagine trying to get twenty wild horses from the North Island to the South Island).
We were now up to eighteen gold sponsorships and confident we could get sponsorships for all twenty horses.
As the muster was underway, Ven. Pemba from MBA responded swiftly, saying that the Hong Kong center would sponsor all of the remaining horses from the muster, to prevent any more from being killed, especially at this time of Saka Dawa. The strength of this compassionate and enthusiastic commitment was moving, like when a superhero flies in and saves the day – you just want to cheer! Together we could save all of the horses! We sent another message to Rinpoche with the update and asking for prayers for the horses that may already have been killed during the muster and for those involved in the killing.
With much rejoicing in the news from Hong Kong, Ven. Roger wanted to confirm whether all the horses had now been sponsored and said that if there was still a need, to please let them know. Ven. Sarah sent us a message saying that "Rinpoche said, 'AMAZING, GREAT.' He had been thinking to do it himself."
His Holiness Sakya Trizin was visiting Auckland during this time and the next morning sur offerings were done after the morning teachings for beings that had died – we dedicated for the horses as well.
Right after the teachings, we spoke with Marilyn at the KWHWT by phone. She was emotionally upset, fighting back the tears and sometimes breaking down.
Unfortunately, the Department of Conservation (DOC) makes the decision during the muster as to which horses are re-homeable and which are too old to be re-homed. The DOC said that the twenty that were destined for the new Kaimanawa Horse Sanctuary in Nelson on the South Island were old and so they had been sent off to slaughter. The Trust could not do anything. However, they were able to save all the young horses under two years old, and perhaps some over that.
However, she then explained about a situation that we could help with.
Apparently, some farmers who had been given Kaimanawa horses over the last two years from DOC have abandoned them. (While the KWHWT does thorough home-checks for prospective owners, some other organizations do not.) These horses had been left on the land where they grazed. The farmer whose land they had been grazing on had not been paid as promised, and so he was going to send them off to be killed and used for dog food.
The Trust came to know about this situation and the Kaimanawa Horse Sanctuary in Nelson agreed to take these horses instead. There are about forty horses altogether (approximately 30 mares with offspring and two colts). The current farmer is charging $250 NZD per horse (what he would have received from the dog food place). Marilyn explained that our sponsorship money could go to buy the horses from this farmer. The horses would then be transported down to Nelson to the sanctuary at additional cost. The young foals will be re-homed later under the watch of the KWHWT and the others will live wild on the land.
The sanctuary is brand new. Some people from Spain own 200 hectares [494 acres] of land and are devoting thirty-five to forty exclusively to the Kaimanawa horses. The Trust stands behind this new sanctuary 100%. The sanctuary is also happy to send us reports on the horses, pictures and has welcomed us to visit the sanctuary as well which is close to our sister center down in Nelson, Chandrakirti Centre.
This was a clear animal liberation opportunity and we were very happy to help. Our director wrote to Ven. Pemba, expressing her gratitude to the Hong Kong people for their actions and merit. We also explained the new turn in the horses' situation.
DCI had enough now to sponsor twenty horses, so if our Dharma brothers and sisters at the Hong Kong center were happy to sponsor the other twenty horses, then all forty would be sponsored. Any money beyond this could be offered to the Trust to use for saving the lives of other horses in the future as well as related costs. The Trust is often involved in uplifting horses in bad situations (abandoned, neglected, etc.) throughout the year. They are also working to encourage the replacement of musters with controlled and monitored contraception of wild Kaimanawa horses which would help prevent unnecessary killing.
Well, MBA had already found sponsors for forty horses, so altogether we were able to sponsor sixty horses, the current forty and twenty future horses.
Ven. Sarah wrote with another message from Rinpoche: "Rinpoche said, 'Thank you to all of you who saved the horses.'"
We are now gathering up Dharma names for these kind Kaimanawas who have given us the opportunity to repay some of their kindness from infinite past lives. Our resident teacher, Lharampa Geshe Wangchen, plans to visit the sanctuary in Nelson in the future to bless the land and the horses.
You never know what animal liberation opportunities might exist right in your country's own backyard.
For more information on the activities of the Kaimanawa Wild Horse Welfare Trust visit kaimanawa.homestead.com. Ven Gyalten Wangmo is the Spiritual Program Coordinator for Dorje Chang Institute in Auckland, New Zealand.