News/Media

*If a menu item has a submenu clicking once will expand the menu clicking twice will open the page.

Study & Practice

*If a menu item has a submenu clicking once will expand the menu clicking twice will open the page.

Projects

*If a menu item has a submenu clicking once will expand the menu clicking twice will open the page.

FPMT

Your whole life is controlled by karma, you live within the energy field of karma. Your energy interacts with another energy, then another, and another. That's how your entire life unfolds. Physically, mentally, it's all karma.

Lama Thubten Yeshe

*If a menu item has a submenu clicking once will expand the menu clicking twice will open the page.

Shop

The Foundation Store is FPMT's online shop and features a vast selection of Buddhist study and practice materials written or recommended by our lineage gurus. These items include homestudy programs, prayers and practices in PDF or eBook format, materials for children, and other resources to support practitioners.

Items displayed in the shop are made available for Dharma practice and educational purposes, and never for the purpose of profiting from their sale. Please read FPMT Foundation Store Policy Regarding Dharma Items for more information.
Dakinis: healers of our gender scars
Three decades of Buddhist practice, feminist battles and scholarly pursuits have come together in Judith Simmer-Brown's work, most recently in Dakini's Warm Breath, The Feminine Principle in Tibetan Buddhism, Shambhala Publications, 2001. Dr Simmer-Brown is chair of the religious studies department at Naropa University, a private, non-profit, fully accredited liberal arts college in Boulder, Colorado. She talked to JULIA HENGST.
From 1971 when I got into the Dharma through my first teacher, Shunryu Suzuki Roshi, both my meditation practice and my feminism were ever-present, but not really interacting. As time went on I began to see that feminism was not a complete picture of the universe. It has clear visions about certain things but it did not have answers for healing the wound of gender in our society.
I was inexplicably terminated from my first teaching job and I was invited to join a class action suit for sexual discrimination against the university. We won the lawsuit, but it was an incredibly eye-opening experience because, in the early '70s, discrimination and harassment of women in the workplace — and especially in academe — were really blatant. Documentation on me included comments on the way I dressed, that I let students call me by my first name, that my husband worked for the university and so I didn't need the money.
So I went from college teaching into committed, feminism at the same time that my practice was intensifying. I ran a rape crisis center for a few years and did direct intervention work with rape victims. During that time I began to see that feminism saw suffering clearly but didn't go far enough in terms of understanding the source of suffering. I was drawn into a more profoundly spiritual understanding of how suffering works in our world.
That was in the early 1970s. During those years I was struggling to pull all this together for myself. I met Chogyam Trungpa Rinpoche in 1974, and I was struck that he had a great deal to offer. When he spoke I felt it went straight to my heart. I had not found a teacher since Suzuki Roshi died, and I felt drawn to him.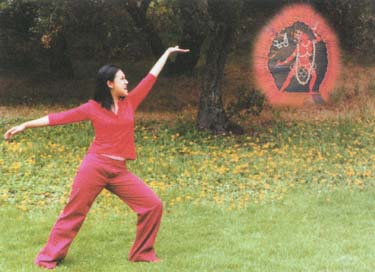 Trungpa Rinpoche often talked about the feminine principle, and many of his powerful teachings had that theme. But when he described the principle, it was not something I could grasp intellectually. I understood that I had a yearning to find the feminine principle, whatever it was.
On the other hand, he was very clear that the feminine principle [Dakini] wasn't particularly feminist, and yet there was tremendous power there. As I began to practice, I kept coming back to this huge question mark — what was this? When I asked Rinpoche about it, he kept pulling me into a more intuitive, deep practice-oriented understanding of the feminine principle.
Meanwhile, it seemed to me the way in which the dakini was talked about in American Buddhist communities didn't capture the power of the feminine principle that Rinpoche talked about.
Stereotypically, for many people dakini is another word for babe. There's a kind of a titillating way in which the dakini is spoken about. In New Age parlance dakinis are sexually available, elusive, gorgeous babes. The sense of the dakini as the spiritual reference point for the practitioner is not there.
How is the dakini a spiritual reference point?
The dakini is one of the most difficult themes in Tibetan Buddhism to really understand because the word is used in many different ways. I remember Chogyam Rinpoche once described the dakini as the "domestic aspect" of our practice. As I have studied and talked to lamas, I've understood that the dakini is the connector between the practitioner and the spiritual lineage; the messenger, the link and the mirror for the practitioner.
The dakini is the one who shows the practitioner where he or she may be on the spiritual path, and points the way for the next step. She is the representative for the lineage in our practice, the one who shows us — and sometimes makes more intense — the obstacles in our spiritual path. She can be mischievous, dangerous, wrathful; she can be tender, supportive and encouraging when we have difficulties. She may appear in a visionary form or a dream, or she may appear as some kind of way in which phenomena arise as obstacles in our practice.
You can read the rest of this article in the September issue of Mandala.