News/Media

*If a menu item has a submenu clicking once will expand the menu clicking twice will open the page.

Study & Practice

*If a menu item has a submenu clicking once will expand the menu clicking twice will open the page.

Projects

*If a menu item has a submenu clicking once will expand the menu clicking twice will open the page.

FPMT

Every second of this human life gives us the freedom to choose between hell and enlightenment, samsara and liberation.

Lama Zopa Rinpoche

*If a menu item has a submenu clicking once will expand the menu clicking twice will open the page.

Shop

The Foundation Store is FPMT's online shop and features a vast selection of Buddhist study and practice materials written or recommended by our lineage gurus. These items include homestudy programs, prayers and practices in PDF or eBook format, materials for children, and other resources to support practitioners.

Items displayed in the shop are made available for Dharma practice and educational purposes, and never for the purpose of profiting from their sale. Please read FPMT Foundation Store Policy Regarding Dharma Items for more information.
Stitching a Culture Back Together
TIBET
December 2002-February 2003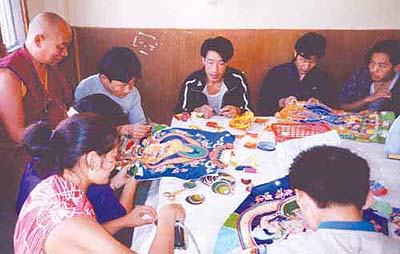 While exiled Tibetans are scattered across countries and continents, much of their culture is being preserved by the Tibetan Government-in-Exile, in Dharamsala, India. Guy Brooksbank reports.
For a nation never before having a need to consciously preserve its culture, the progress of [Tibet's] people in exile is astounding. In less than 50 years, the exiled community has developed strong institutions with unambiguous commitments to promote Tibetan culture. The Tibetan Institute of Performing Arts collects traditional songs, dances and modes of acting. The Norbulingka Institute trains over seventy students in traditional Tibetan arts. The Library of Tibetan Works and Archives has massive holdings of artifacts and manuscripts. The Tibet Museum has established traveling exhibitions, as well as archiving thousands of photographs of the occupation. A Video Archives Project is digitizing hundreds of the Dalai Lama teachings. And these are just a few of the current efforts.
Sometimes the commitment to preserve Tibetan culture can come from a single person. In 1982, Phuntsok Tsering created the Tibetan Tailoring Center, a place where newly arrived Tibetan refugees serve as apprentice tailors. Tsering was aware that the traditional lines of apprenticeship had been broken, and any attempt to maintain a vestige of Tibetan culture would require new measures.
Tsering is a master tailor, and, like his father and grandfather, learned the art of tailoring as a child. Following his heritage, Tsering learned the specialized art of creating thangkas, brocade tapestries that depict embroidered images of Tibetan Buddhist deities.
Each thangka is an assortment of hand-stitched brocades, assembled into patterns on a larger silk cloth. It is painstaking work, requiring vast amounts of skill and patience. Ceremonial thangkas can be as much as six feet high, requiring six months of work from a single pair of hands.
Tsering began extensive training from the Dalai Lama's personal tailor at fifteen. Tsering says it was a time he could easily learn from so many teachers "as one vessel filling another." In 1959, at the age of twenty-two, Tsering followed the Dalai Lama into exile, eventually becoming the Dalai Lama's personal tailor.
Apprenticeships last five years, and the learners' existence is by no means luxurious. They work six eight-hour days, live in small, unheated dorm rooms in metal-framed bunk beds. Their dining hall is a rusted metal table balancing over a metal frame. They are paid the equivalent of ten dollars a month for spending money. With their choices now whittled away to few or none, many feel stuck here, suspended between an inconceivable past and an uncertain future. …
Read the complete article as a PDF.