News/Media

*If a menu item has a submenu clicking once will expand the menu clicking twice will open the page.

Study & Practice

*If a menu item has a submenu clicking once will expand the menu clicking twice will open the page.

Projects

*If a menu item has a submenu clicking once will expand the menu clicking twice will open the page.

FPMT

Proper guru devotion – correct devotion to your virtuous friends – allows you to actualize successfully all the steps of the path to enlightenment, from the perfect human rebirth up to buddhahood itself.

Lama Zopa Rinpoche

*If a menu item has a submenu clicking once will expand the menu clicking twice will open the page.

Shop

The Foundation Store is FPMT's online shop and features a vast selection of Buddhist study and practice materials written or recommended by our lineage gurus. These items include homestudy programs, prayers and practices in PDF or eBook format, materials for children, and other resources to support practitioners.

Items displayed in the shop are made available for Dharma practice and educational purposes, and never for the purpose of profiting from their sale. Please read FPMT Foundation Store Policy Regarding Dharma Items for more information.
Mind Training, The Tibetan Tradition of Mental and Emotional Cultivation: Part II
February / March 2008
Lo-jong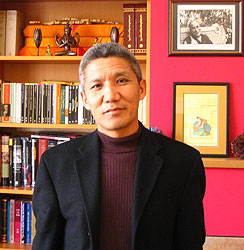 Scholar and chief translator for His Holiness the Dalai Lama, Geshe Thupten Jinpa, continues his discussion of the Tibetan tradition of mind training, which forms the basis of his important book Mind Training: The Great Collection.
One of the key themes of mind training [lo- jong] practices is a radical re-orientation of our personality, attitudes, and thoughts. The idea is that we can re-orient our very being, so that we can shift from our habitual self-centeredness to other-centeredness.
Mind training begins with an emphasis on cultivating a completely new way of relating to other beings. As Geshe Langri Tangpa (1054-1123) says in his Eight Verses for Training the Mind, "May I be able to perceive all others as true friends, as precious as a wish-granting jewel." So when we see others, we try to see them as a source of our well-being. We see them with a perspective of gratitude, and we recognize that for our own happiness, for our own well-being, the presence of others is indispensable.
Mind training practice (lo-jong) is a down-to-earth, practical approach. Because Buddhism is as much a philosophy as it is a religion, sophisticated philosophizing sometimes arises. Lo-jong is quite suspicious of this tendency, and sometimes deliberately eschews or rejects any form of systematization. So this mind training approach is a way of practicing whatever is most appropriate at any given moment, emphasizing that which is most relevant to your current situation.
For example, there is the principle "Purify first whichever affliction is strongest." This is based on the premise that generally you are perhaps the best judge of your own emotions and attitude. So if you find yourself more prone to anger and irritation, then that is where you have to start first. If you are more prone to lust and attachment and greed, that is where you have to begin to work on yourself. If you are more prone to apathy and indifference, this is where you have to start. If you are more prone to jealousy, this is where to start. Some might have a simple lack of focus as their biggest obstacle, in which case spiritual practice has to start from there. Basically lo-jong is saying that there is no one formula for everybody. Each individual needs to adapt their own practice.
But what the mind training approach also says is that when you engage in profound spiritual practice, and when you see it working, there is a very natural tendency of human beings to solidify this practice, to put it on a pedestal, make it rarefied and start grasping and clinging at it. Therefore mind training says that the remedy itself must be pacified, so that the remedy does not turn into another problem. We notice that people who have a high moral standard can let self-righteousness creep in, and this self-righteousness can lead to intolerance of others who are perceived as falling below their standards. Lo-jong mind training practices warn us that when something works for us, we want to extol it above everything else, and therefore make it absolute. When lo-jong says "The remedy, too, is freed in its own place," this is a wonderful insight and reflects a deep understanding of the human mind.
Read the complete article as a PDF.